Aigle Wellington Boots Reviews
Aigle have been producing high quality wellington boots since 1853. More recently Aigle has expanded and now also produce a range of mainly outdoor clothing for men, women and children. However, wellington boots still remain the primary product. Read our Aigle wellington boot reviews to find the best Aigle wellies for your needs.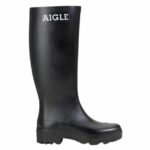 Aigle Atelier Rain Boots Review  These boots are perfect for those who want a stylish and durable pair of boots that can withstand harsh weather conditions. Perfect for wearing around town. The boots are unisex
Aigle Wellington Boots
When it comes to footwear that offers a unique blend of style, durability, and comfort, Aigle Wellington boots are a class apart. Hailing from France, Aigle has been setting trends and raising the bar for quality since 1853. In our Aigle wellington boot reviews, you will understand why investing in a pair of these iconic boots is a decision you are unlikely to regret.
Aigle Wellington Boots Review
The name itself carries a weight of tradition, craftsmanship, and French elegance. These boots are an amalgamation of design intelligence and functional comfort. Imagine walking through muddy terrain or pouring rain, and still coming home with feet as dry as a bone—this is the Aigle promise. But that's not all; they offer a range of stylish designs to ensure you don't compromise on your fashion statement. 
The History of Aigle: The Craftsmanship Behind the Boots
Founded in 1853 by Hiram Hutchinson, Aigle was born out of a desire to create footwear that was both functional and aesthetic. The brand quickly made a name for itself by producing rubber boots using pioneering techniques. Fast-forward to today, and Aigle continues to innovate while maintaining its historical roots. The company has expanded into various types of footwear and apparel, but their wellington boots remain a favourite.
Materials and Construction: What Makes Them Stand Out
The boots are made primarily of Gomma Plus natural rubber, a material known for its durability and flexibility. What sets Aigle Wellington boots apart is the level of craftsmanship involved. Each boot is handcrafted by experts, ensuring that every seam, every layer, is perfect. This meticulous attention to detail is what makes them stand out as high end wellies.
Variants: A Range to Choose From
From ankle-length to knee-high, Aigle Wellington boots come in various styles to suit different needs. They offer options for both men and women, and even have a range of boots specifically designed for children.
Price Point: Are Aigle wellies worth the high price
While Aigle Wellington boots might seem like a steep investment initially, the longevity and quality they offer make it worthwhile. Their durability means you won't have to replace them as often as other boots, providing value for money in the long run.
How They Compare: Aigle Vs Other Brands
Really Aigle only have one major competitor and that's Le Chameau, another high end French wellington boot manufacturer. Aigle and Le Chameau consistently get very highly rated reviews for their boots. Both manufacturer's wellies are made to the highest quality when compared to other brands like Hunter boots, they are leagues ahead…….but at a price.
Warranty and Customer Service
Aigle provides a two-year warranty on their Wellington boots, which speaks volumes about their confidence in the product. Their customer service is known to be friendly and responsive, making any after-sales process hassle-free.
Sustainability
Aigle is committed to sustainability. Each Aigle Wellington Boot is designed to last, reducing the need for frequent replacements and thereby decreasing the environmental impact. Moreover, the brand is actively involved in sustainable rubber farming and adheres to eco-friendly manufacturing practices. Find out more at Our commitments | AIGLE
BEST SELLING AIGLE BOOTS
Last update on 2023-09-17 / Affiliate links / Images from Amazon Product Advertising API
Wellieboots.com  NEWSLETTER
Sign up to get the latest reviews, news, tips and where to get the best wellie deals!
You will only get emails from wellieboots.com (no 3rd parties)
We generally send one email per month