Aigle Lessfor Plus Boots \ Clogs Review
Rubber Ankle boots for Men & Women
Good quality ankle boots \ clogs that will keep feet dry in wet conditions. Sturdy construction making them suitable for many tasks, such as gardening and walking. Super easy to put on and take off. 
Our Verdict
| | |
| --- | --- |
| WHAT WE LIKE  | WHAT WE DON'T LIKE  |
| + Good Looking | – Limited colour choices |
| + Sturdy Construction | – No insulated lining option  |
| + Quick & easy to put on \ take off |   |
| + Comfortable |   |
Looking for a stylish and comfortable pair of clogs? Look no further than Aigle Lessfor Clogs! These clogs are made with high-quality materials and feature a stylish design that will complement any outfit. They are also very comfortable, making them perfect for everyday wear. Read on for our full review of Aigle Lessfor Clogs!
Adjustments: None
Inside material: Nylon (Polyamide)
Outside material: Rubber
Sizing: True to size 
Fit wide calves: Yes
Heel Type: Flat
Waterproof: 100% waterproof
Colours: Black, Blue and green
Sizes: 2.5 UK to 11 UK – 3.5 US to 12 US
Bestsellers – Aigle Lessfor Clogs
Sale
Bestseller No. 1
Bestseller No. 2
Bestseller No. 3
Last update on 2023-08-30 / Affiliate links / Images from Amazon Product Advertising API
Comfort is key when it comes to shoes, and Aigle Lessfor Clogs definitely don't disappoint in that department. They are made with a soft and flexible material that conforms to your feet, making them extremely comfortable to wear. Additionally, the soles of the clogs are cushioned, providing even more comfort and support.
The insoles are removable which makes them easy to clean. It also means that you can replace the insole with your own custom orthotics if needed.
Aigle have created two different designs for the Lessfor boots range. Below is a list of the different  variation model names and the differences.
Lessfor – Low cut ankle boot \ clog for women
Lessfor M – Low cut anle boot \ clog for men
Lessfor Plus – Higher fitting ankle boot for women
Lessfor Plus M – Higher fitting ankle boot for men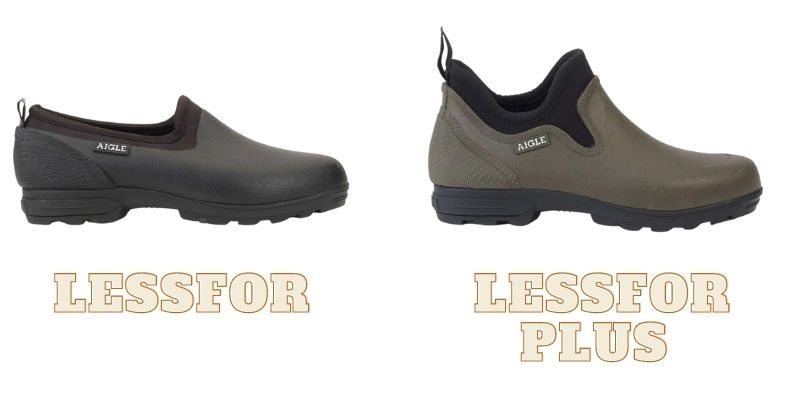 These clogs are also great for keeping your feet warm in colder weather. The natural rubber is reasonably thick and the spongy Polyamide lining provide a reasonable degree of insulation against the cold.
Thanks to the rubber outsole and a decent insole, the cold doesn't penetrate these clogs as much as it would with other shoes.
As long as you like classic rubber boot colours, green, blue and black then you're good to go with these clogs. It would be nice to see some brighter colours or patterned design, maybe they'll be available in the future……fingers crossed
The design is simple and clean, which we like. The lower part of the boots are made from natural rubber and upper part is made from Polyamide (a stretchy synthetic material). Having the two materials gives the clogs some additional character.
There are two variations of the clogs, the standard Lessfor and the Lessfor Plus. The Plus version has a slightly higher shaft than the standard Lessfor. Other than that there isn't any other differences between them.
The clogs really are very diverse and can be used for pretty much any outdoor activity, from going to the beach, walking the dog, gardening or even mucking out the stables.
They can be worn throughout the year, although they are not fully insulated, so if temerapatures drop below freezing you might find that your feet get cold.
The clogs are suitable for both men and women
They're not especially cheap, but certainly not unreasonable for a good quality pair of clogs. If you compare them to other brands such as Hunter Boots or Birkenstocks, they are actually quite reasonably priced.
Overall, we are very impressed with Aigle Lessfor Clogs! They are comfortable, stylish, and great for keeping your feet warm in colder weather. If you are looking for a new pair of clogs, we highly recommend giving these a try!
Questions & Answers - Aigle Lessfor Clogs
Where are Aigle Lessfor boots made?
China. Although the boots ar made in China, they are manufactured to Aigle's very high standard
Are Aigle Lessfor Clogs true to size?
Yes, buy the boots in your normal shoes size
How do you clean rubber boots?
Simply clean with warm water and a mild detergent
How heavy are Lessfor  boots \ clogs?
On average they weight just over 900 grams. Obviously large sizes weigh a bit more than smaller sizes
Wellieboots.com  NEWSLETTER
Sign up to get the latest reviews, news, tips and where to get the best wellie deals!
You will only get emails from wellieboots.com (no 3rd parties)
We generally send one email per month