Aigle Chambord Pro 2 Boots Review
Insulated boots for Men & Women
The French certainly know about great design, and boot company Aige do have a formidable reputation in the boot wear industry, owning the only natural rubber boot manufacturing factory in France. Certified as 'Guaranteed French Origin', people from around the world will pay extra, just to know the boots they buy from Aige are designed and produced in France. But are the Aige Chambord Pro 2 Iso anything out of the ordinary?
Our Verdict
| | |
| --- | --- |
| WHAT WE LIKE  | WHAT WE DON'T LIKE  |
| + Neoprene lined version for warmth | – Build quality good, but not the very best that we expect from Aigle |
| + Excellent grip | – Wide fit around ankle |
| + Comfortable (especially ISO version) |   |
| + Aigle Brand |   |
Adjustments: None
Inside material: Polyamide or Neoprene (ISO version)
Outside material:  Natural rubber
Fit wide calves: No
Waterproof: 100% 
Colours:

 Brown & Sureau

 Sizes

(Women)

:  2.5

 

UK to 8 UK – 4 US to 9.5 US

 Sizes 

(Men)

:

 5.5 UK to 13 UK – 6 US to 13.5 US

Boot Height: Approx 42cm \ 16.5 inches
Are Aigle Chambord Pro 2 boots worth the money
Price wise, the Chambord boots are middle of the Aigle range. There is a slight difference in price between the standard Chambord and the Chambord ISO. The standard version of the boots come with a polyamide lining, which provides very limited insulation against the cold. While the ISO version of the boots have a 3.5mm neoprene lining. Neoprene is an exceptional insulating fabric which is waterproof too.

Although priced in the mid-range for Aigle, the Chambord boots are a more premium price when compared to other brands. As with most things in life, you get what you pay for.
BEST SELLING CHAMBORD PRO 2 BOOTS
Last update on 2023-11-22 / Affiliate links / Images from Amazon Product Advertising API
The different types of Chambord boots
Aigle have several Chambord types worth looking at, including the Chambord Pro, Chambord Pro Lady, Chambord Pro Iso, and Chambord Pro Iso Lady (slimmer ankle on the lady ranges).
The main difference between these boots are that the Chambord Pro and Chambord Pro Lady versions are fast drying, whilst the Chambord Pro Iso and Chambord Iso Lady have improved cold protection. 
Aigle also claim that whilst the ISO boots are made with neoprene lining and are very warm, they are better for stand-hunting rather than stalk-hunting, in which moving at pace may cause over-sweating.
 There is nothing too revolutionary about the Aige Chambord Pro 2 Iso. But in terms of uniqueness, the one thing that the Aigle range prides itself on is boots made for hunting, so if that's what you want them for then you're looking in the right place.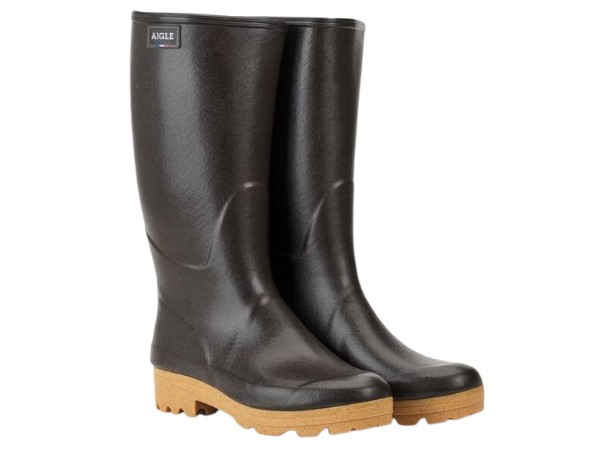 How stylish are the boots
Fashion-wise, these French boots are a renaissance (rebirth) of the traditional wellie – very sleek and chic. Summer or winter, they go well with shorts or a fleece, so have the versatility all year round. You can easily wear these boots whilst shopping in town, meeting friends, or hanging out with work colleagues. This is probably the most appealing aspect of the boots – if you are looking to send these as a gift for someone else then you have made a good choice. 
These boots are certainly trend setters. Aigle understand that contemporary wellies need to look good, and these Aigle Chambords embody the French know-how of design and innovation needed to turn a practical footwear item into an iconic and classy piece of dress code – wear them with jeans, skirt or shorts and they look good no matter what.
How good is the grip \ traction
The outsole offers a double lugged sole with exceptional grip and cushioning. A true hunter style boot, just imagine your posture with knees bent, shoulders rolled forward and these boots holding you steady on uneven ground. The grip gives a confidence about standing in difficult or awkward places that bringing stability and strength to your stance. With self-cleaning lugging, the sole grip has been designed to repel soil and pebbles as you walk, which it does. 
The mustard rubber coloured platform of these boots, once dirty, makes them look a little less appealing when out in the mud. There is nothing worse than a light-coloured outer-sole when you are out somewhere muddy or dirty – a minor design flaw perhaps.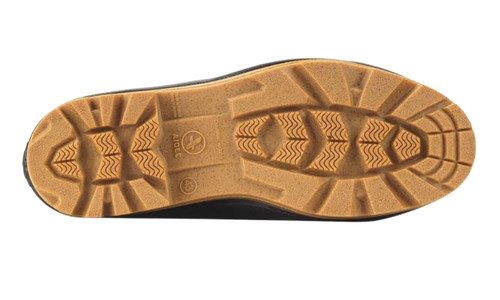 Are the Aigle Chambord Pro boots good quality
The Aigle company itself describes these as forest boots, with grip suitable for trekking in the woods, walking upon uneven ground and treading on wet grassland and treacherous terrain. The natural rubber and environmental ethos of Aigle, as a company, makes these boots ideal for those who really care for natural products. 
Aigle boasts 170 years of boot making, and it is clear to see in these Chambord boots, that there is nothing flimsy about their design or architecture. On the outside they have good looks but also strong grip and sturdiness. On the inside they are insulated using neoprene foam (ISO version of boots only), which retains heat, insulating from freezing cold temperatures of -20 degrees.
Taking care of natural rubber Aigle boots
Of course, because these boots are made of natural rubber, they are totally waterproof, watertight and you need not worry about getting wet feet. If you are someone who, after getting home, likes to chuck your boots in the closet, garage, or by the front door then do read the care instructions for these boots.
Unlike some wellies, these boots come with specific instructions on how to look after them, such as washing them in mild soapy water and using a lint-free cloth to wipe them down.
The manufacturers also recommend keeping them in the dark away from sources of heat. So don't put them on or near the radiators if you want to keep them in great condition!
Final Thoughts: Chambord Pro 2 Boots Review
Overall, these boots are as French as they come, both in terms of innovative design, warmth, and style. Apart from the slick looks, they may not be much different to other Aigle style boots, and there are more comfortable boots on the market too. 
But Aigle are the hunting boot specialists, so if that's your thing, then these will be right down your street.
BEST SELLING CHAMBORD BOOTS

Last update on 2023-11-22 / Affiliate links / Images from Amazon Product Advertising API
Questions and Answers: Aigle Chambord Pro 2 Boots
Are the boots waterproof?
Yes, they are 100% waterproof, thanks to the natural rubber from which they are made
Do the boots suit wide calves?
No, the Chambord boots do not have an especially wide gusset and there is no adjustment to adjust the width of the boots
Are the Chambord Pro 2 boots any good?
Yes, the Chambord boots are good general purpose rubber boots.
How long will the boots last?
If the boots are regularly worn, they will last at least 2 years. If the boots are worn infrequently, you can expect the Chambord Pro 2 boots to last 5 years and longer
Wellieboots.com  NEWSLETTER
Sign up to get the latest reviews, news, tips and where to get the best wellie deals!
You will only get emails from wellieboots.com (no 3rd parties)
We generally send one email per month