Aigle Parcours 2 Vario Boots Review
Aigle have a well deserved reputation for making some of the best rubber boots in the business and the Parcours 2 boots don't disappoint. Very well made, super comfortable and look good. The only negative points are the the high price and lack of an insulating lining.
Our Verdict
| | |
| --- | --- |
| WHAT WE LIKE  | WHAT WE DON'T LIKE  |
| + Excellent quality | – No neoprene lining |
| + Suitable for wide calves | – Premium price tag |
| + Super comfortable  |   |
| + Classic style |   |
Features: Parcours 2 Vario
Adjustments: Yes
Inside material: Polyester
Outside material:  Natural rubber
Fit wide calves: Yes (see review below for details) 
Heel Type:  1.2cm block heel
Waterproof: 100% waterproof
Colours: Bronze, Kaki & Brun
 Sizes (unisex): 3.5UK to 14.5 UK – 5 US to 15 US
Looking for a versatile, all-purpose boot to take with you on your outdoor adventures? Look no further than the Aigle Parcours 2 Vario Boots. These boots are perfect for just about any outdoor activity, from hiking and shooting to bird watching and farming. They are made of durable materials that will keep your feet protected and comfortable in most conditions. In this review, we will take a closer look at the features of these boots and see why they are so popular among outdoors enthusiasts.
BEST SELLING PARCOURS VARIO BOOTS

Last update on 2023-12-01 / Affiliate links / Images from Amazon Product Advertising API
How comfortable are Aigle Parcours 2 Vario boots
The boots have been designed with comfort in mind and they certainly don't disappoint. Unlike cheaper rubber boots, these Aigle boots are made from thick natural rubber, which is flexible and provides good support.
Adjustable buckle
The adjustable buckle at the top of the shaft means that the boots can be made to fit a wide range of calf sizes. The approximate maximum calf size is around 41cm or 16inches.
Being able to adjust the top of the shaft has several benefits
1) The buckle can be left lose, allowing more air to circulate in the boots, helping feet breathe.
2) Tightening the buckle will help prevent water going in over the top of the boots and helps keep feet warmer in colder conditions
3) Prevents the boots from flapping against the leg when walking.
Tri Density Outsole
The Vario boots have a feature that Aigle call 'tri density sole'. This basically means that the soles is made up from three distinct layers, each with a specific purpose.
The absorbent cushion in the heel has two advantages: it absorbs the impact from walking while also propelling the heel, which restores energy. It aids in the mobility of both the foot and ankle, allowing for a more dynamic and lighter stride.
The intermediary sole provides additional support and greater axial stability. It provides the foot with more comfort and support in the boot.
The outer sole is extremely tough with deep treads that have been designed in a way to provide maximum grip.
The three layers that make up the sole provide optimal comfort and is what gives them the tag line 'anti-fatigue boots'. Meaning you can walk long distances without getting tired
Insole
The insole of the boots is made from shock absorbing foam, which along with the tri density outsole provides an amazing level of comfort.
Unfortunately the insoles are not removable, which means cleaning \ drying the inside of the boots can be little bit more difficult. Also, If you use orthopedic insoles, you might find that there isn't enough space for them on top of the in-built insoles.
Lining
The boots have a polyester lining , which is quick drying and treated with an anti-bacterial coating. One of the benefits of the lining is that it helps to wick away moisture from your feet, keeping them dry and comfortable even when walking for long periods of time. The lining also makes it much easier to put the boots on, due to low friction.
On the negative side, the lining provides very little insulation from the cold. If you're after Aigle boots for colder conditions, take a look at our review of the Parcours 2 ISO boots. Which look exactly the same as the Vario's, but have a 4.5 mm neoprene lining.
Is the grip \ traction good
The Vario boots have a deep tread pattern with self-cleaning lugs. The lugs are designed in such a way to provide maximum grip, regardless of the terrain or conditions. Whether you're walking on wet rocks, mud, or snow, the boots provide good traction and grip. 
The only time you might have issues is if you're walking on an icy surface. Unfortunately, the Vario boots don't have studs, which is the only way of getting good traction on ice.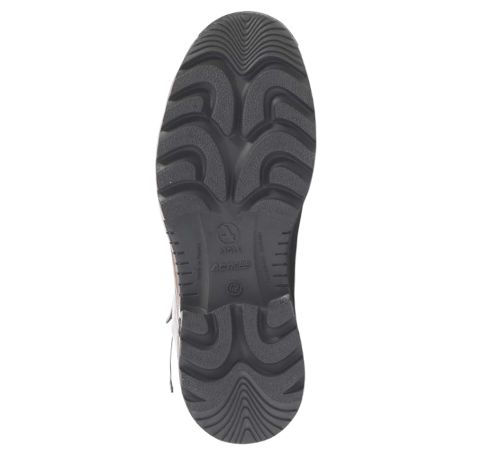 How stylish are Aigle Vario boots
The overall design of the boot is classic rubber boots design. With one look you can easily see that they are high quality boots and not some cheap pair of wellington boots \ rain boots.
The adjustable buckle and strap on the shaft of the boots is not only practical, but it also gives the boots character. The Aigle logo on the front is also a nice touch and adds to the stylish look of the boots.
They have been primarily designed as practical footwear, rather than fashion footwear. Which means the Aigle Parcours Vario boots are only available in three different colours: black, green, and brown. All of the boots have a matte finish, which helps to hides scratches and dirt.
As mentioned previously the Vario boots only have a thin textile lining, which is not designed to keep feet warm in cold conditions. The Vario boots are more for spring\summer, rather than autumn\winter. However, they can be worn with thick socks in cold conditions for a limited amount of time.
They are general purpose rubber boots and are suitable for just about any outdoor activity, gardening, dog walking, hiking, shooting and yard work. They can be worn all day without any discomfort, protecting your feet from the elements.
It should be noted that they are not safety boots, they don't have steel toe caps or electrical hazard protection rating etc
Final Thoughts: Parcours 2 Vario Review
All in all, the Aigle Parcours Vario boots are an excellent choice for anyone looking for a high quality pair of rubber boots. You will be paying for the high quality, as Aigle boots are not cheap. 
They are comfortable to wear, have great grip and traction, and are stylish enough to be worn in a variety of different situations. If you're looking for boots to use in colder conditions, we would recommend checking out the Aigle Parcours ISO Boots.
BEST SELLING PARCOURS VARIO BOOTS

Last update on 2023-12-01 / Affiliate links / Images from Amazon Product Advertising API
Questions and Answers: Aigle Parcours Vario Boots
Do Aigle Vario boots run big?
Customers report that the boots are slightly on the large. It is still recommend that you buy the boots in your normal shoes size. If you find the boots are slightly too large then you could try inserting your own insole or wear thick socks.
Are Aigle Parcours Vario Unisex?
Yes, they are unisex boots. The sizes range from 3.5UK to 14.5UK, making them suitable for men and women
How tall \ high are Aigle Parcours Vario boots?
The shaft is on average 41cm. This varies according to size.
What's the difference between Parcours ISO and Vario?
The only difference between the ISO and Vario is that the ISO boots have a neoprene insulating lining. The Vario boots have a textile lining that doesn't provide insulation from the cold. On the outside the boots look identical.
The ISO boots are better suited for cold conditions (autumn\winter), while the Vario boots are best for warmer weather (spring\summer).
Do the Pacours Vario boots have a neoprene lining?
No, the boots only have a thin textile lining. If you require a neoprene lining, take a look at the Parcours ISO boots
Do the boots have a zip?
No, the Vario boots do not have a zip. They have a strap and buckle at the top of the shaft allowing for adjustment around the calves
What guarantee comes with the Aigle Parcours 2 Vario boots?
All Aigle boots that are purchased  from Aigle come with a 2 year guarantee.
Is Aigle a good brand?
Yes, Aigle make some of the best quality boots you can buy. They are more expensive than many other brands, but as the saying goes 'you get what you pay for'. 
Where are Aigle boots made?
Aigle boots are made in France
How much do Aigle Parcours 2 Vario boots weigh?
They boots weigh 2.2kg \ 4.85lbs for a size 9UK \ 10US. Smaller size weight slightly less and larger sizes slightly more
What colour is Aigle bronze?
Its a dark green colour. Not a brown and yellow colour, which you might expect
Do Aigle Vario boots come in half sizes?
The boots are manufactured using French shoes sizes, this means that some sizes are available in UK and US half size. It also means that you will find that some full sizes are not available. 
Wellieboots.com  NEWSLETTER
Sign up to get the latest reviews, news, tips and where to get the best wellie deals!
You will only get emails from wellieboots.com (no 3rd parties)
We generally send one email per month