Aigle Malouine Boots Review
Women's Fashion Wellington Boots
The Aigle Women's Malouine wellington boots are iconic boots designed specifically for women. They offer a stylish and fashionable look that can be worn for various occasions. The boots are available in three colours.
Our Verdict
| | |
| --- | --- |
| WHAT WE LIKE  | WHAT WE DON'T LIKE  |
| +Available in 3 colours | – Grip could be better |
| + Made from quality materials | – Sizing slightly on the small side |
| + Suitable for wide calves |   |
| + Original style |   |
Features: Aigle Malouine Boots
Adjustments: None
Inside material: Polyester \ cotton mix
Outside material: Natural rubber 
Fit wide calves: Yes (not extra wide)
Waterproof: 100% 
Colours:

blue, red and yellow

 Sizes

(Women)

:

 

UK 2.5 to  UK 7.5

Boot Height: Mid-height
Heel Type: Flat
Insole: Polyester (removable)
The Aigle Women's Malouine Wellington Boots are made with high-quality materials to ensure durability and comfort. The outer material is made of rubber, providing waterproof protection and preventing any water from entering the boots. This makes them perfect for rainy days.
The inner lining of the boots is made of a combination of 65% polyester and 35% cotton. This lining enhances breathability and reduces moisture buildup, keeping your feet dry and comfortable throughout the day. The manmade inner material provides a soft and cushioned feel, adding to the overall comfort of the boot.
BEST SELLING AIGLE MALOUINE BOOTS
Last update on 2023-09-18 / Affiliate links / Images from Amazon Product Advertising API
Natural Rubber Upper for Durability
The upper part of the Aigle Boots is primarily made of natural rubber. Natural rubber is known for its exceptional durability and resistance to wear and tear. This ensures that the boots can withstand tough environments and remain in good condition for a long time.
The use of natural rubber in the upper also provides flexibility, allowing for easy movement and preventing any stiffness. It moulds to the shape of your foot, providing a comfortable and customized fit. Additionally, natural rubber is a sustainable and eco-friendly material, making these boots a conscientious choice for environmentally conscious individuals.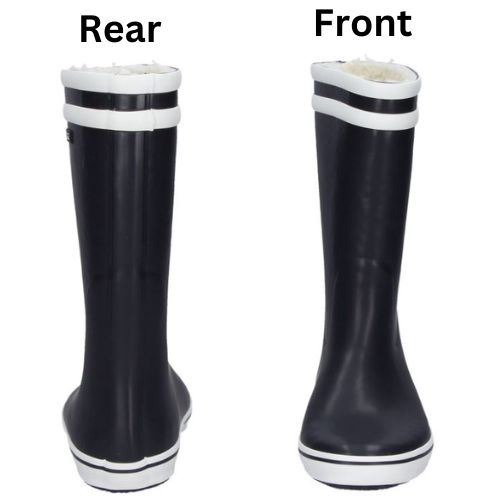 Easy Pull-On Closure
The Aigle Women's Malouine Wellington Boots feature a convenient pull-on closure, allowing for easy on and off. This eliminates the need for laces or buckles, saving you time and effort. The pull-on design also ensures a secure and comfortable fit, as you can adjust the tightness according to your preference.
The pull-on closure is particularly beneficial when you need to quickly put on or remove the boots, making them a practical choice for outdoor activities or when you are in a rush. It also adds to the sleek and streamlined appearance of the boots, enhancing their overall aesthetic appeal.
Removable Insole for Added Comfort
The Wellington Boots come with a removable insole made of polyester. This feature allows you to customize the comfort level of the boots according to your preference and foot anatomy. You can replace the insole with your own orthotics or add extra cushioning for additional support.
The removable insole also makes it easier to clean and maintain the boots. You can remove the insole to wash or air it out, ensuring that your boots stay fresh and odour-free. This feature adds to the longevity of the boots, as you can easily replace the insole when necessary.
Pro-tip: Consider adding gel inserts to the removable insoles for maximum comfort and additional shock absorption.
Probably the biggest downside to the Malouine boots is that they don't have the best grip. The treads are very shallow, which means that they will provide sufficient grip on flat, hard surfaces, but in muddy conditions, there is very little grip. This is to be expected as the boots are designed more as a 'fashion' boot rather than a 'working' boot.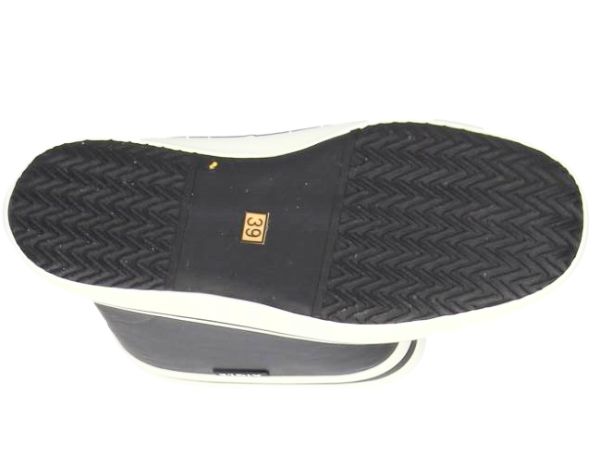 The Aigle Women's Malouine Bt Wellington Boots are an iconic boots designed specifically for women. They offer a stylish and fashionable look that can be worn for various occasions. The boots are available in other colours, allowing users to choose the one that fits their personal preference.
These boots have a classic and timeless design that never goes out of style. They add a touch of elegance to any outfit, making them a versatile choice for different outfits and occasions. Whether you are going for a casual or a more formal look, these boots can complement your style effortlessly.
Pro-tip: Pair these boots with jeans and a cosy sweater for a chic and comfortable winter look.
Final Thoughts: Malouine Boots Review
Overall, the Aigle Women's Malouine Wellington Boots offer a combination of style, durability, and comfort. Their iconic design, durable materials, easy pull-on closure, removable insole, and natural rubber upper make them a reliable and fashionable choice for women.
BEST SELLERS

Last update on 2023-09-18 / Affiliate links / Images from Amazon Product Advertising API
Questions and Answers: Malouine Boots
Can I wear them in the snow?
While the standard Aigle Malouine boots are waterproof, they will not provide the insulation required for snowy conditions. The is a 'fur version of the Malouine boots that has a fur lining to provide additional warmth. However, for sub-freezing conditions we would recommend you go for boots with a neoprene lining.

How long will the boots last?
With proper care, Aigle boots can last easily 5 years and potentially much longer, thanks to the quality construction. The durability depends on the frequency of use and how well they are maintained.

Why is there a white powdery substance on my boots?
This is called "bloom." It's a natural process where insoluble particles rise to the surface of the rubber. It doesn't affect the quality of the boots. You can wipe it off with a damp cloth.

Are Aigle Malouine boots available in different colors?
Yes, the boots are currently available in three different colours – Red, Blue and Yellow.

Are these boots environmentally friendly?
Aigle is known for its commitment to sustainability and often uses natural rubber in their boots. However, it's a good idea to check their official statements or product descriptions for specific environmental practices.

Can I wear them all day?
While Aigle Malouine boots are designed for comfort, it depends on individual preferences and the activity you're doing. For extended periods of walking or standing, you might want to choose footwear designed specifically for that purpose.
Wellieboots.com  NEWSLETTER
Sign up to get the latest reviews, news, tips and where to get the best wellie deals!
You will only get emails from wellieboots.com (no 3rd parties)
We generally send one email per month