Ultra Light Slip On Clogs for Men & Women
Ultra lightweight clogs that are very easy to slip on and take off. As you would expect from Aigle, the build quality is excellent. They're very comfortable to wear, especially the fur lined version. Ideal for using in the garden.  
Our Verdict
| | |
| --- | --- |
| WHAT WE LIKE  | WHAT WE DON'T LIKE  |
| + Very easy to put on \ take off | – Only available in 6 colours |
| + Super lightweight |   |
| + Comfortable to wear |   |
| + Good quality |   |
Rubber clog boots have become very popular in recent years. All the big brands have their own versions. Aigle already have two ranges of clogs called Corlay, Sabot and Lessfor which are all slightly bulkier than the Taden clogs. Read our full review below to see what what makes the Aigle Taden clogs so good.
Adjustments: None
Inside material: Textile or Fur
Outside material: Rubber and EVA (type of stretchy plastic)
Sizing: True to size 
Fit wide calves: Yes
Heel Type: Flat
Waterproof: 100% waterproof
Colours: Black, Blue, Red, Green, Aubergine and Iris
Sizes: 36 UK to 46 UK – 5.5 US to 13 US
Bestsellers
Sale
Bestseller No. 1
Bestseller No. 2
Sale
Bestseller No. 3
Last update on 2023-09-03 / Affiliate links / Images from Amazon Product Advertising API
Aigle Taden clogs are 'ultra-light', only weighing about 300 grams. Which is roughly the same weight as two oranges! The 'Plus' version of the clogs weigh slightly more, at about 350 grams. Aigle have managed to achieve such lightweight, partly because the materials that used to construct the boots have been specially selected because of their lightweight properties. Also, the clogs have a 'delicate' design compared to many other clogs, which are traditionally much clumpier.
Just because they a lightweight doesn't mean that they aren't sturdy. As with all things Aigle, the clogs are built to last. So, you can expect to get many years of use from them.
When looking to buy a pair of Taden clogs you will notice that there are several variations.
Taden – Ultra-light clogs, without back heel for women
Taden M – Ultra-light clogs, without back heel for men
Taden Plus – Ultra-light clogs with a closed back (closed heel) for women
Taden Plus M – Ultra-light clogs with a closed back (closed heel) for men
Taden Plus Fur – Ultra-light clogs with a closed back (closed heel) with a soft fur lining, for women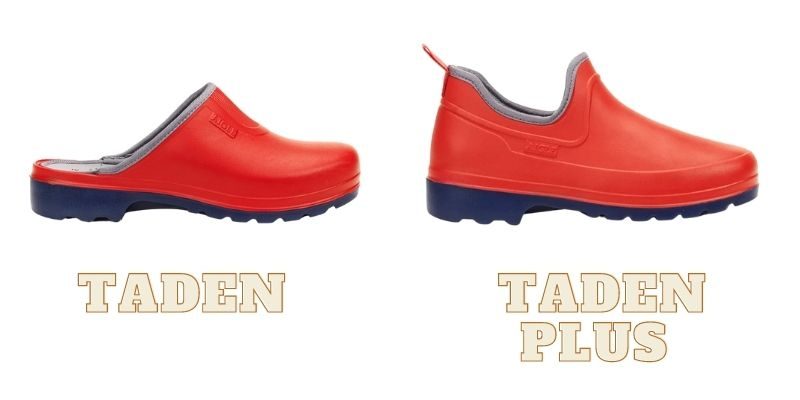 Most of the Taden clogs range have a thin textile lining, which means that they are generally better suited for the warmer temperatures of Spring and Summer. There is a Taden Plus version of the clogs that has a fur lining, which gives slightly better insulation compared to the textile lining. However, the fur lining is there more for comfort than keeping feet warm in the cold.
The boots are currently available in six different colours. There may be additional colours or patterned designs to come at some point in the future. The clogs are a simple design, which probably won't win any fashion awards. Compared to rubber clogs from other manufactures, we think these are definitely among the best looking.
It's good to have the option of closed back or open back clogs. The Taden don't have a back heel, the Taden Pro have a closed back. 
The clogs are available for both men and women.
Both the Taden and Taden Pro variants of the clogs are great for pottering around the garden or taking the bins out on a wet day.
Because the Taden Pro have a back heel they are going to better suited for walking. 
Aigle Taden clogs offer great value for money. When you buy Aigle, you are buying from a brand that has a long history of producing the best rubber boots available.
The Taden clogs are well made and very comfortable. We can't really fault them, especially considering the low price. If you're looking to buy a pair of rubber clogs, we definitely recommend that you put the Aigle Taden clogs on your short list
Questions & Answers - Aigle Taden Clogs
Where are Aigle Taden Clogs made?
China
Are Aigle Taden Clogs true to size?
Yes, buy the clogs in your normal shoes size
How do you clean rubber clogs?
The clogs are easily cleaned with soap and water. Don't try to clean with strong detergent or chemicals as this may damage the boots
Wellieboots.com  NEWSLETTER
Sign up to get the latest reviews, news, tips and where to get the best wellie deals!
You will only get emails from wellieboots.com (no 3rd parties)
We generally send one email per month