Le Chameau Iris Jersey Lined Boots Review
Colourful Boots for Women
Le Chameau are known for making great quality boots. The downside is their boots are nearly always only available in brown and green colours. Fortunately, the Iris Jersey lined range of boots have broken the mould and are available in 7 different colours. If you're after high quality colourful boots, then you should definitely consider Le Chameau Iris boots
Our Verdict
| | |
| --- | --- |
| WHAT WE LIKE  | WHAT WE DON'T LIKE  |
| + Lightweight | – Not suitable for wide calves |
| + Good quality | – Not suitable for cold conditions |
| + Beautiful range of colours |   |
| + Comfortable |   |
Adjustments: None
Inside material: Polyester \ Cotton
Outside material: 'Chamolux' rubber
Fit Type: True to size
Wide calves: Not suitable
Heel Type: Small block heel
Waterproof: 100% waterproof
Colours: 7 colours available
Sizes: Women 3 UK to 8 UK – 4 US to 9 US
Colourful rain boots (US) or wellington boots (UK) have been extremely popular with the fashion conscious for many years. With Hunter dominating the market with their Original boots. But, as our review of Hunter Original boots highlights, they are not as good as they once were.
The Le Chameau Iris boots are a great alternative to Hunter Original boots and we think they are a much better boot, all round.
Read our full review below to see what makes Le Chameau Iris jersey lined boots for women so good.
Typically, Le Chameau boots are only been available in either a green or brown colour. But, with the Iris range of boots you have a choice of 7 colours, with more to come. The image below shows the different colours currently available.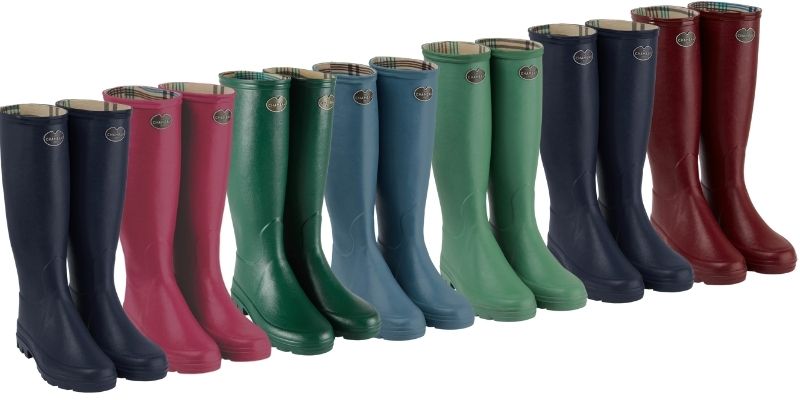 The upper part of the boots are a relatively narrow fit (not suitable for wide calves) and unlike similar boots they don't have a buckle at the top, giving them a clean and elegant look. 
We have reviewed many pairs of rubber rain boots, where the manufacture has spent a lot of effort in making the boots look stylish, but has completely neglected comfort. Fortunately this isn't the case with the Iris boots. They look good and they are comfortable to wear.
The Chamolux rubber that the boots are made from is super durable, but also lightweight and flexible. This combination makes them ideal for walking or wearing for long periods of time without having any discomfort.
As previously mentioned the boots have polyester \ cotton lining which helps give the boots a certain amount of 'breathability'. This helps to prevent moisture building up and making the boots unpleasant to wear and smelly, especially in warmer weather.
Its slightly misleading of Le Chameau to refer to the boots as being 'Jersey lined'. This conjures up images of a nice warm lining that will keep feet warm in cold conditions. Unfortunately this isn't the case. The boots have a thin cotton \ polyester lining which really does nothing to keep feet insulated. 
The Iris boots are really best suited for milder, wet conditions, not snow and ice. Thick socks will help keep feet warm in colder conditions, but ideally we would recommend going for boots that have a neoprene or fleece lining
The Iris boots are primarily designed as a fashion boot, which means that the soles are not going to provide the same sort of traction as a 'working' boot. The soles of the boots have got a reasonable amount of grip and should be sufficient for most situations, like taking the dog for a walk or gardening.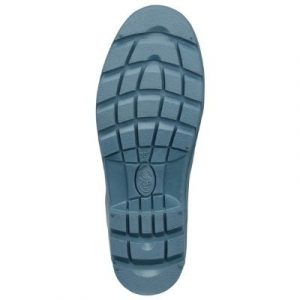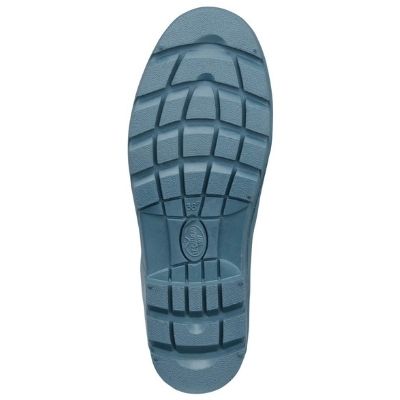 The Le Chameau Iris boots are very stylish and a great alternative to the Hunter Original boots. Not only do they look as good or better than the Hunter boots, they are also a great practical boot (the same can't be said about the Hunter Originals).  
Le Chameau has a reputation for making some of the best rubber boots available. This does mean that their boots tend to be more expensive than other brands. However, you are paying for some really good,  high quality boots, that will last for many years to come. We think they are well worth the money.
The Le Chameau Iris boots will keep your feet dry  in wet conditions, they are 100% waterproof. 
The primary factor that lets the boots down, is they don't have any form of insulation to keep feet warm in cold conditions.
The Chamolux rubber that the boots are made from is relatively thin and won't offer protection from a heavy object falling on your foot…..ouch
Le Chameau Iris boots review: Final Thoughts
There are loads of colourful rain boots \ wellies available, but very few (if any) can match the quality of the Le Chameau Iris boots.
They look good, are comfortable to wear, well made and lightweight. What more can you ask for from a pair of rubber boots?……..well, i guess you could ask for an insulating lining to keep feet warm.
We give the Iris boots 4.5 \ 5
Wellieboots.com  NEWSLETTER
Sign up to get the latest reviews, news, tips and where to get the best wellie deals!
You will only get emails from wellieboots.com (no 3rd parties)
We generally send one email per month