Stylish Rubber Boots for Women
f you're looking for a stylish and functional rain boot, the UGG Women's Shelby Matte Rain Boot is a great choice. Not only are they highly waterproof, but they also provide exceptional comfort. The easy pull-on closure and low heel height add to the convenience and stability. The luxurious materials used in these boots make them stand out from the rest.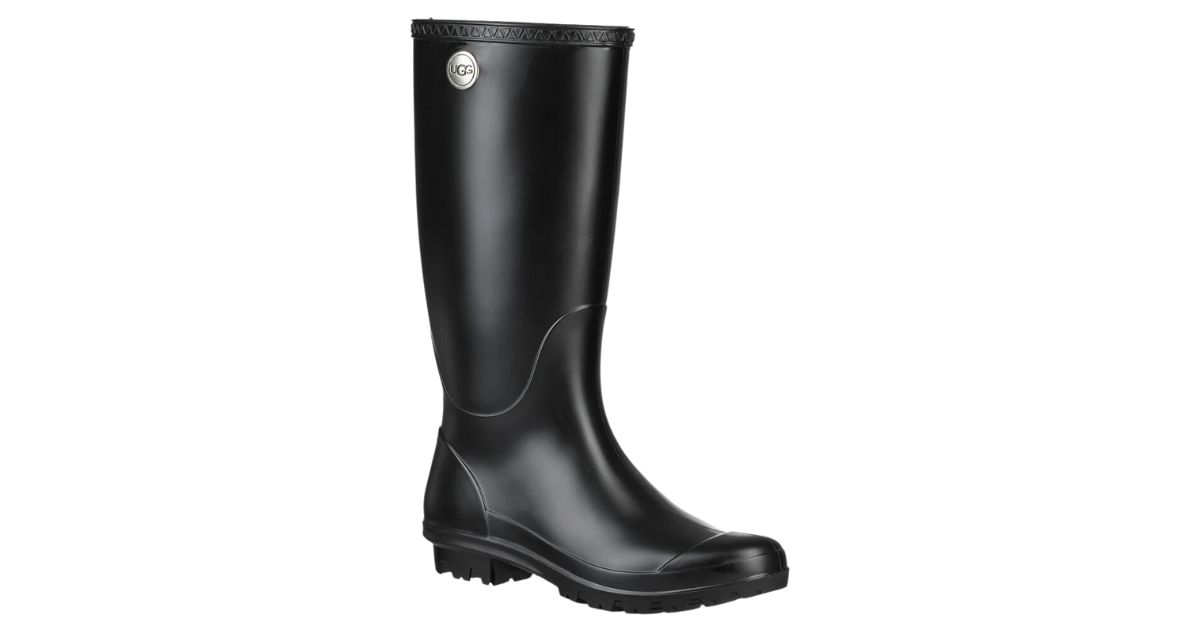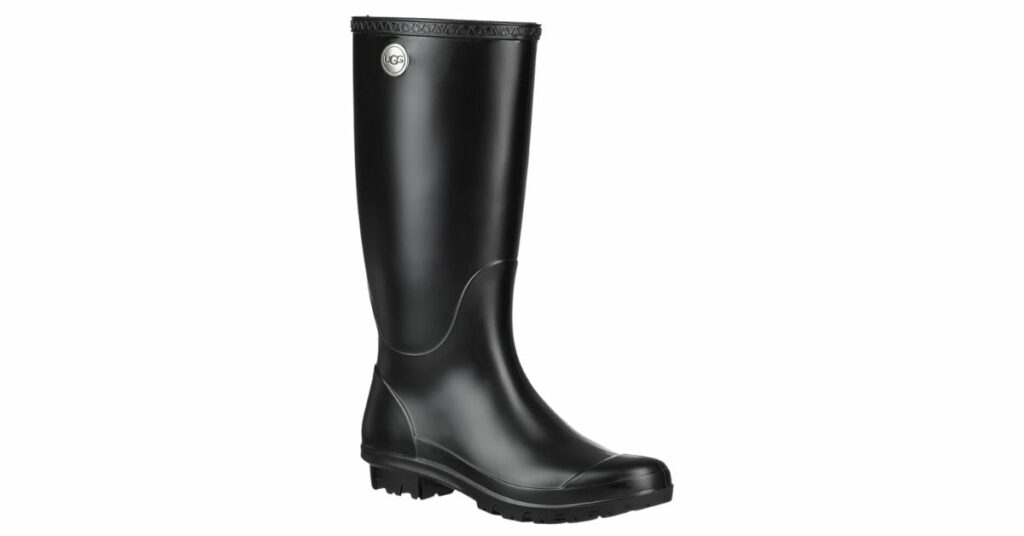 Ugg Shelby Boots Review
Date of review September 2023 by Richard 
Our Verdict
| | |
| --- | --- |
| WHAT WE LIKE  | WHAT WE DON'T LIKE  |
| + Sheepskin Insole | – Narrow fitting |
| + Stylish | – Quite expensive |
| + Well made |   |
| + UGG branded |   |
Features: UGG Shelby Boots
Adjustments: None
Inside material: Polyester
Outside material: Rubber
Insole: Sheepskin
Fit wide calves: No
Waterproof: 100% 
Colours:

 Black

Boot Height: 12.5 inch (shaft)
Today I want to share my thoughts on the UGG Women's Shelby Matte Rain Boot. As someone who loves outdoor activities, I always look for boots that are not only stylish but also practical. With these UGG rain boots, I found both qualities I was looking for.
Pros and Cons
What We Liked
The moulded rubber upper provides excellent waterproof protection. I have tested these boots during heavy rain, and my feet stayed completely dry!
The polyurethane insole with 7mm Tablegrade sheepskin lining offers incredible comfort. It feels like walking on clouds, even during long walks.
The pull-on closure makes it so easy to put on and take off the boots. I appreciate not having to waste time dealing with laces or zippers.
The low heel height provides just the right amount of support and stability. I feel confident walking on slippery surfaces with these boots.
The materials used are of high quality. The combination of rubber and sheepskin not only ensures durability but also gives the boots a luxurious look.
What Can Be Improved
Although the boots are listed as regular shoe width, some users may find them a bit narrow. It would be great if there were wider options available.
The price of these boots might be considered a bit high for some consumers. While the quality justifies the cost, it may not fit everyone's budget.
Features – What We Found
Moulded rubber upper
The UGG Women's Shelby Matte Rain Boot features a moulded rubber upper, which provides durability and protection against the elements. The rubber material is resistant to water, making these boots perfect for rainy days. The moulded construction ensures a seamless and sleek design, allowing for easy slip-on and a comfortable fit.
With a moulded rubber upper, these boots offer excellent waterproofing and are easy to clean. They can be simply wiped down with a damp cloth, making them low-maintenance. The rubber material also enhances the boot's durability, ensuring that it they will last for seasons to come.
Pro-tip: To enhance the longevity of the moulded rubber upper, apply a silicone-based rubber protectant spray before wearing them for the first time. This will help prevent fading and cracking, keeping the boots looking new for longer.
Polyurethane lining with 7mm sheepskin Insole
The UGG Women's Shelby Matte Rain Boot features a polyurethane insole with a 7mm Tablegrade sheepskin lining. This combination provides an exceptionally comfortable and cozy fit. The polyurethane insole offers cushioning and support, ensuring all-day comfort, while the sheepskin lining adds warmth and softness to the boot.
The UGG woven label adds a touch of branding and authenticity to the boots. It signifies the high-quality craftsmanship and attention to detail that UGG is known for. The presence of this label ensures that you are getting a genuine UGG product.
Rubber sole
The UGG Women's Shelby Matte Rain Boot features a rubber sole, which provides excellent grip and traction. This is especially important on wet and slippery surfaces, allowing you to confidently navigate through rain, mud, or snow. The rubber sole also offers flexibility and cushioning, ensuring a comfortable walking experience.
The rubber material used in the sole is durable and resistant to wear and tear. It is designed to withstand various weather conditions and terrain, making these boots suitable for outdoor activities and adventures. The rubber sole also helps to absorb shock, reducing the impact on your feet and joints.
BEST SELLING UGG SHELBY
Last update on 2023-11-21 / Affiliate links / Images from Amazon Product Advertising API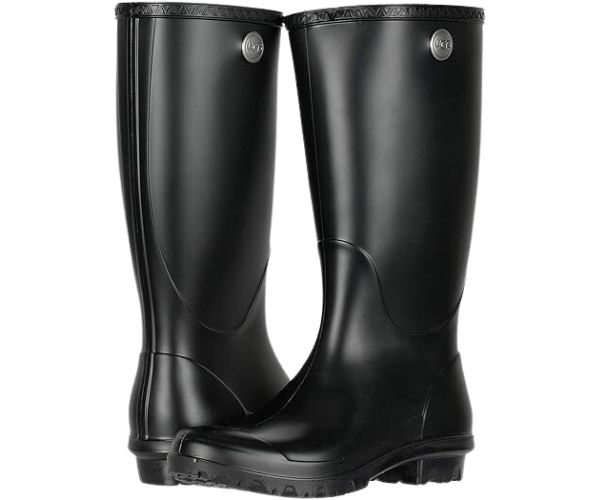 Pull-On Closure
The UGG Women's Shelby Matte Rain Boot features a convenient pull-on closure, making them easy to slip on and off. The absence of laces or zippers eliminates the hassle of fastening and ensures a secure fit. The pull-on design also adds to the sleek and streamlined look of the boots.
This pull-on closure is especially beneficial on rainy days when you want to quickly put on your boots and head out the door. It saves time and provides convenience, allowing you to focus on staying dry and comfortable. The pull-on closure also eliminates the risk of water leaking through zipper or lace openings.
Pro-tip: To make putting on the boots even easier, sprinkle a small amount of talcum powder or cornstarch on the inside of the boot. This will reduce friction and ensure a smooth entry for your feet.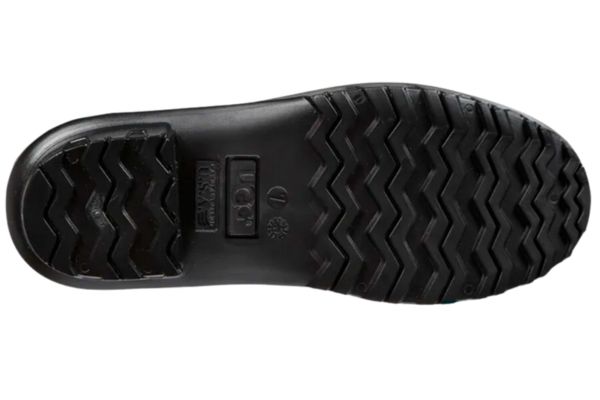 Low Heel Height
The UGG Women's Shelby Matte Rain Boot features a low heel height, which offers stability and comfort for everyday wear. The 1-inch heel provides a slight elevation without compromising on walking comfort. It allows for a natural stride and prevents foot fatigue, making these boots suitable for extended periods of wear.
The low heel height also adds a stylish touch to the boots. It provides a subtle lift and elongates the legs, without the discomfort associated with higher heels. The versatile design of these boots makes them suitable for both casual and dressier occasions.
With a low heel height, these boots are a practical choice for outdoor activities and urban adventures. They provide the right balance of style and functionality, ensuring that you can comfortably navigate through various terrains.
Final Thoughts: UGG Shelby Boots Review
Overall, I highly recommend the UGG Women's Shelby Matte Rain Boot. They are not only functional but also stylish.
BEST SELLING UGG SHELBY BOOTS

Last update on 2023-11-21 / Affiliate links / Images from Amazon Product Advertising API
Wellieboots.com  NEWSLETTER
Sign up to get the latest reviews, news, tips and where to get the best wellie deals!
You will only get emails from wellieboots.com (no 3rd parties)
We generally send one email per month