Le Chameau Chasseur Boots Review
High End Boots for Men & Women
Trusted for decades by the Royal family and referred to as the Rolls Royce of wellington boots, Le Chameau wellies have an unparalleled reputation for quality and comfort. Are the Chasseurs as good as the other Le Chameau boots? Let's find out!
Our Verdict
WHAT WE LIKE 
WHAT WE DON'T LIKE 
+ Built to the highest standard
– At the highest end of the price range
+ Incredibly comfortable
– Only available in green
+ Classic, stylish country design
 

+ Choice of luxury linings

+ Multiple width fittings for different calve sizes

 
Features: Le Chameau Chasseur
Inside material: Various – Leather, Neoprene & Jersey
Outside material:  Chamolux rubber
Fit wide calves: Yes, 8 Different calf sizes available
Waterproof: 100% (including zip)
Colours:

 Green and Black (very rare)

 Sizes

(Women)

:

 3 

UK to 9 UK –  5 US to  11 US (varies depending on lining)

 Sizes 

(Men)

:

  6 UK to  14 UK –  6.5 US to  17 US 

 (varies depending on lining)
Boot Height: Approx. 40cm
Warranty: 2 Years 
How comfortable are Chasseur wellies
The technicians at Le Chameau are highly skilled craftsman, treating their boot making process as and art. The fit of these wellies is as good as you would expect from a bespoke pair of leather boots. They are a natural fit with just the right amount of wiggle room, allowing air circulation to promote removal of surplus heat and moisture. They are supple and flexible yet offer good arch support and excellent grip.  
A good choice of linings that suit different pursuits adds to the comfort, providing warmth and keeping feet secure inside the boot. After a short time, you don't feel like you are wearing wellies at all and could easily keep them on all day. 
Most Le Chameau owners wouldn't wear anything else and many wish they had discovered them years ago after tirelessly going through other brands that fail or rub or disappoint in some other way!
BEST SELLING LE CHAMEAU CHASSEUR
Last update on 2023-11-10 / Affiliate links / Images from Amazon Product Advertising API
How long do Le Chameau Chasseur boots last
As Chasseurs are hand built by an individual master bootmaker from start to finish, each pair has been carefully taken through each step of the process by the same person. This dramatically reduces chance for any imperfections that could get missed if they were off on a conveyor belt to the next piece of machinery! 
The boot maker builds up the layers of the sole and boot and reinforces each join by hand. The boot is vulcanised in a big oven where the layers are melted and bonded together to make them one, creating a completely waterproof finished article. 
 The natural rubber blend these master bootmakers have developed is incredibly durable and the Chassuers are reinforced with an Aramid fibre panel on the front to protect from gorse bushes and abrasion. Aramid fibre is generally used in aerospace and the military for body armour! So, you can expect the Chasseurs to perform year after year and last up to and beyond 20 years when provided with the right care.
It has been known for a pair of Le Chameaus to outlive their owners!
What linings do Chasseurs come with
There is a choice of 4 luxurious linings:

Pure Wool – 100% natural wool, excellent insulation in the very cold and offers temperature regulation in warmer weather.

Leather – fully lined in full grain leather which offers year-round comfort. The tanning process leaves the leather resistant to damp.

Jersey – Traditional tartan patterned poly-cotton lining which is fast drying and will keep you cool in warmer weather.

Neoprene – 3mm Neoprene lining for maximum insulation in the coldest temperatures but can be a little sweaty in warmer climates or with exertion…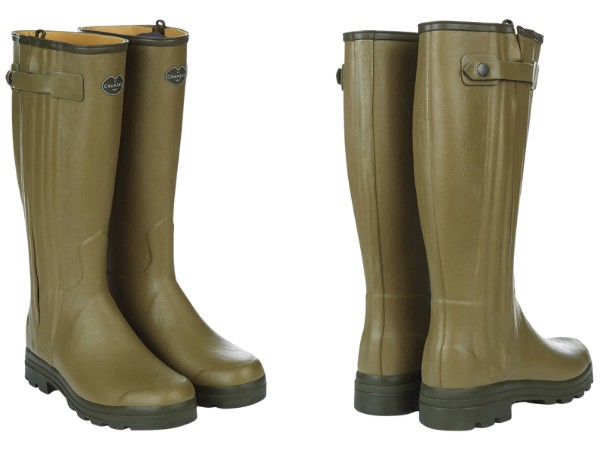 Are Le Chameau Chassuer boots good for Farming and hard outdoor use
Absolutely! Le Chameau was founded in 1927 by Claude Chamot whose sole intention was to create a reliable rubber boot for agricultural uses, that offered levels of reliability, fit and comfort not seen before. To achieve this, he worked with farmers and people that earned a living on land and sea, round the clock, in all weathers.
Using shoe making principles combined with a tailor-made blend of natural rubber, Chamot developed a range of incredibly hard wearing, durable boots like no other. Boots that could withstand the elements and labours of farming, hunting and fishing, while providing the wearer with comfort and support, keeping them warm and dry, day and night.
Design and technology have improved over the years and extra features have been developed, but the end product is still as hard wearing as ever.
Do Chasseur boots have good grip
Chassuer boots have a dual density sole which is two layers of moulded rubber with shank reinforcement added between the layers. Shank reinforcement offers a structure to the sole that supports the arches, calves, and knees by reducing the load.The reinforcement improves stability and helps the boot retain its shape and quality of grip.
Le Chameau have developed their soles and shank reinforcement with Michelin and using their tyre technology for superior grip. The tread has been designed to displace mud and water to offer sure footed traction on uneven, soft, or slippery terrain.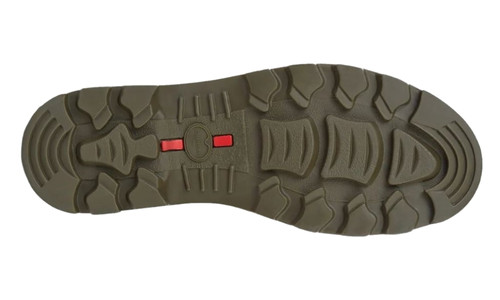 Are the boots suitable for very cold weather
Despite being a thin layer of rubber, the natural material combined with a lining of your choice (we recommend neoprene or wool for very cold climates) you can expect to be warm and cosy in very low temperatures. 
Unlike plastic boots, the Chasseur rubber stays supple even at very low temperatures, so your movement and comfort are not reduced. Tested in slush, snow and icy conditions, the Chasseur has passed with flying colours keeping feet warm and dry for as long as is required. 
The manufacturers state that they are suitable down to -15 degrees Celsius but we are told they have been known to keep feet nice and toasty even at -28 degrees!
Are they suitable for wide calves
As the Chasseur is a tall boot, it is important to get the calf fitting correct. Thankfully this is a well-known issue and unlike a lot of manufacturers, Le Chameau offer not just one or two but many, many fitting options! 
There are 8 widths to choose from with the wool and Jersey lined boots and up to 13 width fittings for the leather and Neoprene lined boots!
Final Thoughts: Le Chameau Chasseur Boots Review
We highly recommend the Chasseur. If you are looking for a long term, dependable, supremely comfortable boot with classical style then look no further! Le Chameau offer you all of this and much more with hidden technology and long-term support and protection.
These boots are an excellent choice for anyone that is serious about the outdoors. They would be a fantastic purchase or gift for any countryside professional, a farm vet, a farmer or farm worker.  Perfect for an equestrian and ideal for country walks, fishing, shooting, hunting – any number of outdoor pursuits! That said, of course you don't have to work them to the bone – anyone that desires premium comfort and style in a wellie would also benefit from a pair of Chaussers.  
BEST SELLING CHASSEUR BOOTS

Last update on 2023-11-10 / Affiliate links / Images from Amazon Product Advertising API
Questions and Answers: Le Chameau Chasseur
Which is the most suitable lining for year-round use?
All of the linings are useable year-round, to help you decide, think about your usage – for long hours in extreme cold, we recommend the Neoprene or wool lining, for less harsh conditions the leather or jersey lining would be a great option. It's a personal choice though and each lining is versatile with different benefits.
Are they good for walking long distances?
They are one of the best boots for long distance walking due to the technical details put into the design of the sole offering flexibility and support along with the comfort and fit of the natural rubber boot.
What care is required for the Chasseur?
A simple wash with water and a brush is enough, it is not recommended to use any soap or chemicals to wash them. If you would like to keep them in top condition, you can purchase a boot care kit from Le Chameau comprising of a natural soft brush for mud removal, a microfibre cloth for cleaning and a silicon spray suitable for natural rubber.
Are Chasseurs suitable for wide calves?
Yes, there are multiple calf widths available in the different sizes.
Do Le Chameau Chasseur boots fit true to size?
Yes, you should order your Chasseurs in the same size that you would order yourself a pair of leather boots and they will fit with adequate space for some warm socks. If in doubt, refer to the Le Chameau size guide.
Is the zip functional?
This is no ordinary zip! It is a full length, Riri Aquazip – used technical clothing and outdoor equipment. The teeth of the zip are designed to keep water out and it has a polyurethane coating to further ensure dryness. The zip is then covered by a layer of the Le Chameau rubber and further sealed with a snap button fastener at the top. Fully waterproof, this is about as functional as a zip can get!
Wellieboots.com  NEWSLETTER
Sign up to get the latest reviews, news, tips and where to get the best wellie deals!
You will only get emails from wellieboots.com (no 3rd parties)
We generally send one email per month