Joules Field Boots Review
Adjustable Back Gusset Rain Boots
If you want to keep your feet dry in wet conditions and look good at the same time, then the Joules Field boots might be for you. An adjustable fastener on the back of the boots makes them suitable for wide calves. Available in 4 plain colours. Ideal for wearing in milder conditions but not so good in the cold. 
Our Verdict
| | |
| --- | --- |
| WHAT WE LIKE  | WHAT WE DON'T LIKE  |
| + Adjustable gusset  | – Insoles move around |
| +  Stylish | – Reports of some boots splitting |
| + Available in plain colours |   |
Joules have been making boots since 1989 and have earned a reputation for making quality boots, that are also stylish.  Below is our review of the Joules Field boots, which are a great alternative to the very popular Hunter Original boots
Joules Field Boots: Features
Adjustments: Rear adjustable fastener
Inside material: Polyester
Outside material: Natural rubber
Fit Type: True to size
Wide calves: Suitable for wide calves
Heel Type: Small block heel
Waterproof: 100% waterproof
Colours: Blue, green, black and black gloss
Sizes (women):  3 UK to 8 UK – 5 US to 10 US
Rubber rain boots have a reputation for not being particularly comfortable unless you buy the more expensive wellington boots \ rain boots. However, we found the Joules Field boots were reasonably comfortable. You probably wouldn't want to wear them all day or walk for miles and miles. But for everyday tasks, they are perfectly good.
Unlike many boots, the fastener at the top of the boots isn't just there for aesthetic purposes. It actually allows the circumference of the boots to be adjusted.
The two main benefits of being able to adjust the girth of the boots are:
The boots can be adjusted to fit both narrow and wide calves.

 The fastener can be adjusted to prevent the boots from flapping against the legs when walking. 
The main complaint about the Joules Field boots is the insole has a habit of moving around when walking, which is obviously going to cause discomfort. We didn't experience this particular problem, but if you do find this an issue, it is easy enough to replace the insole with your own or even use some double sided sticky tape.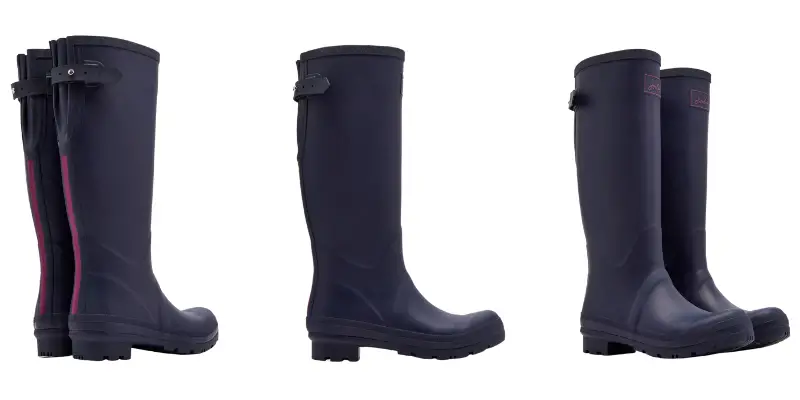 Although the name might suggest otherwise, the Joules Field boots are primarily designed as fashion boots. The boots are only available in four plain colours, blue, olive, black and gloss black. If you're after boots with more exciting designs, then try the Joules printed boots range. The welly prints range from simple polka dots to images of dogs to creative patterns. They are virtually identical to the Field boots. 
All the Joules Field boots have a coloured seam running down the back, which gives them a distinctive look.
The Joules Field boots are not going to keep your feet warm in cold conditions. They have a thin polyester lining, which is there to absorb moisture, not keep feet warm. The natural rubber the boots are made from is relatively thin and will offer little protection against freezing conditions.
The Joules Field boots are ideally suited to milder, wet weather conditions.
If you're looking for rain boots to keep your feet warm in the cold, then take a look at our best boots for winter
The soles of the boots are fairly typical for these type of rubber boots. For most situations, like walking on wet pavements or muddy tacks, the traction is good enough. The boots are not designed for winter conditions, so don't expect much grip in the snow and ice.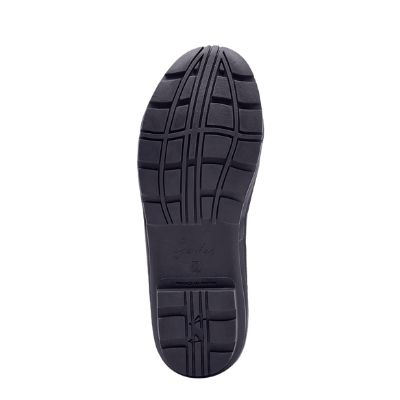 Like nearly all fashion rain boots, the Joules Field boots only offer protection from the wet. As previously mentioned, the boots do not have an insulating lining so they will not protect feet from the cold. There are no reinforced areas, such as around the toes. So if you drop something heavy on your foot it is going to hurt!
Final Thoughts: Joules Field Boots Review

If you're looking to buy a new pair of rain boots that look good, are reasonably comfortable and keep your feet dry then the Joules Field boots are pretty good option, especially when considering the relatively low price tag. 
Overall we have given the Joules Field boots 3.6 out of 5
BEST SELLING JOULES FIELD BOOTS
Last update on 2023-04-19 / Affiliate links / Images from Amazon Product Advertising API
Questions & Answers for Joules Field Boots
Are Joules Field Boots suitable for wide claves?
The boots have an adjustable gusset, which makes them suitable for most calf sizes, except extremely wide calves.
Below are the maximum circumference  sizes of the Joules Field Boots
Size UK3 = 35.80cm
Size UK4 = 36.80cm
Size UK5 = 37.70cm
Size UK6 = 38.70cm
Size UK7 = 39.60cm
Size UK8 = 40.60cm
How tall are the Joules Field boots? 
The shaft height of the boots is:
UK size 3 to 5 =39.5cm 
UK sizes 6 to 8 = 42.5cm
Do the Joules Field boots have a neoprene lining?
No, the Joules Field boots do not have a neoprene lining. The lining is made from thin polyester and will not keep feet warm in cold weather
Are the Joules Field boots true to size?
Yes, you should buy your normal shoe size. Unfortunately, like most rubber boots, they are not available in half sizes. If you are normally a half size, the recommendation is to go for the size up
Should i buy Joules Field boots that are size larger so i can wear thick socks?
No, buy your normal shoe size, there will be sufficient space for thick socks
Are the Joules Field boots suitable for wide feet?
Yes, the boots have a generous amount of space in the foot area. Also being made of rubber, they are able to stretch a moderate amount.
Are the Joules Field boots made from natural rubber or a synthetic material?
The boots are made from natural rubber
Wellieboots.com  NEWSLETTER
Sign up to get the latest reviews, news, tips and where to get the best wellie deals!
You will only get emails from wellieboots.com (no 3rd parties)
We generally send one email per month