Short Rubber Boots for Men & Women
The Bogs Sauvie boots are short rubber boots designed to look more like normal leather boots. They're 100% waterproof and have a neoprene lining to keep feet warm in the cold. Overall, good boots apart from they can be difficult to put on.
Our Verdict
| | |
| --- | --- |
| WHAT WE LIKE  | WHAT WE DON'T LIKE  |
| + Comfortable | – Can be difficult to put on |
| + Stylish rubber footwear | – Reports of leaking |
| + Neoprene insulation |   |
| + Good support |   |
Adjustments: No
Special features: Styled like leather boots
Inside material: 3mm Neo-Tech (Neoprene)
Outside material:  Rubber
Fit wide calves: Yes and No (see review for details)
Waterproof: 100% waterproof
Colours Men: Green & Black 
Colours Women: Red, Green, Black, Yellow & Blue
 Sizes women:

 4 UK to 10 UK – 6 US to 12 US

 Sizes

 

men

:

 7 UK to 12 UK – 5 US to 12.5 US
Bogs boots are a very popular brand of rubber footwear that are known for being both comfortable and practical. The Bogs Sauvie are short rubber boots and are available for men and women. The boots have been styled to look more like short leather boots than rubber boots. Have Bogs put all their effort into designing a good looking pair of boots or are they just as practical as their other products? Read our review below to find exactly what we think of the Bogs Sauvie boots.
BEST SELLING BOGS SAUVIE BOOTS
Last update on 2023-04-30 / Affiliate links / Images from Amazon Product Advertising API
How comfortable are Bogs Sauvie boots
The short answer is that they are super comfortable.
There are number of reason that the Sauvie boots are comfortable:
1) The boots are pretty lightweight, with an average weight of only 1.40 kg \ 3.10 lbs (both boots). Often weight is overlooked when purchasing footwear, but just a small amount of additional weight can make a big difference to comfort. This is especially true if you will be walking long distances or wearing the boots for long periods of time
2) Over 2.5cm \ 1″ at the the heel, the insole of these boots is one of the thickest that we have seen. Such a thick insole provides excellent shock absorption and comfort when walking.
3) The boots give a snug fit. Having a snug fit isn't for everyone. But, by being snug fitting the boots provide greater support to the ankle and foot which generally makes walking much more comfortable. The other benefit of snug fitting boots is that they are less likely to rub, causing sores and blisters.
4) One of the main problems with rubber footwear is that feet can't breathe. This means that sweat can build up in the boots making them uncomfortable to wear. Bogs partly resolve this problem with their Max-Wick sweat wicking inner lining which removes sweat from the foot area.
As with all footwear it is vitally important to make sure you get the correct sized boots.
Differences between Men's & Women's Sauvie Boots
The Sauvie boots are available for both men and women. However, they do not look the same. The men's version of the boots has a slightly shorter shaft, looking more like a Chelsea boots. The other difference, is that the men's boots have a heavier look to them, compared to the women's boots which are more refined looking. Other than these differences, the boots are pretty much the same.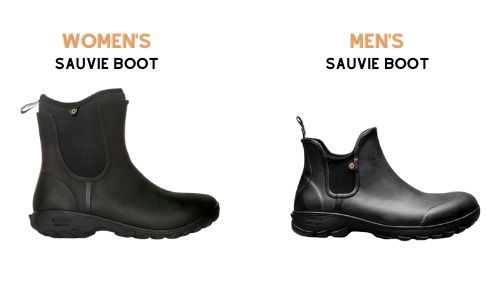 The overall design of the boot is classic rubber boots design. With one look you can easily see that they are high quality boots and not some cheap pair of wellington boots \ rain boots.
The adjustable buckle and strap on the shaft of the boots is not only practical, but it also gives the boots character. The Aigle logo on the front is also a nice touch and adds to the stylish look of the boots.
They have been primarily designed as practical footwear, rather than fashion footwear. Which means the Aigle Parcours Vario boots are only available in three different colours: black, green, and brown. All of the boots have a matte finish, which helps to hides scratches and dirt.
How good is the grip \ traction of Sauvie boots
Grip and traction is one of the main reasons why people purchase rubber boots. The Sauvie boots provide a decent amount grip on most surfaces. They are not designed to be heavy working boots \ hiking boots, so we would not recommend wearing them in very slippery or icy conditions. But for walking around town in the rain, gardening or even on light snow they will provide sufficient traction and grip.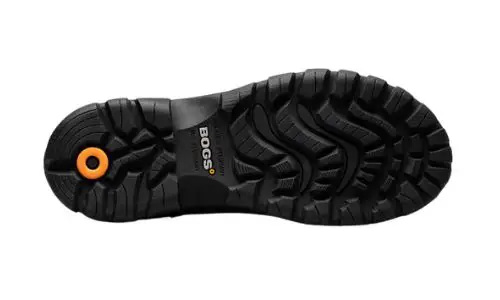 The boots have a 3mm neoprene lining and a thick insole which help insulate feet from the cold. The boots are probably best suited for temperatures between 0°C & 15°C \ 32°F & 60°F. Which makes them best suited for spring\autumn.
The boots are not perfect and have a few negative points
1) They're quite narrow in the ankle and foot. This makes putting the boots on a bit of a pain, unless you have narrow feet. There is a pull tab on the heel of the boots to aid putting on the boots, but it's not great. Also, the pull tab doesn't look to be securely attached to the boots and may well come detached after a while. Most people will probably find that they need a shoe horn is required.
Taking the boots off can also be slightly tricky, a boot jack is recommended.
The boots may well loosen over time and become easier to put on and take off.
2) When researching the Sauvie boots we noticed a number of customer reviews complaining that the boots leaked. These customer were probably just unlucky and received faulty boots. Bogs have confirmed that their Sauvie boots are 100% waterproof.
Final Thoughts: Sauvie Review
The Bogs Sauvie are a decent quality rubber boot that will keep your feet dry and relatively warm in cool \ cold weather conditions. They have a few design flaws, but nothing that is too major. The main thing to be aware of is that they are slightly narrow, so you may need to order a size up if you have wide feet or look elsewhere. 
Overall, we think the Bogs Sauvie is a good choice for anyone looking for a stylish, general purpose short rubber boots.
BEST SELLING BOGS SAUVIE BOOTS

Last update on 2023-04-30 / Affiliate links / Images from Amazon Product Advertising API
Questions and Answers: Bogs Sauvie Boots
How waterproof are Bogs Sauvie boots?
They are 100% waterproof. This includes the elastic side sections of the boots that aren't made from rubber.
Can you wear Bogs Sauvie boots all day?
Yes, the boots are comfortable and are suitable for wearing all day. However, rubber isn't breathable and the Bogs wicking system 'Max-Wick' may not be effective at keeping feet dry all day in warm weather.
Are Bogs Sauvie boots available in half sizes?
No, Bogs boots are only available in full sizes. This is typical of most rubber boots. If you are a half size, go the next size up. If the boots are too big try inserting an insole or wear thicker socks.
Can they be worn inside?
The Sauvie boots have been designed for outside use. 
How much do Bogs Sauvie boots weigh ?
The average weight is 1.3kg \ 2.9 pounds.
Is the insole removable?
Yes, the insole can be removed for cleaning \ drying
Wellieboots.com  NEWSLETTER
Sign up to get the latest reviews, news, tips and where to get the best wellie deals!
You will only get emails from wellieboots.com (no 3rd parties)
We generally send one email per month