Hunter Chelsea Boots Review
Short Rubber Boots for Men & Women
Great short boots that can be slipped on when its wet outside. The boots look stylish and can be worn with just about anything, shorts, leggings, trousers or a skirt. Hunter recently updated the Original Chelsea boots to give improved comfort and fit. 
Our Verdict
| | |
| --- | --- |
| WHAT WE LIKE  | WHAT WE DON'T LIKE  |
| + Stylish | – Boots rub ankles when new |
| + Practical | – Difficult to put on |
| + Good quality |   |
Hunter Chelsea Boots are probably the most popular short rubber boots. The design is classic, yet modern; they're comfortable enough for everyday wear and long walks in the park or around town. If you're looking for a new pair of Hunter Chelsea Boots, read this review before you buy!
Hunter Original Chelsea Boots: Features
Adjustments: Elasticated side panels
Inside material: Thin textile lining
Outside material: Natural rubber
Fit Type: True to size
Fit Wide calves: Yes, short boots
Heel Type: Small block heel. Approx. 1.18″
Shaft Height: Approx. 5 inches
Weight: 1 lb 4 oz (single boot)
Waterproof: 100% waterproof
Colours: 14 Colours
Female Sizes: 3 UK to 9 UK –  4 US to 10 US
Male Sizes:  6UK to 12 UK – 7 US to 11 US
The Hunter Original Chelsea boots are made from natural rubber. Unlike cheaper boots that are made from PVC (plastic), natural rubber is tough, but also highly flexible. This means they are comfortable to walk in giving your feet plenty of support, without rubbing the ankle area.
The boots may feel snug and tight when you first wear them, but after a few wears they'll stretch to fit your feet perfectly. 
The sole on the boots is relatively thin compared to other rain boots \ wellie boots. This means that the boots are lightweight and also more flexible making walking less effort.
The insole that comes with the boots is fairly thin and doesn't provide much cushioning. Its perfectly adequate for most people. However If find that the insole isn't as comfortable as you would like, it can easily be removed and replaced with your own insole.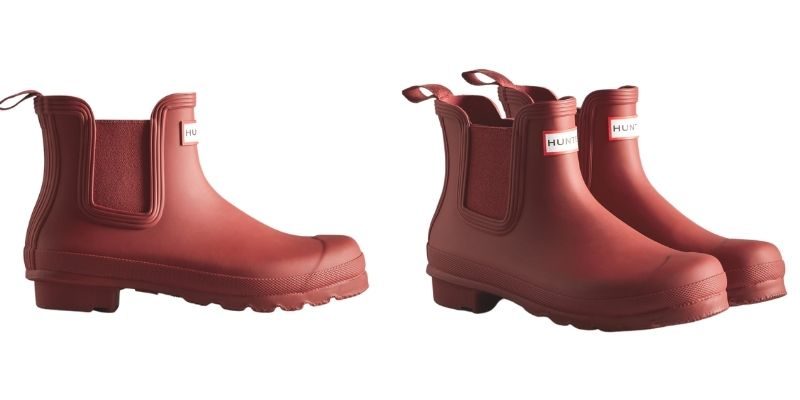 The boots are made from natural rubber which is a very good insulator. However, the inner lining of the boots is made from a thin textile, which is not designed to insulate feet. The insole is also fairly thin and not designed to keep feet warm in cold weather.
The Hunter Chelsea boots are ideally suited to for mild, wet weather. They have not been design for very cold wintery weather.
If you plan on wearing the boots in cold weather, we recommend that you replace the insoles that come with the boots with a fur lined insole and wearing thick socks will also help.
The boots have a rubber outsole which naturally provides a good amount of grip. Hunter have also given the boots fairly deep treads, which will also help with traction. In wet weather on most surfaces the boots will stop you from slipping about and falling over. The boots aren't designed for extreme cold, so don't expect them to provide much traction on frozen surfaces, such as ice.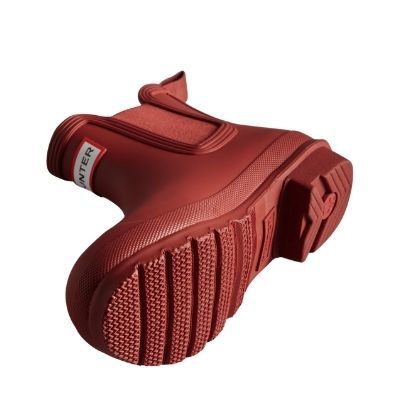 Hunter Chelsea boots have a classic design that will always be in fashion. You can wear them with jeans and leggings, or dress them up with skirts and dresses, they'll go well with any outfit you choose to pair them with! 
Unlike many of the Hunter boot ranges, the Chelsea boots are available in a wide range of colours (currently 14 different colours). Whichever colour you go for, the entire boot will be that single colour. The only part of the boots that will be a different colour, is that famous Hunter logo on the front.
The Hunter Original Chelsea boots are fashion rain boots \ wellie boots and we think they are among the most stylish short boots that you can buy. They're perfect for walking around town on a wet day or taking the dog for a walk in the country side. 
They're not so good for cold weather or wearing for long periods of time. 
Hunter have been making rubber boots for a long time and usually get it right. Which we think they've got the Original Chelsea boots right. They look good, comfortable, durable and (maybe) most importantly they keep you feet dry. 
If you're looking for short rain boots \ wellington boots then the Hunter Chelsea boots should be on your short list.
Hunter Original Chelsea Boots Questions & Answers
How do Hunter Original Chelsea boots fit?
The boots are true to size. Buy your normal shoe size
Are Hunter Original Chelsea boots available in half sizes?
No, unfortunately the boots are not available in half sizes. If you are normally a half size then it is generally recommended to go for the next size up. 
Can i wear Hunter Original Chelsea boots without socks?
It is recommended that you wear socks. If you don't wear socks feet will get sweaty and sticky, there is also a good chance that the boots will rub and make feet sore
Are Hunter Original Chelsea boots suitable for wide calves?
Yes, the boots are short and do not come up as high as the calf.
Are Hunter Original Chelsea boots available for men?
Yes the boot are available for men. There is no difference between the men's and women's boots other than the sizing and colours
Are Hunter Original Chelsea boots tight around the ankle?
When the boots are new they can feel tight around the ankle and can leave ankles sore. The boots do break-in after a while. It is recommended to wear socks with these boots to prevent potential rubbing. 
How tall are Hunter Chelsea boots?
The shaft of the boots measures about 6″
Wellieboots.com  NEWSLETTER
Sign up to get the latest reviews, news, tips and where to get the best wellie deals!
You will only get emails from wellieboots.com (no 3rd parties)
We generally send one email per month