Lakeland Active Helton Boots Review
Neoprene Lined Wellington Boots
The Lakeland Active Helton boots have a 5mm neoprene lining that will keep feet warm to -20°C! The boots are well constructed and are available for both men and women. They're also considerably cheaper than similar rival brands.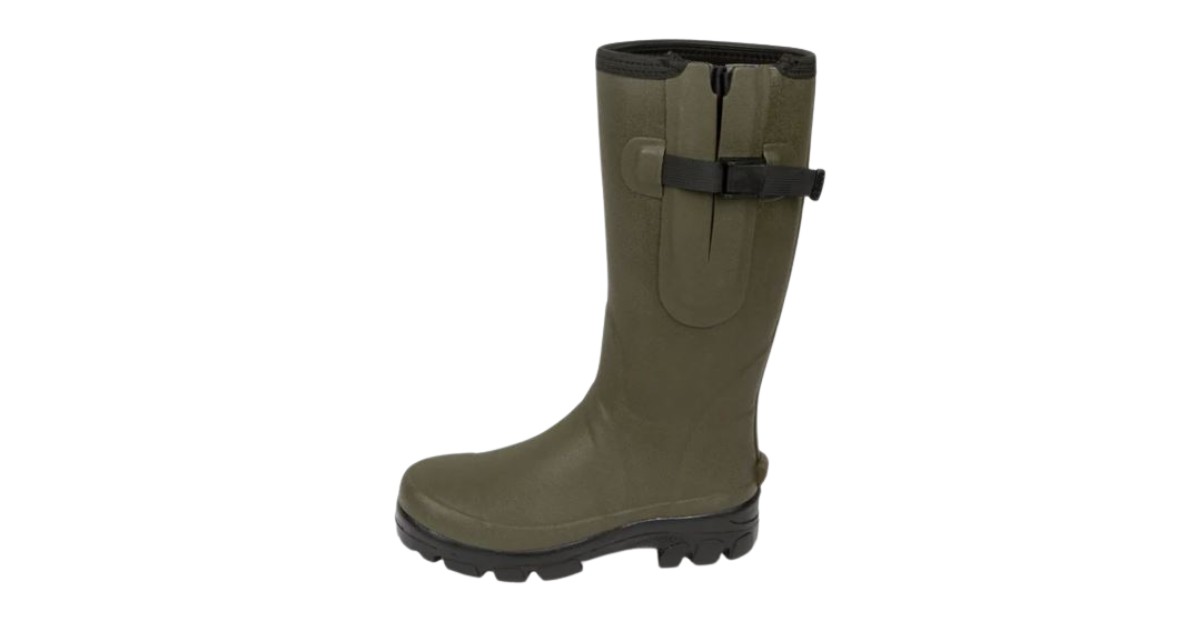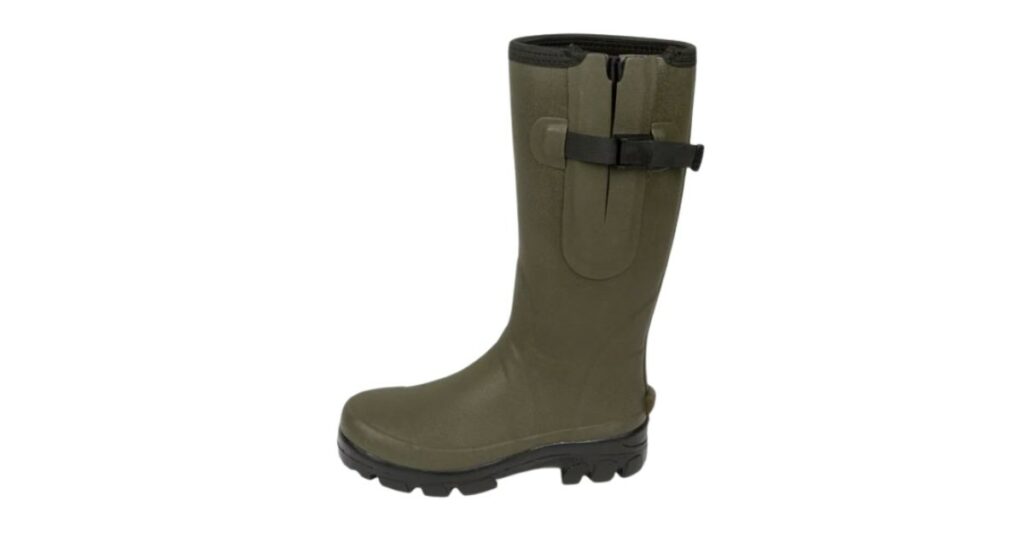 Helton Boots Review
Date of review December 2022 by Richard 
Our Verdict
| | |
| --- | --- |
| WHAT WE LIKE  | WHAT WE DON'T LIKE  |
| + Keep feet warm in sub zero conditions | – Clumpy looking (especially for women) |
| + Durable  | – Only available in 2 colours |
| + Good value | – Fit could be better |
| + Comfortable |   |
Features: Lakeland Active Helton Boots
Adjustments: Adjustable gusset
Inside material:  5mm Neoprene
Outside material:  Natural rubber
Fit wide calves: Yes (not very wide calves)
Waterproof: 100% (including adjustable side gusset)
Colours:

Black & Green

 Sizes

(Women)

:

4

UK to  8 UK

 Sizes 

(Men)

:

  7 UK to  13 UK

Heel type: Flat 
Neoprene Lined Working Wellington Boots
Lakeland Active provide a good range of reasonably priced wellington boots and the Helton Neoprene Lined Wellington Boots are decent value for money. For a mid-ranged price boot, they provide all the characteristics you expect from a pair of high-quality wellies, such as quality grip on the outer sole, thermal inner linings on the inside of the boots, and waterproof protection using natural rubber.
These boots are functional, practical, and useful for those who prefer a more modest look and care about durability. With a hard-wearing sole that gives these boots a minimalist look, the Helton Neoprene Lines Wellington Boots make for a reliable buy. The strong 5mm neoprene insulates you and gives you extra warmth and protection against all weather, even in freezing conditions. With an adjustable gusset the calves feel properly supported which can be important when buying wellington boots.
BEST SELLING HELTON WELLINGTON BOOTS
Last update on 2023-11-05 / Affiliate links / Images from Amazon Product Advertising API
What colours do Helton Neoprene Lined Wellies come in
Unfortunately, these neoprene lined wellies only come in two colours – moss green or black. The black colour boots are smarter and more attractive looking. It's a shame the company do not offer a darker green or brown, as these colours would fit with the style of these wellingtons.
The 'moss colour' does not sound very elegant and this certainly is not an elegant design or shape either. It has a round masculine shape with a clunky outer sole.
Lakeland Active describe the sole offering as having wider surface area (good for snowy and muddy conditions), and the edged rim providing protection against stones or environments where to chance banging your toes against something hard – these boots do feel protective. So if you care less about looks and more about comfort and protection then these boots might be a good match.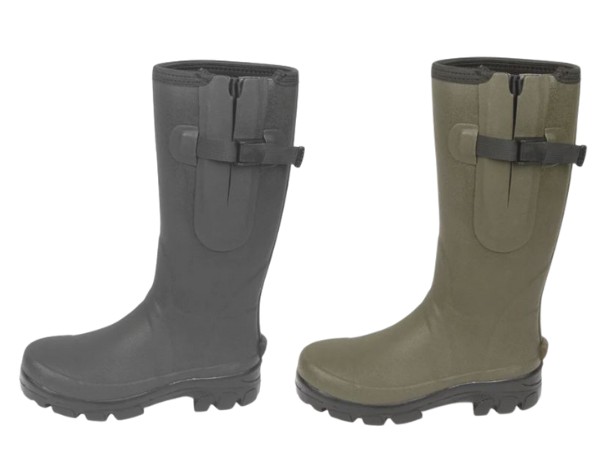 How Comfortable are the Helton Wellington Boots
Some expensive wellington boots on the market really fit like a glove – not quite these ones. The Men's Helton Neorene Lined Wellington Boots are less fitted than other brands of wellies. However, one big advantage to this is that there is ample space inside for cushioned innersoles and thick boot style socks – so if these boots are for winter then you can get your feet very cosy and warm. 
The boots are cushioned and feet are well protected – if you want some suspension in walking then these boots have it – of course with warm socks on you have multiple layers of padded feet and can walk through ice still feeling warm. Despite this model not being listed as having a soft insole, the insides are very soft and comfortable, even though it's a bit over-spacious inside the boot.
The comfort is the biggest strength to these boots. If you are out in the cold for long periods of time then you will want the affordances this footwear offers – a cocoon of snug underneath a natural rubber waterproof shell. 
But of course, there are drawbacks too. These are not nimble boots – these are big old fashioned style wellies – there is nothing dainty or slick with the Heltons' – especially the men's version. On the outside the boots have a dexterous texture – they feel gritty, adventurous, manly. This is the alpha-male of wellies – big strong and durable. If you are into old school wellies, then these boots are for you!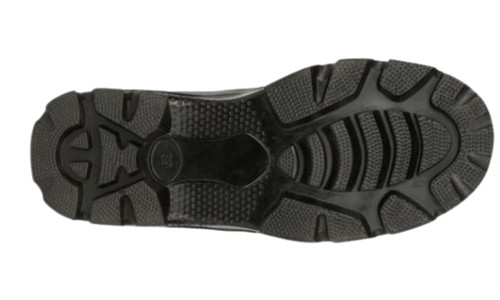 A Strong and Practical Adjust-and-Fix side Gusset
Perhaps the biggest asset of these boots is the adjust-and-fix side gusset, which is strong and practical, not flimsy, and not hard to adjust like other boots on the market. Put these boots on your feet and tighten them up to maximise your comfort – feel the protection as you trek out into the yard, garden or beyond. 
Having an adjustable gusset means that you are more protected from small stones, mud or water seeping in if you are traversing through mud or shallow waters. The gusset does not attract dirt or pick up debris from the garden but is clean-cut and easy to use. 
The high traction sole is obvious from just looking at the boot, with wide ridges offering grip and drag in mushy and icy conditions. It also provides grip suitable for moving around on unstable ground, whether that be hiking in the woods, across grassland, or in more mountainous terrain. 
The boots are also mid-range in terms of weight – they not lightweight but also not the heaviest boots on the market.
Lakeland Helton's use 100% Natural Rubber
These wellington boots are made of 100% natural rubber making them waterproof – ideal for splashing in wet conditions or heavy mud. Yard work, gardening and dog-walking activities are all suited to these types of boots. 
The wellingtons provide flexibility and comfort, created using warm 5mm insulating neoprene – an excellent material used for retaining heat, insulating from freezing cold temperatures of -20 degrees. These warm wellington boots are a delight to wear but they are not as snazzy as other wellies on the market. If you enjoy wearing garden gear then they are perfect, but if you want wellington boots which are more glamorous (say, to attend a country eatery or restaurant), then maybe look elsewhere.
There's certainly something very working class about these boots. They are adept, savvy, capable boots, ideal for doing garden work, or activities in outdoor woodlands or farmland.
They are easy to get on, however wide your feet, and are as protective as most other quality boots on the market.

The wellington boots are cushioned and will not easily rub against your feet – they are not prone to causing blisters or foot sores.

The sizes may run a little large, but it means you can wear whatever thickness of sock you want, without struggling to get them on and off in winter. They may not last as long as the most expensive boots on the market, but they will certainly do you a good turn.
Final Thoughts: Helton Wellington Boots Review
The Helton boots are designed as working boots and are ideal for regular walks, wearing in the garden and yard work etc. They're certainly not the best looking boots you can buy, but they don't look bad. 
For the price the Helton boots offer good value for money and overall we have given the Lakeland Active Helton boots a rating of 3.8 out of 5
BEST SELLING HELTON WELLINGTON BOOTS

Last update on 2023-11-05 / Affiliate links / Images from Amazon Product Advertising API
Questions and Answers: Lakeland Helton Boots
Are they available in half sizes?
None of the men's boots are available in half sizes. There is a size 7.5 in the women's boots. Rubber boots are typically only availabl in full sizes 
Do the boots suit wide calves?
Yes, thanks for the adjustable gusset. However, they are not suitable for very wide calves.
Size 8 boots have a maximum circumference of 53cm with the gusset fully open
What warranty do you get with Lakeland Active boots?
All boots come with a 12 month warranty
I've never heard of Lakeland Active, are they any good?
The company was founded in 2008 in the Lake District (UK) and has built a good reputation for outdoor accessories and footwear. 
Are the Lakeland Active rubber boots prone to splitting?
No more so than any other brand. We have reviewed a large number of rubber boots and no matter the brand there are always reports of splitting. Fortunately this occurs very infrequently.
How long will the boots last?
Its very difficult to predict how long the Helton boots will last, because on depends on use. But, if you were to use them every day to walk the dog, expect them to last at least 3 years
Wellieboots.com  NEWSLETTER
Sign up to get the latest reviews, news, tips and where to get the best wellie deals!
You will only get emails from wellieboots.com (no 3rd parties)
We generally send one email per month