Jileon Extra Wide Calf Boots Review
The widest rubber boots you can buy
Jileon probably makes the widest-fitting rubber boots known to mankind. The boots have adjustable buckles on each side of the boots allowing them to fit calves from 41cm \ 16 inches to 57cm \ 22.4 inches. Available in various colours and patterns, all at an affordable price.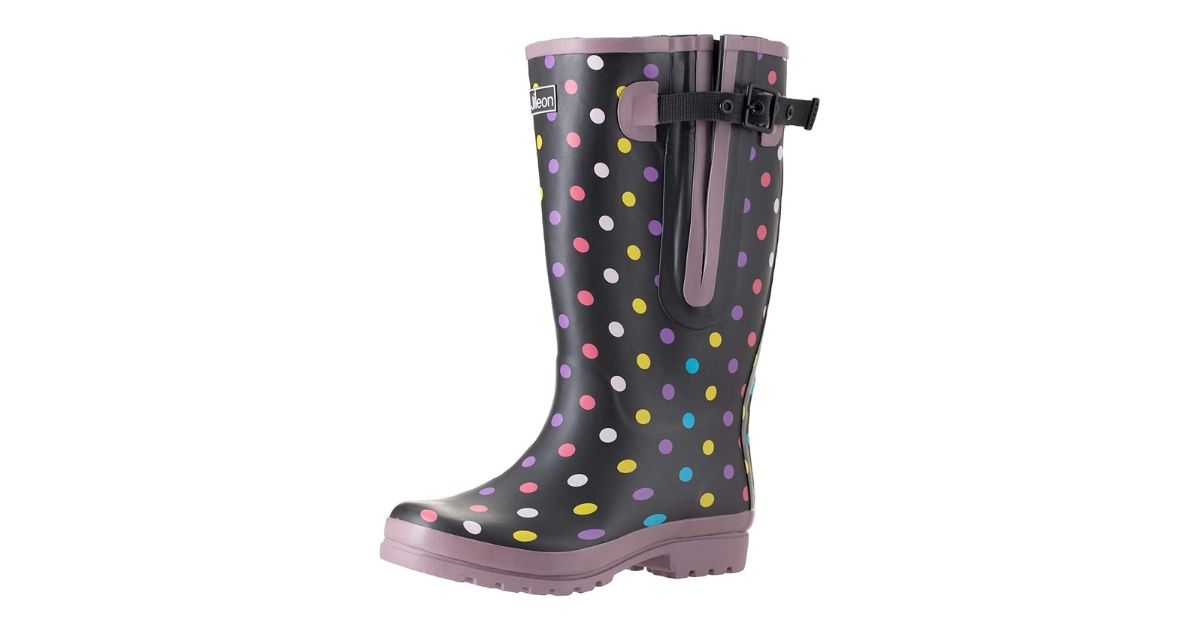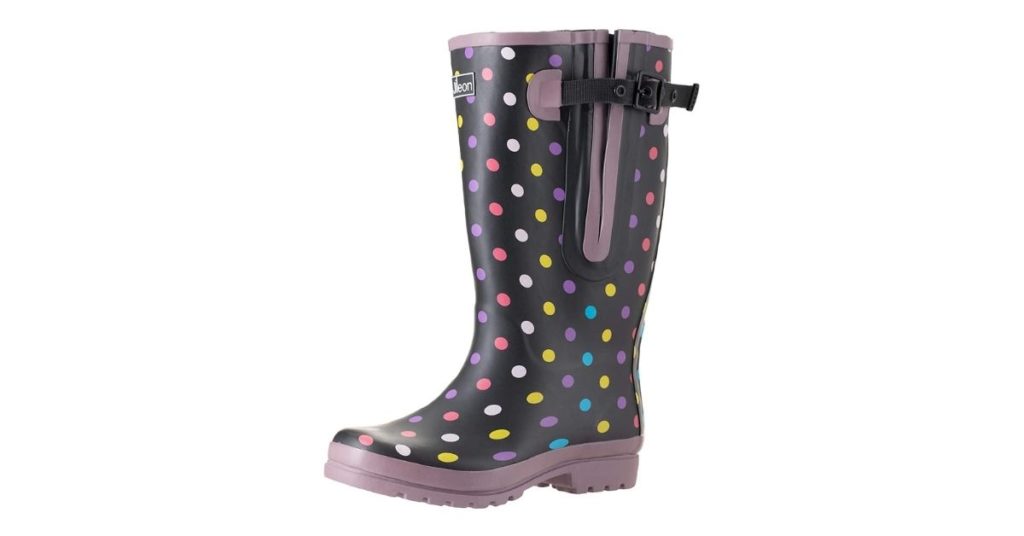 Jileon Extra Wide Boot Review
Date of review December 2021 by Richard Cutts
| | |
| --- | --- |
| WHAT WE LIKE  | WHAT WE DON'T LIKE  |
| + Extra wide fitting | – Buckles can work themselves loose |
| + Available in various colours \ prints |   |
| + Adjustable buckles |   |
| + Easy to put on \ take off |   |
| + Comfortable padded insole |   |
Jileon is a rubber boot brand that specializes in creating quality, stylish rain boots (US) \ wellie boots (UK) for people with wide calves. They have been around since 2005 and produce some of the best wide fitting rubber boots available. Jileon is known for their high-quality materials and construction, as well as their trendy designs.
Features: Jileon Extra Wide Boots

Adjustments: Adjustable gusset width
Inside material: Polyester textile
Outside material: Rubber
Sizing: Come up large
Fit wide calves: Yes
Heel Type: 2.5cm block heel
Opening Diameter: Up to 57cm \ 23 inches
Shaft Height: Approx 37cm \ 14.5 inches
Waterproof: 100% waterproof
Colours: Multiple colour & patterns
Sizes: Women 4UK to 9UK – 5 US to 10 US
Jileon extra wide calf boots are (to the best of our knowledge) the widest-fitting rubber boots that can be purchased. They are made to fit calves up to 23 inches \ 57 cm in circumference. The boots have two buckle straps on each side of the shaft of the boots, which allows them to be adjusted to fit smaller sized calves of 16 inches \ 41cm.
Often people who have wide calves have larger ankles and require more room in the foot area. Fortunately, Jileon has recognized this and their boots have a wide ankle and accommodate EEE width feet.
The boots are primarily made from rubber, which has good flexibility. This means that the boots are unlikely to cause rubbing or sores when walking. However, the rubber if relatively thin and doesn't offer much in the way of support.
Thanks to the padded insoles feet are cushioned. The insole  provide a degree of shock absorption which helps reduce the impact of walking on the body. The insoles are removable, so can easily be replaced with you own insole if required.
The double buckles at the top of each of the boots allows the gusset to be adjusted to fit the leg as required. The buckles do have the habit of becoming loose, which is slightly annoying. However, the problem can easily be rectified by using something like a safety pin or some tape to jam the buckles.
The Jileon Extra Wide boots are constructed from rubber and have a thin textile inner lining. The textile lining is useful for helping slip the boots on and it also absorbs moisture (sweat). However, the lining does not provide any insulation, so feet will feel the cold.
The boots have rubber soles and the insole is relatively thick, which helps prevent cold rising up from the ground. 
The boots are more suited for milder conditions, but if you plan on wearing your Jileon boots in the snow or freezing conditions you will need thick socks or a boot lining to keep feet warm.
You'll be pleased to hear that Jileon rain boots \ wellie boots come in a range of different colours and patterns, not just the typical green and black colours. 
Quite often people comment that the boots are not as tall as they were expecting. For the majority of people the boots will cover just above the mid point of their calves. 
 For people with wide calves who struggle to find tall rubber boots that fit, then the Jileon Extra Wide boots do offer good value for money. 
Review of Jileon Extra Wide boots: Final Thoughts
Many of the big names like Hunter, Aigle, Le Chameau and Joules do produce tall rubber boots for wide calves, but they do not cater for extra wide calves. 

The Jileon boots are constructed to a good standard and for many they are the only option when it comes to finding tall rubber boots that fit extra wide calves. 
Wellieboots.com  NEWSLETTER
Sign up to get the latest reviews, news, tips and where to get the best wellie deals!
You will only get emails from wellieboots.com (no 3rd parties)
We generally send one email per month