Hunter Intrepid Snow Boots Review
Insulated Snow Boots for Women
Good looking snow boots that can be worn in temperatures down to -20°C \ -4°F. Unlike other snow boots, the Hunter Intrepid boots are 100% waterproof from top to bottom. Available as a short boot or tall boot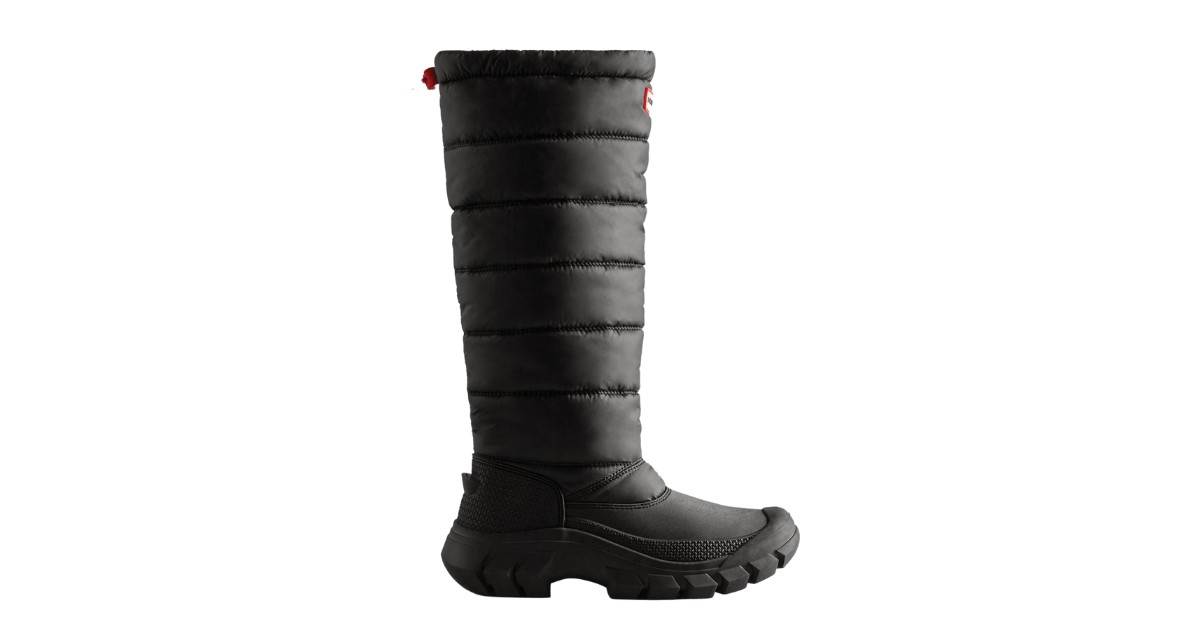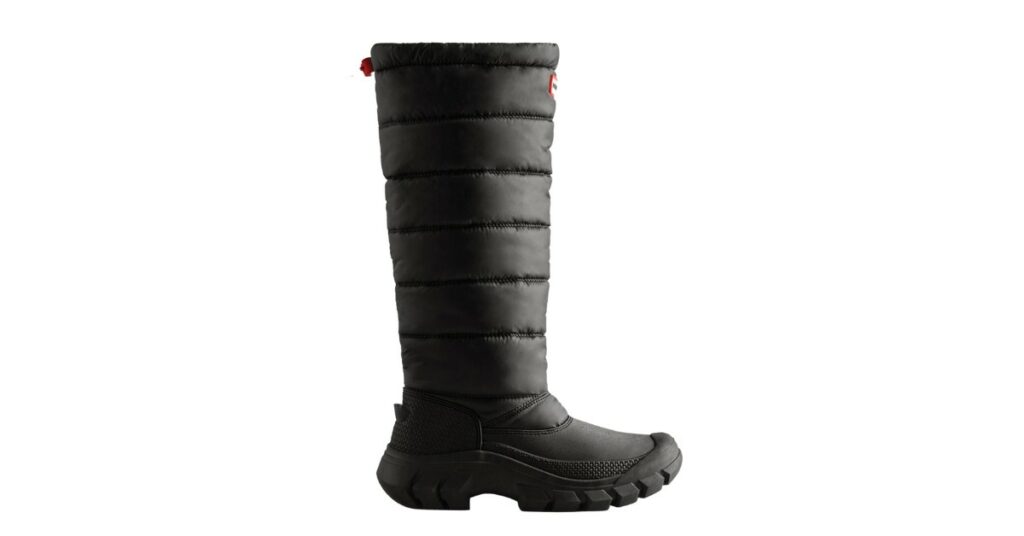 Hunter Intrepid Snow Boots Review
Date of review January 2023 by Richard 
Our Verdict
| | |
| --- | --- |
| WHAT WE LIKE  | WHAT WE DON'T LIKE  |
| + Flattering & stylish design | – Sizing is unpredictable |
| + 100% waterproof | – The tall boots can be tricky to put on  |
| + Environmentally conscious production |   |
| + Hunter 2-year guarantee |   |
Features: Intrepid Snow Boots
Adjustments: Drawstring at top of shaft
Inside material: Polyester fleece
Outside material: Rubber, TPU and Polyester
Fit wide calves: Yes, Short & Ankle versions only
Waterproof: 100% 
Colours:

 Black, White, Pink and Grey 

 Sizes

(Women)

:

 3 

UK to  9 UK –  5 US to  11 US

Boot Height: 19.5cm (Size 5) 
Warmth: Suitable down to -20°C \ -4°F
Hunter is one of the world's longest-standing rubber boot brands, with the highest of profiles. Trusted by Royals and celebrities, their iconic boots are renowned for their high quality, style and practicality.
You know what you're getting with their rubber boot range, so we are exploring their Intrepid Insulated Snow Boots in this review. Read on to find out how they fair
How stylish are Hunter Intrepid Snow boots
Hunter has managed, as always, to make a sleek, desirable shape out of what could be a bog-standard boot!
The tall snow boot has a flattering silhouette that narrows at the ankle, making the puffer style shaft look slim and elegant. The nylon layered, lower boot is also shaped to be fitting, making them very attractive. The sole is pronounced and chunky, giving them a stylish edge and adding character.
They look great with leggings or jeans, can compliment a nice coat for a smarter look or be paired with a puffer coat for a co-ordinated, casual outfit.
The short snow boot is the same style with a fitted lower boot so although they are still good looking, we feel they don't make as much of a statement as the tall version.
Hunter have produced an entire Intrepid range, featuring matching jackets, bags, kid's boots and accessories, you name it!
BEST SELLING HUNTER INTREPID SNOW BOOTS
Last update on 2023-04-21 / Affiliate links / Images from Amazon Product Advertising API
Are Hunter snow boots warm
They are lightweight but well insulated, so nice and warm in wintery conditions. Hunter state that they are suitable for use down to -20 degrees Celsius.
The technical materials work towards balancing the environment inside the boot, while the insulation of the fleece lining builds up warmth. The elasticated drawstring and toggle at the top of the boot closes any gaps around the leg, preventing that nice warm air from escaping and keeping it where it is required.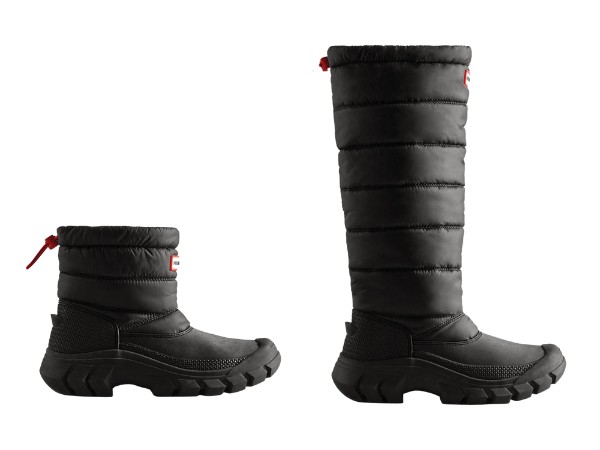 Are Intrepid boots true to size
Hunter have advised that their Intrepid women's boots fit slightly smaller, but there are a few varying opinions on sizing. The general view is that you should size up if you usually wear a half size or would like to wear thick sock.
There is a certain amount of give in the fabric after some initial wear, but as the Intrepid's aren't a wide fit boot, we feel it's advisable for most people to try a size above their usual fit. Hunter have a straightforward returns process and it is well worth putting the time in to get it right.
What colours are Hunter Insulated Snow Boots available in
The tall snow boot is simply available in Black or White Willow Gum – a warm white or cream colour.
The short boot comes in four variations: Plain Black, Urban Grey, White Willow Gum and Rough Pink with a White Willow sole.
Do Intrepid Snow Boots have good grip
You can see the tread is a decent depth from the side profile of the boot. They have a chunky sole with a low, block heel. The heel has a non-slip, chevron grip, while the forward tread is in rows of blocks either side of deeper channels. This will compact the snow into the channels and grab onto it, creating good traction.
Snow boots grip better with a flexible sole, so the lightweight natural rubber of the Hunter outsole improves contact with the contours of the ground increasing stability.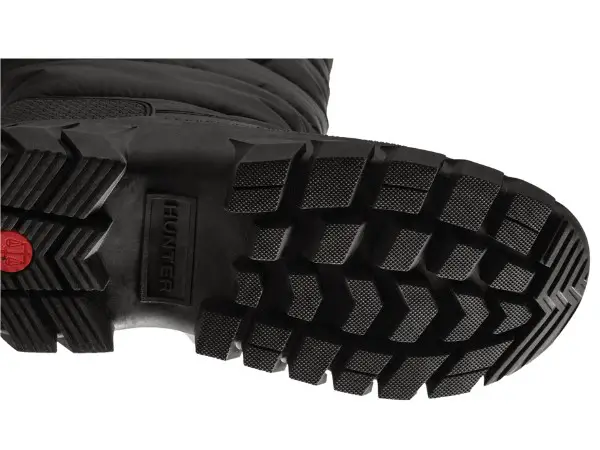 How comfortable are Hunter Intrepid Snow Boots
Hunter have included an Ortholite footbed which is a high performance, technical foam insole. Ortholite is becoming the choice of many footwear brands, as the foam used doesn't compress or degrade with wear, giving the owner the same cushioning comfort every time. 
Intrepid boots also benefit from a Hydroguard internal membrane which is a waterproof, yet breathable layer that won't let water in, but does let water vapour out. So, even with the top drawstring closed securely round the leg, any moisture or perspiration can escape through the membrane rather than accumulate, keeping the wearer fresh, warm and dry.
 Alongside all the technical materials and cushioned footbed, the polyester leg shaft is super light and soft, making them very comfortable footwear.
How are Hunter Environmentally conscious
Hunter are doing lots of great things and are a good example of the direction that all companies should be heading. Amongst other things they are:
Using 100% recycled Polyester fleece for the lining
Using 100% recycled nylon for the boot
Using vegan leather
Sourcing natural rubber form sustainable forests
Sustainable packaging that is 100% recyclable
Recycling rubber
Planting 1000 trees/year in recent years and now doubling to 2000 trees/year
Donating 15,000 pairs of practical footwear to charities a year, already totalling around 180,000 pairs
Final Thoughts: Hunter Intrepid Snow Boots Review
We believe that these boots are a practical choice, providing plenty of warmth, comfort, and grip in colder climates, snow and ice. We also appreciate they are incredibly stylish and way too nice to be trudging around in muddy conditions! So, it's a definite yes from us for what they are designed for – cold weather, snow and ice. 
BEST SELLING HUNTER INTREPID SNOW BOOTS

Last update on 2023-04-21 / Affiliate links / Images from Amazon Product Advertising API
Questions and Answers: Hunter Intrepid Snow Boots
What is the difference between Hunter rain boots and snow boots?
Snow boots have thicker soles than rain boots. The thick soles help insulate feet better from the cold ground.
The exterior material used for Hunter rain boots is rubber. The snow boots are made from a combination of rubber, polyester and TPU (plastic)
All snow boots are well insulated to protect from the cold. Only some rain boots have an internal insulating lining
Not all snow boots are 100% waterproof. All Hunter rain boots are 100% waterproof
Do you wear socks with snow boots?
Yes, it is recommended that you wear socks with snow boots. Wearing socks will give additional comfort, help control moisture and prevent the boots from rubbing against the feet
How do you clean snow boots?
Simply use warm water, a mild detergent and a soft brush. It is best to try and clean the snow boots off after each use, to prevent the dirt gain ingrained. Do not be tempted to put them in a washing machine!
Are Hunter snow boots 100% waterproof?
Yes, the Hunter Intrepid snow boots are 100% waterproof. This is true for the short and tall versions of the boot.
Can i wear snow boots in the rain?
Yes, you can wear snow boots in the rain. But bear in mind that many brands of snow boots are not 100% waterproof. Also, snow boots tend to attract dirt.
Are Hunter snow boots any good?
Hunter is a well-established footwear brand and has many years of experience manufacturing snow boots. Their snow boots might not be the cheapest, but you do get good quality.
How durable is the material on the leg of Hunter Intrepid's?
The nylon used has a coating for waterproofing and resilience. The Hunter 2-year guarantee gives you confidence that they will stand up to moderate wear and tear, but we wouldn't recommend you hiking through any thorny bushes in them!
Are Intrepid insulated snow boots easy to get on and off?
They do narrow around the ankle and are a fitted style, but in the correct size and using the pull tab, they are easy to get on. Taking them off could be awkward due to the soft, material leg, but Hunter have added a kick spur to the back of the boot which makes removal an easy and handsfree operation.
How do I choose between the Intrepid tall or short boot?
For style, it's down to individual, personal choice. For practicality, if you are expecting to be using them in deeper snow or very cold conditions, the tall boot will provide extra warmth and prevent any snow sneaking in or flicking up the back of your leg.
Wellieboots.com  NEWSLETTER
Sign up to get the latest reviews, news, tips and where to get the best wellie deals!
You will only get emails from wellieboots.com (no 3rd parties)
We generally send one email per month