Rockfish Groundhog Review
Neoprene lined unisex winter boots
The boots are very well made and should last for many years. They're comfortable to wear for long periods of time. Feet will keep warm in the coldest of conditions, thanks to the 5mm neoprene lining. The Groundhog logo on the side of the boots won't be to everyone's taste.
Our Verdict
| | |
| --- | --- |
| WHAT WE LIKE  | WHAT WE DON'T LIKE  |
| + Comfortable | – Groundhog Logo |
| + Very well made | – Come up slightly small |
| + 5mm Neoprene insulation |   |
| + Suitable for wide calves |   |
Features: Groundhog Boots
Adjustments: Yes, gusset adjustable
Special features: Vegan, Resistant to oils, acids and fats
Inside material: 5mm Neoprene
Outside material:  Rubber
Fit wide calves: Yes (adjustable gusset)
Waterproof: 100% waterproof
Colours: Green & Black
 Sizes

(Unisex)

:

 3 UK to 13 UK – 5 US to 15 US
Rockfish are a relatively small rubber boots manufacture, based in the south of the UK. The company was established back in 2003 producing sustainable and eco-friendly wellingtons. The company is on target to make all their wellington boots from sustainable, recycled, recyclable & biodegradable alternatives no later than 2023. We wish them luck in achieving this.
The big question is, are their wellington boots any good? Keep on reading for our in-depth review of the Rockfish Groundhog boots.
BEST SELLING ROCKFISH GROUNDHOG BOOTS
Last update on 2023-09-02 / Affiliate links / Images from Amazon Product Advertising API
How comfortable are Rockfish Groundhog boots
The Groundhog wellington boots are extremely comfortable. They have a cushioned insole and the neoprene lining provides additional comfort, as well as warmth. The boots have a 2mm air mesh fibre that effectively pumps air around the boots as you walk. This helps prevent moisture from building up and also prevents feet from getting too hot.
The boots are snug fitting, which is great for keeping feet warm, but may be a little too tight for people with wide feet. The snug fit prevents feet from moving around in the boots which means that there is little chance of them rubbing and causing sores \ blisters.
The ankle section of the boots provides a good degree of support when walking. This is particularly beneficial when walking on uneven surfaces. 
Are the boots suitable for wide calves
The Groundhog wellington boots are suitable for people with wide calves. This is thanks to the adjustable gusset strap and the elasticity of the material around the calf section of the boots. 
The maximum circumference for a size 9UK \ 10US  is 51.1cm when fully expanded. The circumference varies depending on the size.
For those that have extra wide calves, take a look at Jileon extra wide calf boots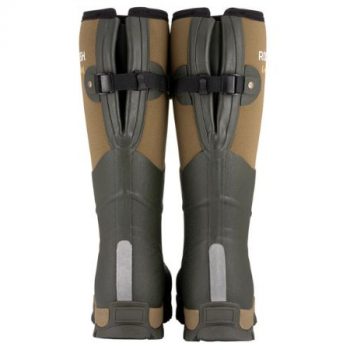 One of the main features of the Groundhog boots is that they have a 5mm neoprene lining. This makes the boots ideal for cold conditions. 

Rockfish claim that the boots have been tested and certified to temperatures as low as -25°C \ -13°F. We're not too sure what this actually means. Will they keep your feet warm at -25°C \ -13°F and if so for how long. 

The boots are very much suited for colder temperatures and are probably not suitable for warmer weather. 
People often ask if you should wear socks with neoprene lined boots? The answer is yes you should. Not so much to help keep feet warm, but to help control moisture and prevent rubbing when walking.
How good is the grip \ traction of Groundhog boots
The boots have deep cleats in the sole which provide a decent amount of grip. Unfortunately there's no heel, which would provide additional traction on soft terrain, like mud or snow.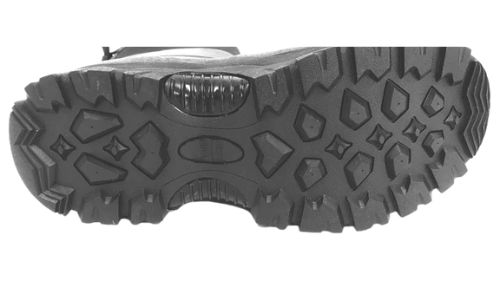 1) The boots are snug fitting, which isn't to everyone's liking. Some customers have reported that they have had to go up a size, because the boots felt too tight.
2) We don't like the gold 'Groundhog' logo on the side of the boots. Obviously this is down to personal taste.
3) They're only available in green and black. The boot are clearly designed as 'working' boots and not 'fashion' boots, even so it would been nice to have a few more colour options available.
Final Thoughts: Rockfish Groundhog Boots Review
If you're looking for a pair of working boots for winter then the Rockfish Groundhog boots should definitely be on your short list. They are well made, comfortable and will keep feet warm in very cold conditions. When compared to other more famous brands they actually offer very good value for money.
BEST SELLING ROCKFISH GROUNDHOG BOOTS

Last update on 2023-09-04 / Affiliate links / Images from Amazon Product Advertising API
Questions and Answers: Rockfish Groundhog Boots
How waterproof are Rockfish boots?
They are 100% waterproof. This includes the neoprene top half of the boots
Do Rockfish Groundhogs go over shoes?
No, you do not wear the boots over shoes. Your feet go directly into the boots.
Is Rockfish a good brand?
Yes, they are good brand for the following reasons. 
1) They care about the environment producing sustainable and eco-friendly wellington boots
2) The quality of their boots is second to none. If you buy a pair of Rockfish wellies the quality is immediately obvious.
3) They're a family business and they really care about their customers.
Can you wear Rockfish Groundhog boots all day?
Yes, the boots have been design for all day use. They're very comfortable and well constructed
Are
Rockfish Groundhog
boots available in half sizes?
Unfortunately, the boots are only available in full sizes. It is worth noting that the boots do come up a little small, so if you are normally a half size, definitely go for the size up
How much do Rockfish Groundhog boots weigh?
The average weight, for the pair is 3.4kg \ 7.5 pounds. Obviously bigger sizes weight slightly more and smaller sizes slightly less.
Is the insole removable from the Rockfish Groundhog boots?
Yes, the insole can be removed for cleaning \ drying
Do you wear socks with rockfish neoprene lined boots?
Yes, you should wear socks with boots that have a neoprene lining. Wearing socks has two main benefits. 1) They will help control moisture 2) Sock will help prevent feet from getting sores or blisters. 
It is recommended to wear thin socks with neoprene lined boots.
Wellieboots.com  NEWSLETTER
Sign up to get the latest reviews, news, tips and where to get the best wellie deals!
You will only get emails from wellieboots.com (no 3rd parties)
We generally send one email per month