Crocs Jaunt Shorty Review
Ankle Height Rain Boots for Women
The Crocs Jaunt Shorty boots are 100% waterproof ankle-height boots. They are surprisingly comfortable and super lightweight. Easy to put on and take off, thanks to the quick-release buckle. The main downside is the relatively poor traction due to shallow treads. 
Our Verdict
| | |
| --- | --- |
| WHAT WE LIKE  | WHAT WE DON'T LIKE  |
| + Excellent value for money | – Shallow tread, poor traction in mud |
| + Incredibly lightweight | – Pull hole reduces height of waterproofing |
| + Very durable |   |
| + Ideal for regular use |   |
| + Comfortable  |   |
Features: Crocs Jaunt Shorty boots
Adjustments: No
Inside material: Synthetic (Croslite)
Outside material:  Synthetic (Croslite), Rubber Outsole
Fit wide calves: Yes
Waterproof: 100% 
Colours:

Nacy and Black

 Sizes

(Women)

:

 3 

UK to 9 UK –  4 US to  11US

Boot Height: Ankle (below calf)
Crocs took the world by storm from 2002 with their instantly recognisable beach shoes. Love them or hate them, within a very short space of time they were a global hit for all ages. The ranges have grown with the company and here we will review their Jaunt Shorty women's rain boot.
What are Croc Jaunt boots suitable for
Like original Crocs shoes, Crocs Jaunt Shorty's are suitable for a whole range of daily activities due to the ease of popping them on and off.
Around the home you can use them for all the duties you shouldn't really do in slippers – popping to the car to grab something, taking the rubbish out, hanging out the washing. Out and about you can use the Shorty's for walks, the school run or shopping. You could do these things in regular Crocs or sliders, but in rain, snow, or with wet grass you would run the risk of wet socks!
The amphibious nature of the Crocs material also makes them great for use around water sports – after a sea swim, while you are pumping up a paddleboard or anywhere that you might need to walk in the water. You can slip them onto bare feet and if necessary, bend your leg up to tip out the water and carry on!
BEST SELLING CROCS JAUNT SHORTY BOOTS
Last update on 2023-11-05 / Affiliate links / Images from Amazon Product Advertising API
The Jaunt range is made of Croslite – the same unique material that Crocs developed specifically for their original shoes.
It isn't rubber and it isn't foam. Croslite is a non-toxic, closed cell, resin material. The closed cell prevents them from absorbing moisture, which gives them anti-microbial properties.
Croslite is a very versatile material and can be moulded into the shoe or boot shape with few or no joins, making them very durable and waterproof .
Are Jaunt Shorty wellies comfortable
We need to talk about Croslite again here, partly because it is the only material used! When you are on your feet for long periods, each step creates shock that travels up through the ankle and knee, to the hips and lower back. Croslite footwear offers a considerable reduction in this stress and reduces potential aches and pains.
Research shown that the construction of the cells gives the footwear 40% better shock absorption than those with regular foam and rubber soles. It also has load levelling capacity which spreads the load across the bottom of the foot, reducing high pressure areas by 30% compared to regular shoes. It's impressive stuff and explains why Crocs are the choice of many health care and catering professionals, where all-day comfort is essential.
Croslite is also incredibly lightweight. Weighing less than 500g each, around half the weight of a regular wellie, you barely feel like you have boots on at all!
This coupled with the load levelling and shock absorption properties make for a very comfortable boot. The boots are a little on the rigid side when they are new, but they soften with some initial wear and are undeniably comfortable.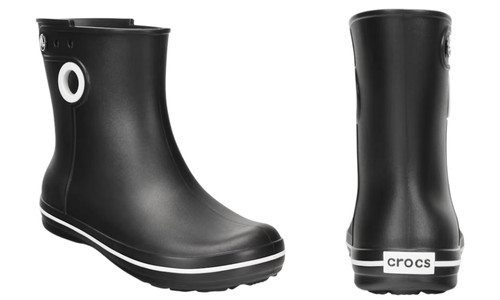 How warm are Crocs Jaunt boots
The boots are not recommended for sub zero temperatures as there is no insulation inside the boot, but they keep feet warmer than might be expected. 
The Croslite quickly warms with your foot and retains the heat. The fit of the boot is quite generous, so the air in the footbox also warms and insulates. If you are going to be out for long periods in cold weather, it is recommended to wear an extra pair of socks or even add a fluffy insole to increase heat retention.
Do Croc Shorty's have good grip
The Shorty's outsole is made of Croslite with rubber 'pods' for extra, non-slip traction. There are two rubber strips on the heel and a larger, oval rubber grip in the centre of the forward boot. The overall tread in the boot is shallow, so although they offer good slip protection, they wouldn't be suitable for hiking or use on muddy or very slippery slopes.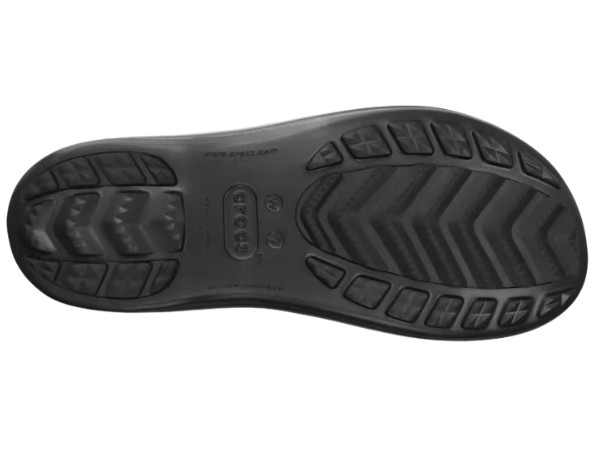 Are Crocs Jaunt boots stylish
Some people just don't 'do' Crocs in any form! But many do and we like the quirky style of these boots. Their Crocband racing stripe on the sole gives them some retro chic and the simple design with the porthole, pull holes gives them a fun, nautical feel.
How do Crocs Shorty boots fit
Crocs beach shoes have a wide footbox, these boots aren't as wide but are still a generous fit around the toes. They are snug enough around the ankle/top of the foot to keep them on and nicely secure, yet generous enough to be able to slip them on and off easily and frequently when popping in and out of the house.
They are available in whole sizes only and as with most boots, it is recommended to buy the next size up if you are usually a half size or would like to wear woolly socks with them.
They are ankle height so suitable for any calf width.
Are Crocs Jaunt Shorty boots good value for money
Priced at the more reasonable end of the market, Shorty boots represent great value for money. With all the benefits of the Croslite, you would expect them to be at a higher price point.
We have mentioned they aren't suitable for more challenging hiking, but you would still get an awful lot of day to day wear out of them. They are often available at a discount online also so keep an eye out for a good deal.
Final Thoughts: Crocs Jaunt Shorty Boots Review
Crocs Jaunt Shorty boots would be a welcome, fun and very useful addition to any household. The style might not be to everyone's taste, but there is no denying that they are super practical and very reasonably priced. 
BEST SELLING CROCS JAUNT SHORTY BOOTS

Last update on 2023-11-05 / Affiliate links / Images from Amazon Product Advertising API
Questions and Answers: Crocs Jaunt Shorty Boots
What are Jibbitz?
Jibbitz are fun, rubber charms that clip into the holes on Crocs footwear. There are holes on the Jaunt boots that are suitable for adding charms if you so wish!
What colours are Jaunt Rain boots available in?
Initially, they were available in many colours, they are now generally only found in navy and black.
Can you get Croc Shorty boots in Yellow?
Unfortunately, the yellow version of the Crocs Jaubt Shorty has been discontinued.
Are Crocs boots easy to clean?
Yes, simply wash them with warm soapy water when required.
I've heard you can put Crocs in the dishwasher – is this correct?
It is not advisable to put them in the dishwasher – the high temperatures can damage them or make them shrink and the thought of dirty footwear in with your dishes may put you off your lunch!
Can you put Crocs boots in the washing machine?
 You can put them in the washing machine yes, but with care. They need to be on a cold wash, no more than 30 degrees and a slow spin cycle to prevent them from being too bashed around.
How long do Crocs last?
Crocs have a reputation for lasting ages. With everyday wear, you can expect them to last at least 3 years and they will probably last much much longer
Wellieboots.com  NEWSLETTER
Sign up to get the latest reviews, news, tips and where to get the best wellie deals!
You will only get emails from wellieboots.com (no 3rd parties)
We generally send one email per month