Women's Rubber Boots with sheep wool Insole
Ugg are known the world over for their classic sheepskin boots. But did you know they also make rubber boots. The Sienna rain boots are mid-calf boots making them suitable for wide calves. They are 100% waterproof and have a shearling lined insole to keep warm and snug. They are both practical and stylish.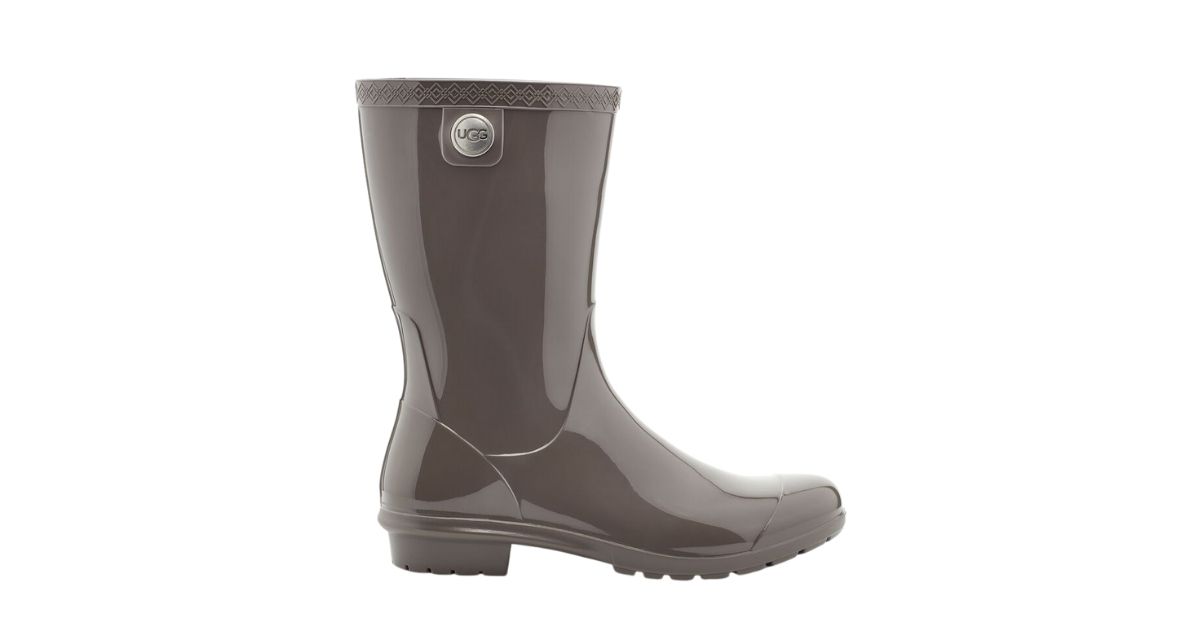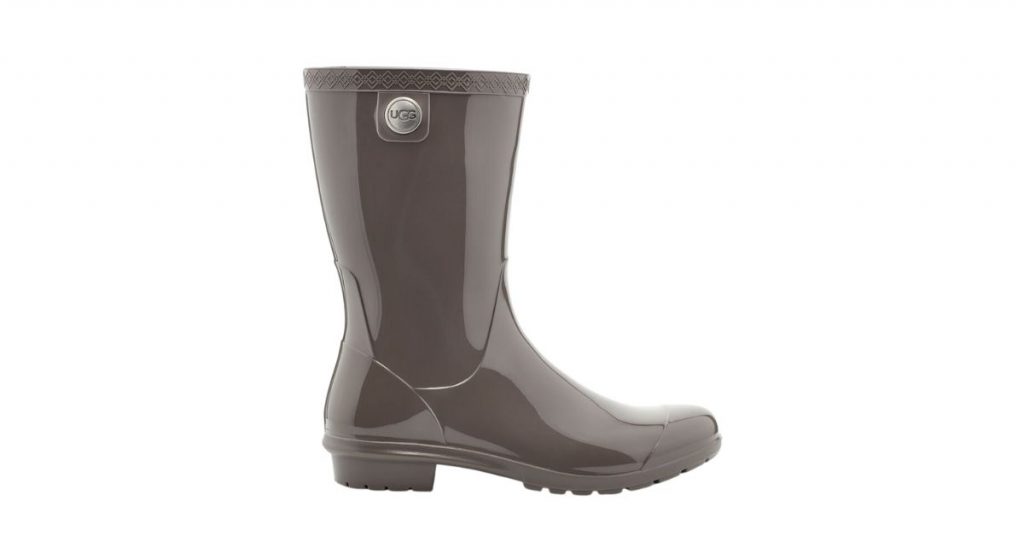 Ugg Sienna Boots Review
Date of review November 2021 by Richard 
Our Verdict
| | |
| --- | --- |
| WHAT WE LIKE  | WHAT WE DON'T LIKE  |
| + Good looking boots | – Only insole is sheepskin |
| +  Suitable for wide calves (not extra wide calves) | – Can be difficult to put on \ take off |
| + Sturdy, well made | – Made from PVC |
| + Sheepskin insole |   |
Ugg boots were a sensation in the late 1990s, specially in the US, where celebrities like Pamela Anderson, the Olsen twins and Kate Hudson wore them frequently and their sales skyrocketed. In 2000, Oprah gifted 350 pairs of Ugg boots to her audience during a live show. Of course, that helped the brand, too. It's Oprah! It became a must-have item. It's been 20 years since those days. Today Ugg boots are still relevant, still stylish and in fashion. The company has expanded the range of products they sell to include rain boots \ wellie boots. In the review below, we look at the Ugg Sienna boots and see if they are worthy of the Ugg brand.
Ugg Sienna Boots: Features
Adjustments: None
Inside material: Textile \ Shearling (Sheep wool)
Outside material: PVC
Fit Type: Slightly small
Fit wide calves: Yes (not extra wide)
Heel Type: Small block heel. 1.5″ high
Shaft Height: Approx. 9.5″
Boot Opening: Approx. 14″
Waterproof: 100% waterproof
Colours: Multiple
Sizes: 3 UK to 10 UK – 5 US to 12 US
One of the first things we want to know when buying shoes, especially boots, is are they comfortable. There's nothing worse than boots that rub and cause your feet to ache. Fortunately, The Sienna rubber boots are actually pretty comfortable to wear. The boots are made from PVC, which is notorious for being too firm and inflexible around the ankle, which causes rubbing. However, the Sienna boots do not suffer from this problem and we experienced no rubbing when walking.
Thanks to the shearling insole (sheep wool), the boots felt snug and they provided a good degree of shock absorption when walking.
Without a doubt and as previously stated, these Ugg boots are stylish, fashionable and totally trendy. Although they are common rain boots, they are still amazingly cute and they come in two different finishes: the original high-gloss finish and a matte finish. Both are great, the original ones come in three different colors: black, charcoal and pink. The other one comes only in black and charcoal. Additionally, they have a marbled finish rain boot, which updates the original classic and gives it a cool twist.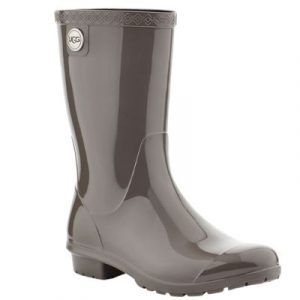 The boots have a wool insole which helps insulate feet from cold surfaces, which certainly helps keep feet warmer. Unfortunately, the rest of the boot has a thin textile lining which provides very little insulation. This is a shame as the it means the boots are not really suited to cold conditions. At the same time they are not that well suited to warmer weather because the wool insole means feet get hot and sweaty.
Ugg sell Sienna rain boot socks that will help keep feet warmer in cold conditions.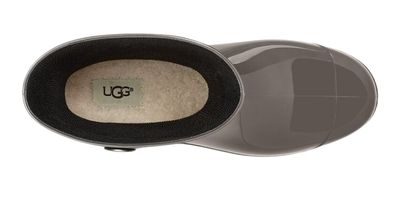 Rain boots \ wellie boots are going to be mainly worn when the weather is wet. Which generally means that the ground is going to be slippery. So its important that the boots have good traction to prevent slipping and falling over. The Ugg Sienna boots have a rubber outsole and along with the treads give a reasonable amount of traction. The small block heel of the boots provides additional traction in muddy conditions by sinking into the ground to give extra grip.
The Ugg Sienna boots are very stylish and can be worn as fashion footwear for just about any occasion. The boots are also practical, they're 100% waterproof and thanks to the wool insole they will keep feet warm. This makes the boots ideal for wearing in cities and towns on wet days. 
Saying if something is good value for money is always tricky. People have very different views on what constitutes good value for money. If you are after some good looking, practical boots, from a world famous brand, then the Ugg Sienna boots do offer good value for money. Especially when compared to similar products from other big brands like Hunter, which you will pay quite a bit more for. It should be noted that all Hunter boots are made from natural rubber. The Sienna boots are made from plastic (PVC). 
The inside of the Sienna boots have a textile lining which helps feet slide into the boots. We did find that the ankle area of the boots is slightly on the narrow side which made putting the boots on and taking them off more difficult than expected.
The insole of the boots is made from natural wool, which will flatten over time but should remain comfortable for many years.
The outer material of the Sienna boots is PVC (plastic). This makes the boots very tough and durable.
The soles of the boots is made from rubber, which is great for grip, but the rubber does tend to wear over time. This shouldn't be much of a problem for this type of rain boot which isn't a 'working' boot that you would wear all day. 
Overall the Ugg Sienna boots are a great pair of fashionable rain boots that are ideally suited to city dwellers. The boots are well made and should last at least 3 years and possibly much longer depending on usage.
We've given the Ugg Sienna boots a rating of 4.4 out of 5
I hope this Ugg Sienna boots review has provided the information you need to decide if the Sienna boots are right for you. 
Ugg Sienna Boots Questions & Answers
What is the circumference of the Ugg Sienna boots?
The circumference varies depending on the size of the boots. For a size 7 the circumference at the top of the boot is about 14″. 
Are Ugg Sienna boots suitable for wide calves?
Yes. The boots are mid-height boots and for most people the top of the boot will
not go as high as the widest part of the calves.
Are the Sienna boots suitable for people with wide feet?
No, not particularly. The foot area is not especially generous and as the boots are made from PVC, they will not stretch.
How tall are Ugg Sienna boots?
They are approximately 9″ from the heel up
Should I wear socks with the Sienna boots?
Generally, it is a good idea to wear socks with rain boots. The socks make it easier to put the boots on, help prevent rubbing and stop the boots from smelling.
Are the boots fully lined with sheepskin wool \ fur?
No, only the insole is wool lined. The rest of the boot has a thin textile lining.
Are the insole removable?
Yes, the insoles can be removed for drying or cleaning
Do the Ugg Sienna boots have good arch support?
Not especially. You would probably want to use inserts
Can you wear Ugg Sienna boots in the snow?
Yes, the boots will keep your feet dry. However, they probably won't keep your feet warm in snowy conditions.
BEST SELLING UGG SIENNA BOOTS
Last update on 2023-11-04 / Affiliate links / Images from Amazon Product Advertising API
Wellieboots.com  NEWSLETTER
Sign up to get the latest reviews, news, tips and where to get the best wellie deals!
You will only get emails from wellieboots.com (no 3rd parties)
We generally send one email per month