When you think of rain proof footwear, historically, UGG boots wouldn't spring to mind! After huge success with their sheepskin boots, UGG have developed leather boots and a waterproof range to include hiking and snow boots. One of the latest editions to this range is the Droplet – a rubber rain boot that comes in a fabulous selection of colours, bright enough to cheer up any cloudy day!
Our Verdict
| | |
| --- | --- |
| WHAT WE LIKE  | WHAT WE DON'T LIKE  |
| + Funky, chunky stylish design | – Towards the higher end of price range |
| + Easy to get on & take off | – Availability of colours is variable |
| + Warm fluffy UGG insole |   |
| + Environmentally conscious production |   |
Adjustments: No
Inside material: Textile
Outside material:  Mixed
Fit wide calves: Yes
Waterproof: 100% 
Colours:

 6

 Sizes

(Women)

:  3

 

UK to 8 UK –  6 US to 12 US

Boot Height: Ankle boots
What colours are the Droplet boots available in
Its brilliant to see wet weather boots in such a range of bright colours. The shades of colour used are strong but carefully selected to prevent them from being garish. It would definitely be nice to have one pair in black or grey and another pair in one of the bright colours. Here they all are:
All black
Dove Grey with black liner and grey sole
White with black liner and black sole
Emerald Green with black liner and black Sole
Samba Red with red liner and sole
Hazard Orange with black liner and black sole
How stylish are the UGG rain boots
Several brands are making ankle boot wellies now, but we like the chunkier look of the UGG Droplet. The design is simple and strong, based on the classic Chelsea boot. They have added some nice, moulded detail on the toe and some faux stitching on the sides for extra interest. 
Everything about it is lovely and chunky, the silhouette of the boot, the shape of the side cut out, even the UGG label pull tab is big and bold. They give you a 'ready for anything' look, show that you mean business and aren't going to let a little rain get in the way! 
Materials and sustainability
As expected from UGG, the Droplet is made to a high-quality finish. A process of injection moulding has been used to make the upper from one piece of rubber so no seams to potentially cause a problem down the line. 
The UGG label, which is also a strong woven pull tab, is fixed securely to the back of the boot. The side cut out shows a Neoprene collar, or sock liner. Neoprene, being waterproof and stretchy is a great choice for comfort and further protection from the rain. Inside is the signature UGG cosy fluffy insole. The fluff that we all love consists of 10mm of curly plush upcycled wool (offcuts and scraps processed into new fibres) and Tencell™ lycocell which is a fibre produced from sustainably sourced wood pulp with environmentally responsible processes. Hats (or boots) off to UGG for being environmentally conscious.
How good is the grip \ traction
The Droplet has an EVA footbed which is a rubber-like plastic characterised by its cushioning qualities that make every step feel gently absorbed. This, along with the nonslip tread and sturdy heel make for a good grip on wet or uneven ground.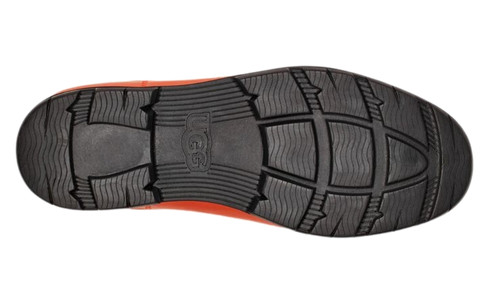 Best uses for UGG Droplet boots
They are great for showery weather or venturing out after a downpour. Also ideal for a dewy morning or any other conditions that a full wellington would possibly be considered over the top! Perfect for standing on the side-lines of a winter football match, excellent for camping and brilliant for a beach walk in the winter. 
Warmth: With the sock liner and wool insole acting as insulation you will be cosy and comfortable on a cold day even with a covering of snow on the ground.
Comfort and fit of the Droplet boots
These are seriously comfortable footwear. With all the technology involved in producing them it's no surprise that there is a nice cushioned, bounce feeling as you walk. The height of the boot offers support for the ankle and the stretch in the neoprene makes them easy to get on and off.
Although generally true to size, we strongly recommend you take advantage of the UGG size chart. Carefully measure your foot and compare to the chart to ensure an accurate fit. The width is average, to possibly slightly narrow, so for a wider foot, consider ordering a size up if you are unsure or would like room for extra socks.
Final thoughts: UGG Droplet boots review
Ugg Droplet boots are fun, bright and chunky. They are a statement piece that will enhance your outfit as well as being a practical choice that will last you a long time.
They are positioned at the upper end of the price range for ankle boot wellies, but do represent the UGG experience of excellent design, style, high quality and comfort. 
BEST SELLING DROPLET BOOTS

Last update on 2023-11-14 / Affiliate links / Images from Amazon Product Advertising API
Questions and Answers: Ugg Droplet Boots
Is Neoprene waterproof?
Yes – it's a form of rubber and is waterproof. On the Droplet however, it is a liner rather than a tight-fitting cuff, so although waterproof, water can enter the boot from the top.
Is the sock liner removeable?
No, it is fixed to the boot to keep water out.
Are the Droplet boots easy to clean?
Yes, wipe clean after use with a warm soapy cloth to keep them pristine and bright.
Are they easy to get on?
Yes, the neoprene lining is snug but not tight, so they are easy to get on and off.
Wellieboots.com  NEWSLETTER
Sign up to get the latest reviews, news, tips and where to get the best wellie deals!
You will only get emails from wellieboots.com (no 3rd parties)
We generally send one email per month