Seeland Noble Boots Review
Neoprene Lined Boots for Men
The Seeland Noble boots are made from natural rubber and have a 5mm neoprene lining to keep feet warm in sub zero temperatures. Two versions of the noble boot are available, one has a zip down the side of the boot and the other has a buckle.
Our Verdict
| | |
| --- | --- |
| WHAT WE LIKE  | WHAT WE DON'T LIKE  |
| + Keep feet warm in freezing conditions | – Reports of rubber splitting |
| + Classic looking wellie | – Price is slightly on the high side |
| + Adjustable gusset |   |
| + Sole has good grip |   |
Features: Seeland Noble boots
Adjustments: Adjustable gusset
Inside material:  5mm Neoprene
Outside material:  Natural rubber
Fit wide calves: Yes (not very wide calves)
Waterproof: 100% (including adjustable side gusset)
Colours:

Dark Olive

 Sizes 

(Men)

:

  6 UK to  13 UK



Heel type: Flat 
Seeland is a Scandinavian based company that is primarily know for making durable and comfortable hunting clothes. The company has a small range of wellington boots. The Seeland Noble boots which we review here and the Seeland Key Point boots which we will be reviewing soon.
BEST SELLING HELTON WELLINGTON BOOTS
Last update on 2023-11-14 / Affiliate links / Images from Amazon Product Advertising API
Seeland Noble Wellington boots Styles
The Noble boots are available in two different styles:
Noble zip boots
One problem people often have with tall wellington boots, is that they can be a pain to put on and take off, due to the long shaft. This is especially true of boots that have been designed to have a more stylish look, which often have a slim shaft. By having a zip running down the entire side of a noble boots it means  putting the boots on and take them off can be done with relative ease.
Noble buckle boots
Much like the zip version of the boots, having a buckle makes it much easier to put on and take off the boots. The buckle also have the added benefit of allowing the width of the gusset to be adjusted. This is great for people with wide calves, allowing the boot to be adjusted to size of the wearer's calf.
Having a buckle on the side of the boot also adds character to the boots making them more attractive than other boots that don't have a buckle.
Below is an image showing the zip and buckle versions of the boots. As you can see, apart from the buckle and zip the boots look identical.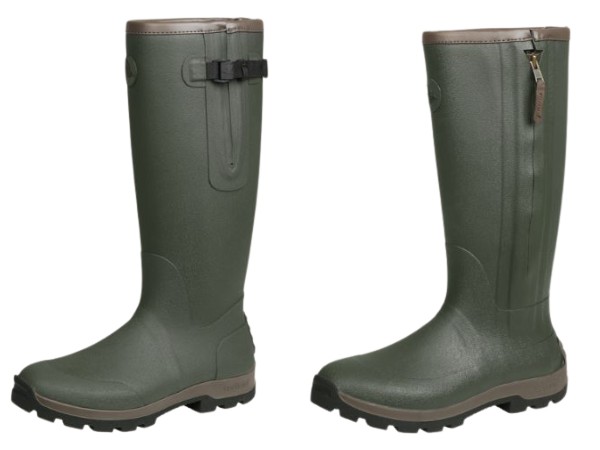 How warm are the Seeland Noble boots
Thanks to a 5mm neoprene lining the Seeland Noble boots will help keep feet insulated from the cold. Neoprene is generally considered as the best type of lining to use with rubber boots and will keep feet warm in sub zero temperatures of down to -10°C \ 14°F for several hours when stationary. If you are walking your feet will generate heat and keep warm in colder conditions for longer
It is often asked if you need to wear socks with neoprene lined wellies. For most people the answer will be 'yes'. The reason for this is that neoprene lined wellies are generally not great at letting feet breathe, this means that moisture can build up. By wearing socks the moisture is wicked away, helping keep fresh. 
Another good reason for wearing socks, is to prevent the boots rubbing against feet and causing sores.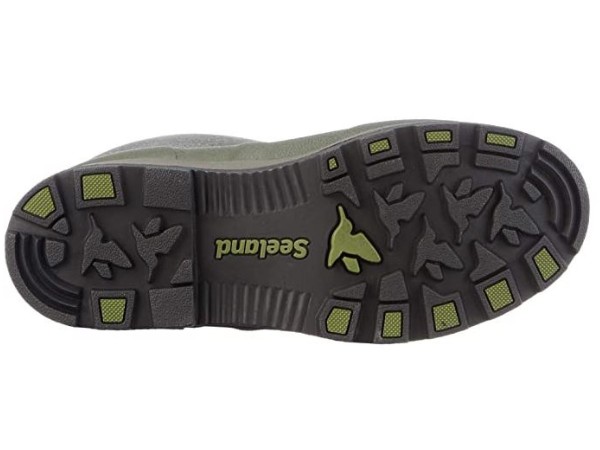 How good is the grip of Seeland Noble boots
The sole of the boots is firm and has a deep tread allowing for good traction in mud and snow. The pattern of the tread at the bottom is supposedly meant to prevent mud from sticking. 
Having a slight heel also gives additional traction in very muddy and wet conditions.
Unfortunately, like most other rubber boots, the traction is very poor on ice. To get any traction on ice really requires the boots to have studs, which they don't. 
Generally the boots have been well design and put together. All the joints are securely connected and the sole is sturdy. However, there are a number of report of the rubbing splitting. Which is surprising as the Seeland Noble boots are constructed from a relatively think 1.8mm natural rubber.
Final Thoughts: Seeland Noble Wellington Boots Review
The boots are warm, looking like a proper wellie and are generally well constructed. However, for the price you can find plenty of other wellington boots that are better. Infact, there are a number of cheaper boots that we have reviewed that are better the than the Seeland Noble boots.
Overall, we have give the boots a rating of 2.6 out of 5. 
BEST SELLING HELTON WELLINGTON BOOTS

Last update on 2023-11-14 / Affiliate links / Images from Amazon Product Advertising API
Questions and Answers: Seeland Noble boots
Are the boots available in half sizes?
Unfortunately, the boots are not available in half sizes. If you are normally a half size then, go up a size.
Are they suitable for wide calves?
The zip version of the boots are actually quite narrow, so we would not recommend them for people with with calves. The buckle version are much better suited to wide calves. 
Are Seeland Noble shooting boots?
Yes, the boots have been primarily designed for shooting, as they will keep feet warm in cold conditions when stationary at a driven shoot. But, they also make good general purpose boots in cold weather
Are Seeland Noble boots unisex?
No the boots have been designed for men. This means that they are only available in larger sizes and don't have the more elegant \ stylish look that many female boots have.
Are Seeland neoprene boots warm?
Yes, Neoprene is excellent at keeping feet warm in cold conditions
Wellieboots.com  NEWSLETTER
Sign up to get the latest reviews, news, tips and where to get the best wellie deals!
You will only get emails from wellieboots.com (no 3rd parties)
We generally send one email per month
Lakeland Helton's use 100% Natural Rubber