Rubber footwear with neoprene lining
Very versatile rubber footwear that can be used for many outdoor activities; such as gardening, walking and yard work. Muckster boots are available in a variety of different colours and styles. They're 100% waterproof, comfortable and well constructed. The only negative point is the poor traction.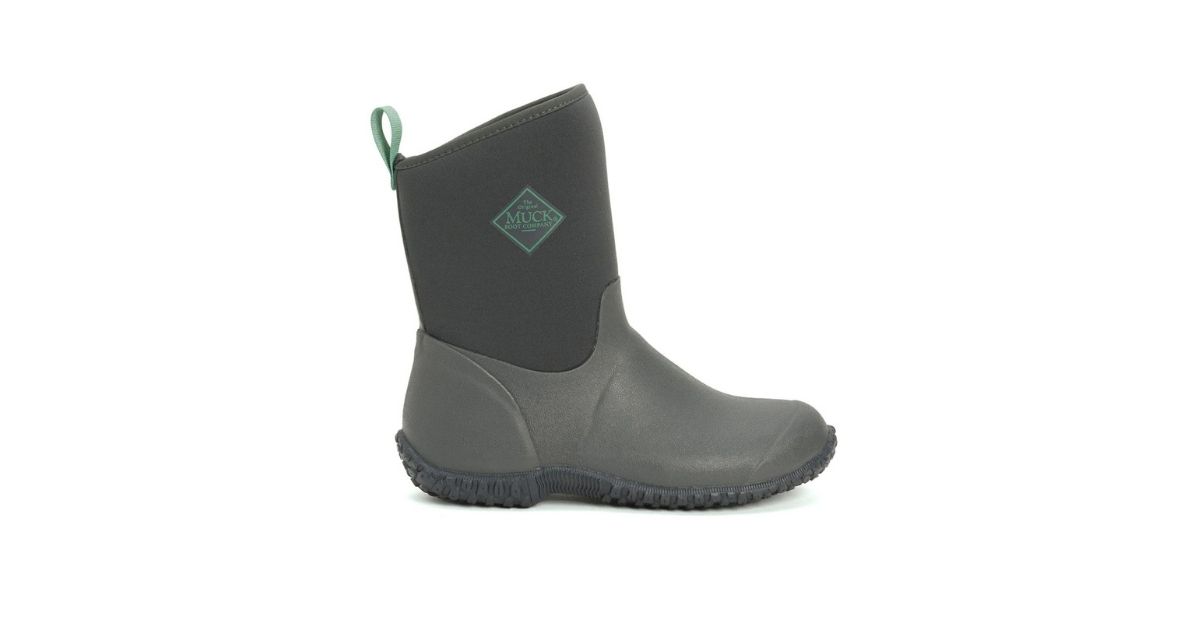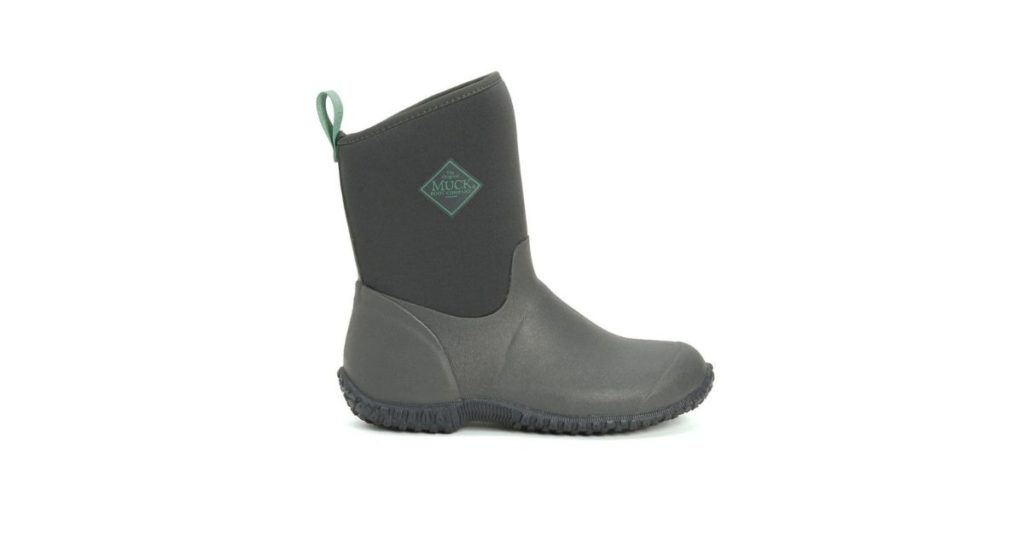 Muck Boot Muckster II Review
Date of review June 2022 by Richard 
Our Verdict
WHAT WE LIKE 
WHAT WE DON'T LIKE 
+ Good quality footwear
– Not the best traction
+ Suitable for wide calves
– Slightly on the expensive side
+ Very

Comfortable

 


 
Adjustments: None
Special features: 100% waterproof, Pull tab
Inside material: Neoprene \ textile
Outside material:  Rubber
Fit wide calves: Yes
Heel Type: Flat
Waterproof: 100% waterproof
Colours: Brown, Green, Black and special editions ( RHS special edition)
 Sizes: 3 UK to 13 UK – 5 US to 14 US
If you're looking for a good pair of boots to keep your feet warm and dry the Muckster II boots might be just what you need. These boots have been designed to provide optimum comfort and performance in all types of weather conditions. In this review, we will take a closer look at some of the features that make these boots so popular. We'll discuss the pros and cons of owning a pair of Muck Boot Muckster II footwear.
The different styles of the Muckster II boots
The Muckster II range of footwear is available in four different styles; shoes, flats, ankle boots and short boots. The short boots and ankle boots are essentially the same, it is only the shaft height of the boot that is different. The Muckster shoes and flats are styled slightly differently to the boots, but still have the rubber lower section and stretchy neoprene upper part.
The short boots are available for both men and women and are the most popular style in the range. This is probably because they offer good protection from the wet and the mud, but are still very lightweight at only 42 oz \ 1.2 kg (for the pair), obviously this varies slightly according to size. Also, they are super easy to put on and take off, thanks to the relatively low cut of the shaft and the elasticity of the neoprene opening.
One interesting feature of the short boots is that the neoprene shaft can be rolled down, effectively transforming them to ankle boots
The ankle boots are also available for both men and women. Together they weigh about 38 oz \ 1.1 kg on average. On a practical front there is very little difference between the short boots and ankle boots. So, it really comes down to a matter of personal preference as to which you prefer the look of.
Like the boots, the Muckster shoes are available for men and women, but also kids. On average the shoes weigh 21 oz \ 600 grams for the pair, making them much lighter than both of the boot styles. One of the benefits of wearing shoes over boots is that they won't rub against your ankle, which is an issue that some people have experienced with the Muckster boots. 
The Muckster flats are designed more as a stylish outdoor slipper. They're quick and easy to put on, very lightweight and super comfortable. But, they don't offer same protection against wet and muddy conditions. The very low cut also means that they're not suitable for walking long distances.
All four styles of the Muckster footwear are super comfortable to wear. This is thanks primarily to the materials the boots are made from. The 4mm neoprene lining is throughout the inside of the boots. Giving a spongy, comfortable feeling against the foot. The neoprene has a air mesh lining which allows feet to breathe, wicking perspiration away.
The Muckster II footwear insole has a memory foam style topper that is finished with a bioDEWIX Dry antimicrobial top cover and NZYM for odour control and moisture management.
The memory foam insole and neoprene lining not only keep feet comfortable and sweat free, but also provide some insulation from the cold. making the boots suitable for all year round use. Ideally the Muckster boots would be worn between 0 Celsius \ 32 Fahrenheit and 25 Celsius \ 80 Fahrenheit.
All the Muckster footwear styles are made from tough, durable materials. The soles are made from thick rubber and the uppers are also made from reasonably thick rubber, which is unlikely to split or puncture.
A common problem we often see with rubber footwear is that the joins between the sole and upper can separate. But, the Muckster boot joins appear to be very well glued and stitched. So, we don't think this will be a problem with these boots.
One thing to keep in mind with Muckster boots is that they are not designed for extended use in harsh environments. They will provide good protection against light mud, water and debris. However, if you're looking for something to wear while working on a construction site or long hikes, then you might want to consider a different boot.
Traction or grip, is often an important factor when buying outdoor footwear. All the Muckster footwear styles have the same lugged outer soles. Lug soles are a type of outer sole found on heavy-duty foot wear, such as hiking boots or work boots. 
The Muckster footwear have relatively shallow indentations, compared to hiking boots. The shallow indentations mean that Muckster soles provide a decent amount of grip on smooth hard surfaces. However, they are not so good on soft surfaces, such as mud.
Are they good looking \ stylish
The Muckster II boots have been designed as a practical boot, most suited for gardening. We don't think the short boots or ankle boots could be considered as stylish. They look alright, a bit bland and boring, but they're unlikely to offend anyone.
The Muckster shoes, like the boots, are slightly boring to look at and are designed as practical footwear, not high street fashion
The Muckster flats are a better looking shoe that are also practical.
Unfortunately, all the different styles are only available in a very limited number of colours, basically green, black and brown. Although, Muck Boots have recently released a range of Muckster boots endorsed by the Royal Horticultural Society (RHS), which have introduced some brighter colours and patterns.
Final Thoughts: Muckerster II Boots Review
The Muckster II boots, shoes and flats are all great footwear for those who spend time outdoors, in wet or muddy conditions. They're comfortable to wear, thanks to the neoprene lining and memory foam insole. They're are also very durable and have good traction on smooth surfaces. Although they're not the most stylish footwear around, they're practical and functional.
If you work outdoors or enjoy spending time in the garden, then we think the Muckster II boots are definitely worth considering.
BEST SELLING

Last update on 2023-09-01 / Affiliate links / Images from Amazon Product Advertising API
Questions and Answers: Muckster II Boots
Are they any good for snow?
The boots are not designed for snow. They don't have a thick insulating lining and the grips are not deep enough to provide good traction in snow.
How do i clean the boots?
Simply use warm water and a mild detergent to clean the rubber and neoprene after use. Don't been tempted to use strong detergents or chemicals, as these could damage the natural rubber that the boots are made from.
Are they safety boots?
No, the Muckster boots are designed for general use, for example gardening. They do not have any of the protection you would expect from safety boots e.g. steel toe caps.
Is the neoprene part of the boots waterproof?
Yes, the neoprene is 100% waterproof
Are they true to size?
The boots are slightly on the large size, but you should still buy them in your normal shoes size. Unfortunately they are not available in half sizes. If you are normally a half size, then size up.
Wellieboots.com  NEWSLETTER
Sign up to get the latest reviews, news, tips and where to get the best wellie deals!
You will only get emails from wellieboots.com (no 3rd parties)
We generally send one email per month