Muck Muckmaster Boots Review
Tall Working Boots for Men & Women
If you're looking for a high performance, protective, all-weather boot which is also super-comfy, then the unisex Muckmaster Tall Boots might be just what you're after. Perfect for hiking, farming, or gardening. These commercial-grade work boots are 100% waterproof and have been designed for all types of outdoor work and adventure. The boots combine dynamic design, elegant looks, and a plethora of comfort features.
Our Verdict
| | |
| --- | --- |
| WHAT WE LIKE  | WHAT WE DON'T LIKE  |
| + Super Comfortable | – Sizing is slightly on the small side |
| + Wear any time of year | – Some reports of sole detaching |
| + 5mm Neoprene lining |   |
| + Excellent grip |   |
Features: Muckmaster Boots
Adjustments: Stretch fit top
Special features: 'Breathable' lining, lightweight 
Inside material: 5mm Neoprene
Outside material:  Rubber & Neoprene
Fit wide calves: Yes, max 43cm (not suitable for very wide calves)
Waterproof: 100% waterproof (including neoprene top section)
Colours: Green & Black
 Sizes

(Unisex)

:

 4 UK to 14 UK – 6 US to 15 US

Boot Height: 43cm (average)
There has been a lot of raving about the Muckmaster boots, which are one of the more recent products launched by the Muck Boot Company. In this article, we will give an in-depth review of the Muckmaster boots, which will include discussion about their comfort, warmth, grip, advantages and disadvantages.
BEST SELLING MUCKMASTER BOOTS
Last update on 2023-11-19 / Affiliate links / Images from Amazon Product Advertising API
How warm and Comfortable are Muckmaster boots
Most warm footwear that's as protective as these boots, is usually heavy and clunky, but these boots are designed to be light (not featherweight but as light as Wellington boots go) yet durable and hardwearing too. The 2mm thermal foam underlay and *EVA moulded midsole makes hiking or long-distance walking feel like you're strolling around your living room, thanks to the shock absorbing properties, so you need worry less about blisters.
The boots have a breathable air mesh lining. This works by pumping air around the boots as you walk, taking away moisture and excess heat. Making the boots a comfortable option for all day wear at any time of year. 
The boots stretch fit top helps makes sure that the boot stay warm and snug on your calves, keeping warm air in and cold air out.
The boots feature a 5mm neoprene lining that is throughout the entire boot. The neoprene is able to adjust to fit the unique contours of your feet, providing flexibility and in turn, comfort. The neoprene at the top of the shaft is elastic, making the boots suitable for people with wider calves
*Note: EVA (ethylene vinyl acetate) is a super tough and highly flexible type of plastic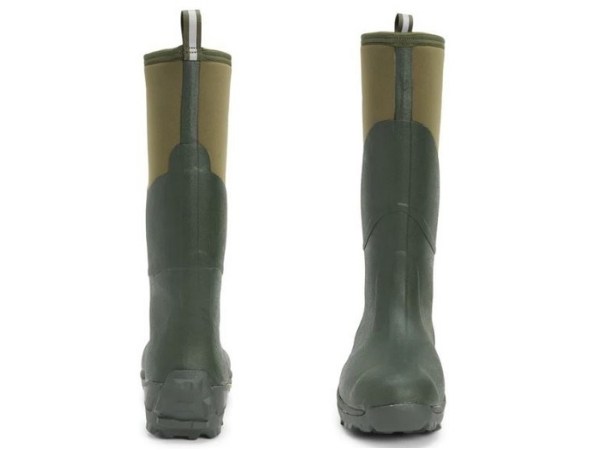 How stylish are Muckmaster boots
The attractive design to these boots means they are a real treat to be seen. Not only are these boots ideal practical working boots, but they are also aesthetically pleasing, so much so, that you'd be more than happy to wear them on social gatherings too – think Sunday dinner down at your local country pub (before or after the hike with family and friends).  
Unfortunately, the boots are only available in two colours, black and green. 
How good is the grip \ traction of Muckmaster boots
Architecturally, the boots are designed with an active user in mind, whether that's the hiker, farmer, birdwatcher or dog-walker, these boots are about doing stuff outside, hence the excellent underfoot grip.
The grips, which begin at the front toes and work backwards to beyond the heel, not only provide shape and stability but also look industrious and dynamic. If you're into shooting, then these are also right up your alley, a boot designed for pleasure. Unlike many wellies on the market, they do not make your feet look big and bulky. Rather, they invoke a feeling of being nimble, quick footed, and sprightly.
They are ideal for extreme or challenging weather conditions. If you find yourself slipping around in muddy conditions, then these Muckmaster Tall boots might be just what you need, as the durable lug outsole provides a sound grip, providing you with the drag and control to balance and move robustly without sliding.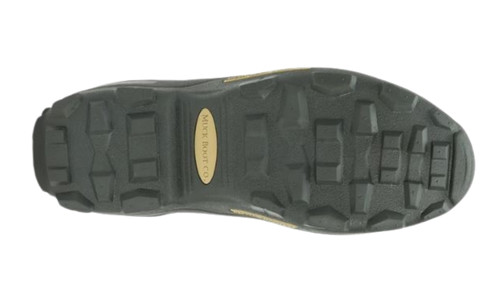 Muckmaster boots are best for....
Thanks to their lightweight and slim design the Muckmaster boots are driver friendly, so drive the car to your favourite countryside location, park up and hike as far as your feet will carry you – which turns out to be pretty far given the comfort-performance of these boots. 
On the outside they are charming and urbane, with a sleek design that would impress onlookers at pub, park, or farm. But these boots aren't just about vanity. They have an exterior full of stability and protection. An extended rubber overlay safeguards your feet against all kinds of terrain, in fields, parks, and hilly regions. Should you revel in the wet, cold, and muddy weather conditions, then these are ideal for you, and possess all the practical necessities of long hours spent outdoors. From hiking in rainy season, to gardening in the winter months, they are adaptable throughout the year.
Differences between Muckmaster Styles
This review focuses on the unisex version of the Muckmaster tall boots which Prince Harry and Megahn Markle have been seen wearing. However, there are two other Muckmaster styles which are very similar.
There's the Men's version of the boots which have an adjustable calf gusset. Other than that, the boots a virtually identical to the unisex style. 
Also, there's the unisex Muckmaster mid-height boots which have a shorter shaft than the tall boots. This makes them easier to get on and off and also makes them better suited to people with wide calves
If there are drawbacks, then it is the fact that these boots may feel a little tight on the first wear of them, easing as you wear more regularly. But that's simply because the classic Muck Boot neoprene moulds to the contours of your foot, adjusting itself the more you wear them, making foot and boot merge into one. 
There are reports of the sole detaching from the boots, but this seems to be very rare. Generally, the boots are very constructed and should last for many years
Final Thoughts: Muckmaster Boots Review
The Muckmaster boot from Muck Boot is one of the best outdoor boots on the market today. The boots offers an all-round benefit for all seasons, weather, terrain, and conditions. Furthermore, it is one of the few protective boots that can be worn by both men and women.
The Muckmaster boot offers optimal comfort with its lightweight EVA midsole and fully lined 5mm neoprene which is capable of wrapping around your feet's contour. For all-day wear, the boot remains a very comfortable option, offering warmth or ventilation. Its stretch-fit top-lining and thermal foam underlay will provide warmth for the feet. The breathable air mesh lining makes for great ventilation, keeping the toes cool and dry in warmer weather. With the Muckmaster boot, you can work outside no matter the weather conditions
BEST SELLING MUCKMASTER TALL BOOTS

Last update on 2023-11-19 / Affiliate links / Images from Amazon Product Advertising API
Questions and Answers: Muckmaster Boots
How waterproof are Muckmaster boots?
All Muck boots are 100% waterproof. Including the neoprene at the top of the boots
Are Muck boots any good?
In a word, Yes. The Muck Company have been producing high quality boots since 1999. They make hard wearing, comfortable boots that are can be worn all day long. This has made them popular with those who spend much of their time working outside, such as farmers, gardeners and equestrian community. 
Can you wear Muckmaster boots all day?
Yes, you certainly can. They have been designed for all day use.
Are
Muckmaster 
boots available in half sizes?
As with many other boot companies, the Muckmaster boots are only available in full sizes
Are Muckmaster boots warm enough for winter?
Yes, the boots have a 5mm lining which makes them suitable for the cold conditions of winter
How long will Muckmaster boots last?
If you wear the boots most of the day on a daily basis, they will last at least 1 year. If you only use the boots for occasionally for gardening or taking the dog for a walk, expect the boots to last 3 to 5 years maybe even longer
How do you clean Muck boots?
Use warm water and a mild detergent to clean both the inside and outside of the Muck boots. Do not put them in a washing machine!
What warranty do Muck boots have?
All Muck boots come with a one year warranty.
Wellieboots.com  NEWSLETTER
Sign up to get the latest reviews, news, tips and where to get the best wellie deals!
You will only get emails from wellieboots.com (no 3rd parties)
We generally send one email per month