Muck Boot have decided that tough measures are required for unpredictable weather, so have redesigned their work boots from the ground up. Let's explore the changes and benefits of the Muck Mudder!
Our Verdict
| | |
| --- | --- |
| WHAT WE LIKE  | WHAT WE DON'T LIKE  |
| + Extremely Durable | – Not available in half sizes |
| + Easy to put on and take off | – Not suitable for narrow feet & calves |
| + Comfortable & Supportive |   |
| + Optional reinforced toe cap |   |
Features: Muck Mudder Boots
Adjustments: None
Inside material:  Synthetic lining
Outside material:  Rubber
Fit wide calves: Yes (not very wide calves)
Waterproof: 100%
Colours:

Black (soon to be discontinued), Green and Navy

 Sizes (Unisex)

:

4

UK to  14 UK  \ 5 US to 15 US

Heel type: Flat 
What conditions are Muck Mudder Boots most suitable for
Available as a reinforced work boot or a standard wellington boot, Muck Mudders have been developed to cope with extreme, wet conditions. Slush, floods and mud are handled with ease due to the full height, layered rubber construction, fitted heel support and superior grip.
They have been designed in two categories;
1) An all-round boot for leisure and outdoor duties 
2) A work, safety boot with reinforced toe caps, specifically for construction sites and agricultural use. 
BEST SELLING MUDDER BOOTS
Last update on 2023-12-02 / Affiliate links / Images from Amazon Product Advertising API
How good are the Muck Mudder safety boots
The work boot version of the Mudder's has passed independent testing for slip resistance on wet and dry surfaces. The composite reinforced toe caps are certified to full S5 safety regulations for use on site where PPE standards require certification.  
The rubber outsole is oil and gas resistant and the extra rubber overlay, the length of the boot, makes them extra durable and resistant to cuts and abrasion. 
There is a brilliant, reflective strip on the pull tab – it shows the extent of the thought that has gone into these boots! It will certainly compliment a hi-viz jacket, help you locate your boots in the dark and illuminate the wearer in a hazardous night-time situation.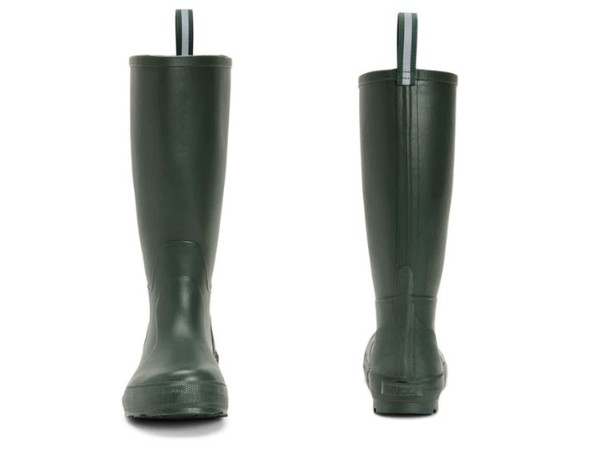 They offer all the external protection you will ever need from wintery conditions, but don't have inner insulation, like other Muck Boot designs.
Muck have certified them suitable down to Zero degrees Celsius, so they are good for a mild winter. But if you're wearing the boots in sub zero conditions and aren't exerting yourself, creating your own heat, you will certainly benefit from adding some insulation in the way of a wellie liner, or some thick wool socks.
Are Muck Mudder boots comfortable
As a serious outdoor boot that is expected to be used all day by most, they need to be comfortable and they certainly are.
They carry NZYM insoles and Biodewix inserts which use plant based technology to manage moisture and bacteria, keeping your feet fresh and dry when you are working hard. This, coupled with their Dual Density insole and memory foam top layer, make them cushion and support the foot all day.
The Mudder is made of natural rubber, so is flexible and lightweight which makes them comfortable when bending, twisting and lifting.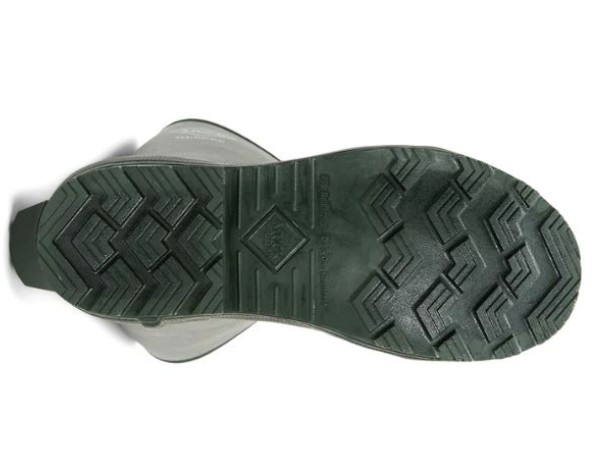 How do Muck Mudder boots fit - Are they true to size
We found the Mudders to be true to size, but with generous proportions around the toe and calf. They are perfect for people with wider feet or calves and particularly useful when tucking in bulky trousers.
You can also use proper wellie socks without them being too tight. The shape around the heel has been designed to be semi-fitted, to support the ankle and prevent the problem of losing a boot in deep squelchy mud! This doesn't make them hard to get off, because Muck have pre-empted the issue and added a really useful heel wedge on the back of the boot, making taking them off an easy, handsfree operation.
As with the other Muck boot variations, the Mudders aren't available in half sizes, so if you are in the half size category, it is advised you order a size up.
How easy is it to clean Muck Mudder boots
Being Natural rubber, the best way to keep your Mudder boots clean is to use a simple soft brush and water. Brush off any dry, caked on mud before washing with water. For anything more stubborn, use your soft brush with warm, soapy water.
It is important not to use any detergents or harsh cleaning products as they will degrade the rubber.
Once clean, dry them gently – out of direct sunlight and don't be tempted to put them by a radiator – this too can degrade the rubber.
If they get wet inside, crumple up some newspaper and place inside them. Leave them in a warm and airy corner until dry.
One benefit of not having insulating inner layers, is that they will dry very quickly which is essential if you need them every day for work or walks etc.
What colours are Mudder boots available in
They are a unisex boot and possibly as a result, come in plain colours. You can choose between plain Black, Navy or Moss green for the regular boot. 
The safety boot version is currently available in Black or Moss green. We have been told that black Mudder boots are to be discontinued once they have sold out, so if you would like some, act now!
Final Thoughts: Muck Mudder Boots Review
We are impressed by the Mudder boot. They give you the feeling that they are all about being a seriously hard wearing, essential piece of equipment that won't let you down. Anyone that needs this sort of reliability could rest assured that these boots are fit for purpose and value for money.
The main thing to watch out for, is that the boots are generous fitting in both the foot area and calf.
BEST SELLING MUDDER BOOTS

Last update on 2023-12-02 / Affiliate links / Images from Amazon Product Advertising API
Questions and Answers: Muck Mudder Boots
Are Mudder boots suitable for leisure activities?
Absolutely, we have gone into depth about very challenging conditions but the Mudder's are suitable for any outdoor activities that require a welly! They may be over engineered if you are only going to do the odd puddle walk with the kids but they will certainly do the job!
Are Muck Mudder boots good value for money?
For the amount of thought, design and testing that has gone into developing the Muck Mudder's, they are actually very reasonably priced representing excellent value for money.
Are Muck Mudder boots durable?
The Muck boots, if cared for in the right way can last 10 years or more. They have an extra rubber layer for increased protection, making them incredibly durable.  
How to care for Muck rubber boots?
The main thing to note is that any natural rubber boots should be stored in an airy position, away from direct heat ie. radiators and out of direct sunlight. This sounds a little demanding but most places that wellies are stored – under the stairs, in the porch, by the back door etc will generally fit the bill!

This along with gentle cleaning, mentioned previously will keep your boots performing and looking good for years. The diligent owner would also use a wax polish made for rubber, with UV protection, to keep them supple, preventing any cracks or splits.
Wellieboots.com  NEWSLETTER
Sign up to get the latest reviews, news, tips and where to get the best wellie deals!
You will only get emails from wellieboots.com (no 3rd parties)
We generally send one email per month