Neoprene Lined Unisex Work Boots
Waterproof boots with great design, fitted with a breathable mesh lining that makes the boots comfortable as an all-day boot. If you are undertaking any basic outdoor activities (gardening, light outdoor work, or hiking), then these are ideal in terms of flexibility and comfort.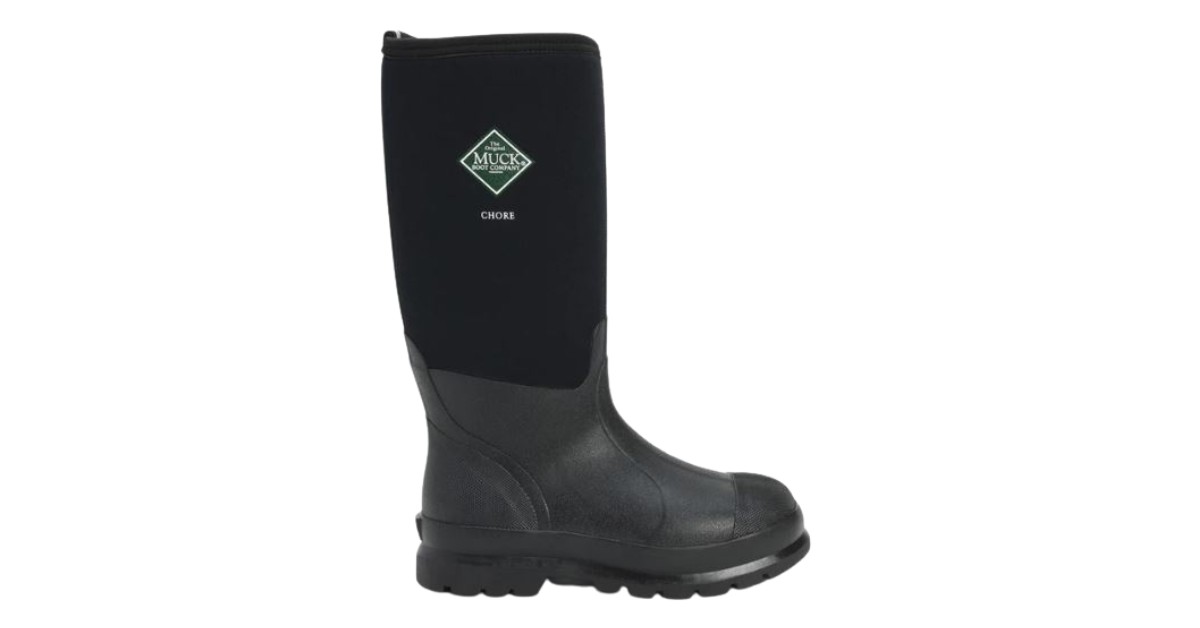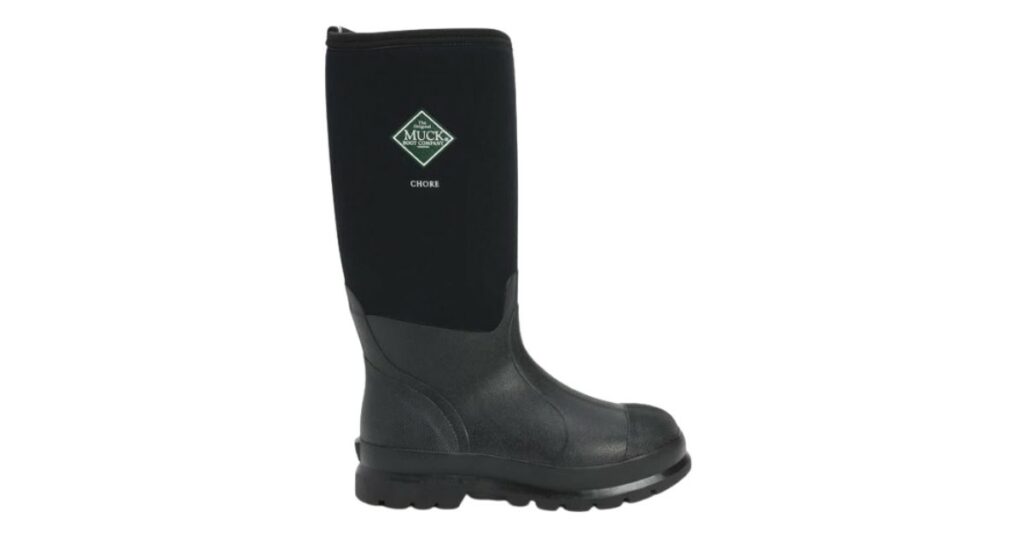 Muck Boots Chore Boots Review
Date of review January 2023 by Richard Cutts
Our Verdict
| | |
| --- | --- |
| WHAT WE LIKE  | WHAT WE DON'T LIKE  |
| + Good quality | – Quite heavy |
| + Comfortable | – Can be difficult to get on \ take off |
| + Warm (5mm neoprene lining) |   |
| + Excellent grippy sole |   |
Features: Muck Boots Chore
Adjustments: None
Inside material: Neoprene
Outside material:  Rubber & Neoprene
Fit wide calves: No (Size 9 has 42cm \ 16.5 inch circumference )
Waterproof: 100% (including neoprene upper)
Colours:

 Black and Brown

 Sizes

(Unisex)

:

 4 

UK to 14 UK – 5 US to 15 US

Boot Height: 40.5cm \ 15.9 inches (average height)
The boots look good and are 100% waterproof (which is pretty much standard for a wellington boot), with an easy cleaning sole, great for wet and muddy conditions (also what you would expect with a decent priced boot!). The neoprene lining offers flexibility and comfort and is designed with what Muck refers to as odour control management, helping to eliminate bad smells – great if you are prone to smelly feet! Some boots can give off bad odours by not allowing air around your feet, so neoprene lining is a good choice.
BEST SELLING MUCK CHORE BOOTS
Last update on 2023-12-05 / Affiliate links / Images from Amazon Product Advertising API
Practical Boots For Practical People
In terms of practicality, the boots have a pull tab to help get the boots on and a kick spur on the heel to help take the boots off. However, the boots can actually be quite tricky to put on and take off, even with the help of a pull tab and kick spur. This is especially true for people whose calves \ feet are on the large side.
Heel height is 2.9cm, which is about standard for wellington boots, offering the wearer added clearance from mud and dirt. The boots have triple toe reinforcement and quadruple rubber heel reinforcement making the foot area of the boot solid and protective. 
Muck have designed the boots with a steel shank running throughout the inside of the sole, which will prevent the boot from becoming misshaped during use, providing structural support, and making these boots more durable and longer lasting.
The boots come with a thick rubber overlay for extra support for heels and toes, so they can handle loose debris or brittle landscape, protecting the feet in most terrain. However, these are not 'hard labour' boots since they do not have a steel toe cap – so they won't pass for some work activities if that's what you're buying them for – especially if you risk anything heavy landing on your toes! If you want a steel toe cap then look at the Muck Chore boots which are available with a steel toe cap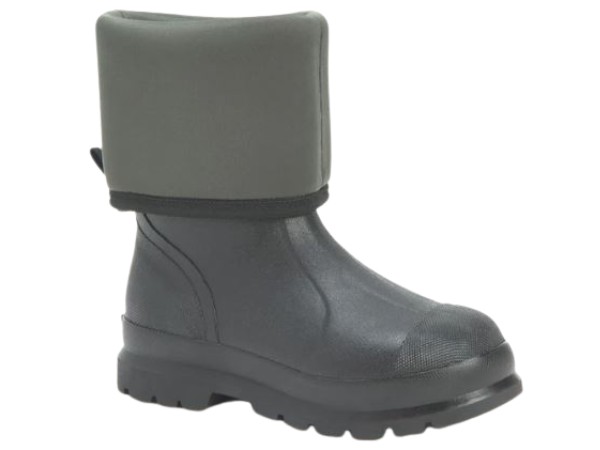 How Good Do The Muck Boot Chore's Look
In terms of looks and fashion, these Muck chore boots are smart and cheerful looking, with the cool blending of the rubber bottom and fabric-based calves, which stretches to fit a range of different sized legs of men or women. However, these boots are not suitable for people with wide calves. A foot size 9 boot has a circumference of approximately 42cm \ 16.5 inches which is more generous than many other boots but can not be considered suitable for wide calves. 
They have a rather rugged design and appeal, possibly more appealing to men than women as they are quite a masculine looking, sturdy boot. These are clunky boots, not at all chic nor very classy, and would not be first choice of footwear for a carnival or countryside dining event. But as working boots go, they do have a country-style appeal, and there is something funky about the blend of rubber and fabric that makes these desirable wellington boots.
How good is the grip \ traction of the Muck Chore boots
The boots have good grip, thanks to the deep treads and the outer sole providing sturdiness and balance, ideal for the active wearer. The grip provides good stability and strength, with the feeling of having an outer armour around your feet, protected and safe.  Especially suitable for muddy and wet terrain. Not quite so good on hard slippery surfaces and ice.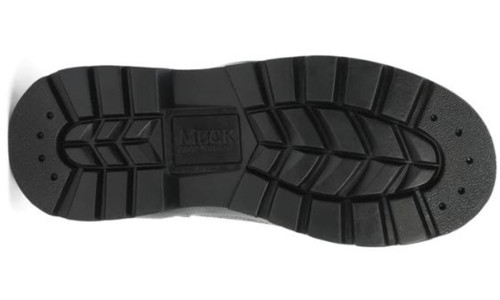 Are Muck Chore Tall Boots Good Value For Money
The Muck company have a top reputation for producing good reliable wellingtons. These Chore boots are part of their latest range, but with that comes a premium price tag.
Other Muck boots, like the Mudder range, have been on the market much longer but are available at a lower price.  
Then there are alternative brands such as Bogs, who produce very similar boots to Muck and generally at a lower price. 
The Chore boots are at the top end of the pricing we would expect for this type of boot. 
Final Thoughts: Muck Boots Chore Review
Overall, The Muck Chore boots are made from quality materials that have been put together well. There are no obvious weak points. So, expect the boots to last for many years.
The boots will keep feet warm, down to sub-zero temperatures, thanks to the thick 5mm neoprene lining the lines the entire inside of the boot. The neoprene also has the added benefit of giving extra comfort, due to its spongy texture.
If you're after a good quality work boot, then the Muck Chore boots should definitely be on the shortlist.
BEST SELLING CHORE BOOTS

Last update on 2023-12-05 / Affiliate links / Images from Amazon Product Advertising API
Questions and Answers: Muck Chore Boots
What is a good alternative to Muck boots?
Bogs are a great alternative to muck boots. The boots are very similar in style and Bogs boots have the added benefit of being cheaper than the equivalent Muck boots. 
How warm are Muck Chore boots?
The boots have a 5mm neoprene lining, making them suitable for wearing in freezing conditions. Muck doesn't give a lowest comfortable temperature, but you're probably looking at -10°C \ 14°F
Do they have steel toe caps?
The Chore boots are available with steel toe caps. However, it is not standard on all versions of the Chore boots. The non-steel toe cap version of the boots has a reinforced toe section giving additional protection.
Are the boots suitable for wide feet?
The foot area of the Chore boots is quite roomy, making them suitable for wider feet. It might be advisable to go a size up if you have particularly wide feet.
Do Muck boots come with a guarantee?
All Muck boots come with a 12 month guarantee for manufacturing fault. The guarantee does not cover wear & tear or accidental damage.
Is the neoprene lining throughout the Chore boot?
The Muck chore boots have neoprene lining throughout the entire boot, giving extra comfort and warmth. Some cheaper alternative brands do not have neoprene lining throughout.
Is the neoprene top part waterproof?
Yes, the neoprene section of the Muck Chore boots is 100% waterproof. It is the same material that wetsuits are made from.
Are Muck Chore boots good for winter?
The boots are great for winter conditions. The Neoprene lining provides excellent insulation from the cold, and the sole of the boots has deep treads providing excellent grip in the snow and rain.
Can the insole be removed from Muck boots?
The insole can easily be removed for cleaning and drying. Or the insole can be replaced with another insole. This can be especially useful for people who require specialised orthotic inserts.
How long do Muck Boots last?
This a tricky question to answer, because it depends on how much you wear your Muck boots and what you're doing in them. But, Muck boots are made from quality materials and well constructed so you should be looking at getting at least 3 years out of them and possibly quite a bit longer. 
Are Muck Boots good for walking in?
They are probably some of the best boots you can buy for walking. Muck boots provide a reasonable amount of support, while still being flexible. The soles of Muck boots provide a good grip. The only slight downside when it comes to walking in Muck boots is that they are slightly bulky and tend to weigh a bit more than other boots.
Wellieboots.com  NEWSLETTER
Sign up to get the latest reviews, news, tips and where to get the best wellie deals!
You will only get emails from wellieboots.com (no 3rd parties)
We generally send one email per month