Muck Arctic Sport II Boots Review
Stylish boots for the cold
Muck Boots are well established with a great reputation and have an attractive, practical boot for every occasion. This rubber / neoprene mix range appear to do it all! We put the Arctic Sport II boots to the test in our review, see below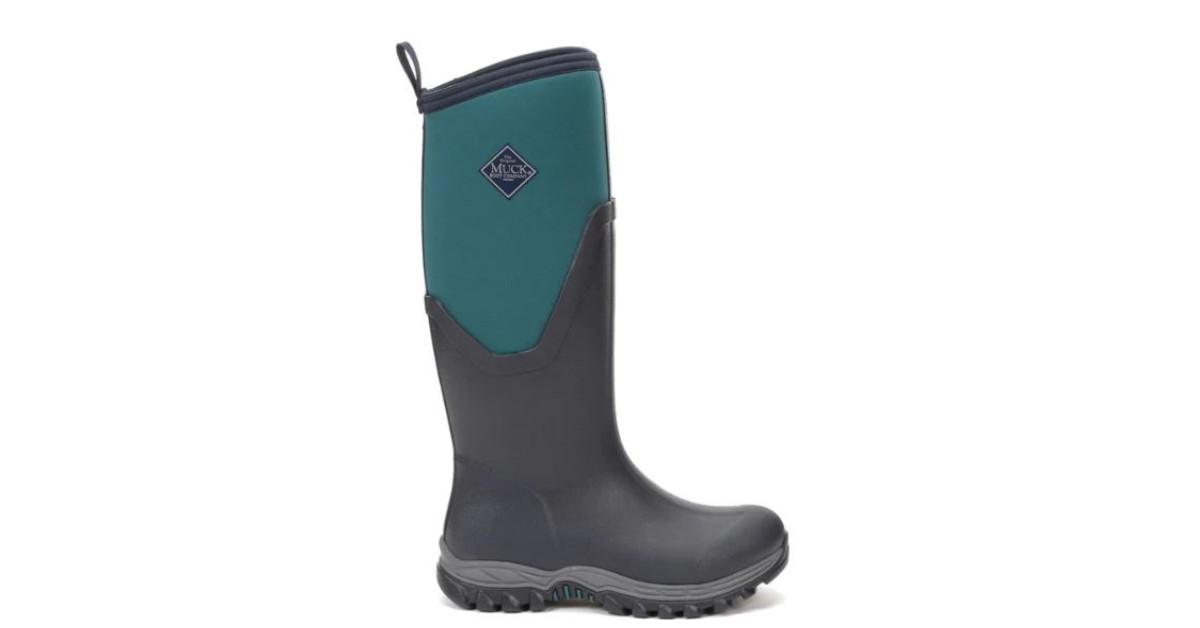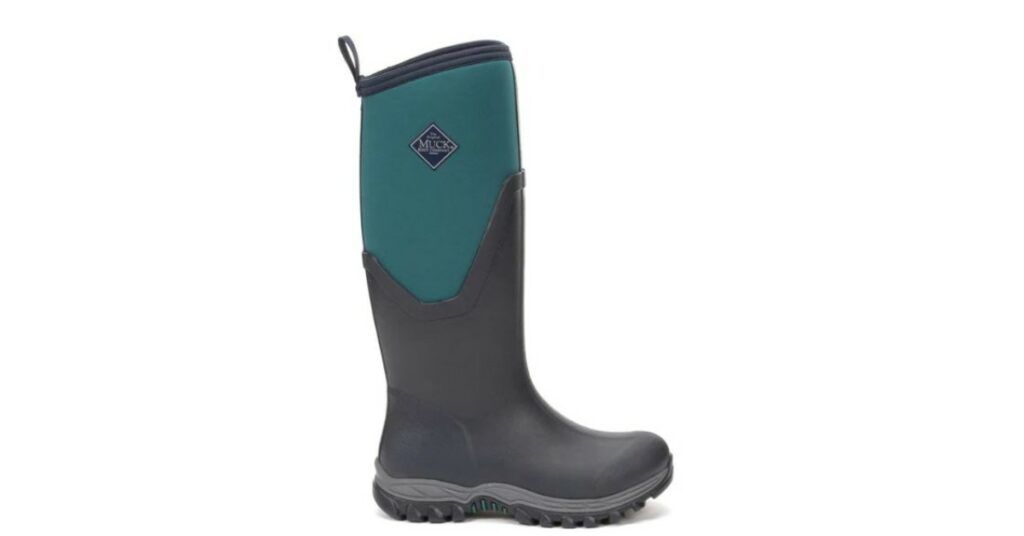 Arctic Sport II Boots Review
Date of review December 2022 by Richard 
Our Verdict
| | |
| --- | --- |
| WHAT WE LIKE  | WHAT WE DON'T LIKE  |
| + Stylish chunky design | – Too warm for summer use |
| + Fabulous, extensive range of colours & heights | – No half sizes |
| + Super warm & cosy |   |
| + Comfortable & supportive  |   |
Features: Muck Arctic Sport II
Adjustments: None
Inside material: Neoprene & Fleece lining
Outside material:  Rubber & Neoprene
Fit wide calves: Yes, average max circumference 43cm
Waterproof: 100% 
Colours:

 10 plus colours

 Sizes

(Women)

:

 3 

UK to  9 UK –  4 US to 10 US

Boot Height: Available in Ankle, Short and Tall
Are Muck Boots a good brand
'The Original Muck Boot Company' was founded in 1999 in Connecticut. Although they make a good looking welly, Muck were initially designing a solution for the equestrian market – for people who have to be up early in all weathers, mucking out stables rather than for fashion!
They have proved themselves to be devoted to providing a wide range of boots suitable for all day use in all outdoor activities. Many Muck boot owners wouldn't buy anything else.
BEST SELLING ARCTIC SPORT II BOOTS
Last update on 2023-11-04 / Affiliate links / Images from Amazon Product Advertising API
How warm are Muck Arctic Sport II boots
These boots are made for really cold conditions – the 5mm Neoprene lining is throughout the entire inner boot and the boots are also fleece lined which makes them incredibly warm. Muck suggest the boots are suitable for freezing conditions, all the way down to -40°C \ -40°F …..that's cold!
Muck boots are generally true to size. If you are a usually a half size or have slightly wider feet you will benefit from ordering a size up.
If in doubt though, we recommend you spend a few minutes taking some measurements and compare them with the Muck boot size guide.
It should be noted, that as with all neoprene boots the fit can be quite snug when first worn. After wearing the boots a few times they will give slightly.
The different heights of the Muck Arctic Sport II boots
There are three heights in the Arctic II range, short, ankle and tall. The measurements here are based on a ladies size 5 boot and will vary slightly for other sizes.
Tall boots – Height 43cm / 17.6" with a max calf circumference of 38cm / 15.5"
Short \ mid-height boots – Height 31cm / 12.4" with a max calf circumference of 37cm / 14.9
Ankle boot – Height 15.2cm / 6" with an opening circumference is 27.9cm / 11"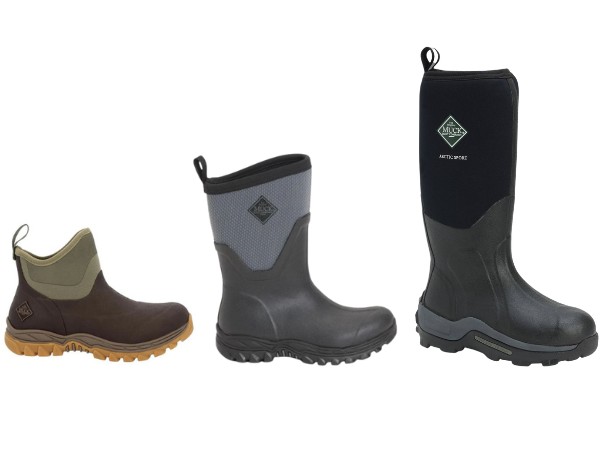 How stylish are the Arctic Sport II boots
Muck boots are the choice of many celebrities due to their quality and style. The Arctic Sport II range are a good looking boot with lots of nice options and details;
The ankle boots are chunky, yet attractive, with nice proportions. The two-tone neoprene with a matching strip on the sole is a really nice touch. They have a good size, sturdy pull tab which is easy to grab and looks right – in proportion with the rest of the boot.
They come in three colours – Black with two tone grey/blue neoprene, Trooper blue with two tone blue neoprene and Olive brown with two tone olive green.


 The short / mid-height boots are similarly styled but without the two-tone neoprene. They are available in lots of styles – the rubber part being a solid colour with the neoprene in either block black or grey, a very appealing woven or herringbone effect or an unusual fade print in shades of magenta. Its refreshing to have so many options!


The tall boot is elegant and slender, again in pleasing proportions.
They come in 8 different colour/print options. They share most of the same options as the short boot, plus a camouflage print, block teal and block hot pink which are very fetching! There is also a blue 'topography' fade instead of the magenta of the short boot.

The block colour options offer a timeless style, in very pleasing shades. The woven and Herringbone are prefect for a countryside look and the statement prints for anyone looking for something a little different. Again, Muck boots have covered all angles!
Do Arctic Sport II boots have good Grip
As indicated by the name 'Arctic', their rugged tread provides solid grip suitable for deep snow. The outsole has deep, chevron shaped grooves pointing in opposite directions to compact snow and create grip.
They are equally efficient in slippery conditions, displacing mud or water and getting to firmer ground below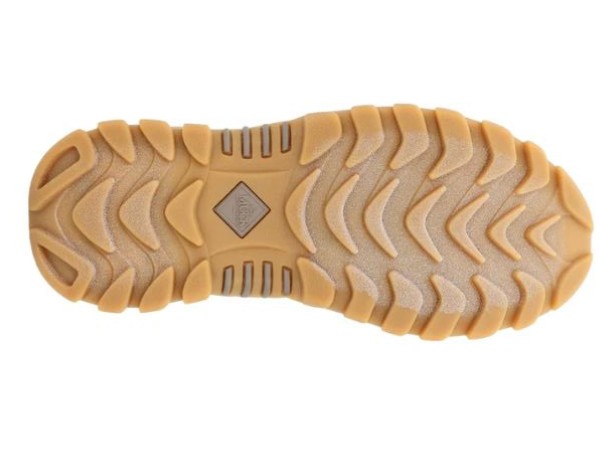 How Comfortable are Muck Arctic II boots
Muck have incorporated an EVA footbed into the sole of the boot, which is a rubber-like plastic, characterised by its cushioning qualities that make every step feel gently absorbed. This means the shock from hard ground is neutralised and any sharper stony lumps will go unnoticed, providing the wearer with a comfortable experience. This support makes the boots suitable for long walks or all-day use.
Arctic II boots also have NZYM insoles and Biodewix inserts which use plant based technology to manage moisture and bacteria keeping your feet fresh and dry when you are working hard. Neoprene lined boots can promote perspiration on warmer days or during levels of higher exertion but Arctic II's feature an inner, fleece lining which adds a level of breathability to improve air circulation.
The fleece also acts as extra insulation making these boots seriously warm, so we recommend the shorter height boots for summer wear
How long will Muck Arctic Sport II boots last
Lifespan varies greatly from person to person but, treated correctly, the boots will last on and on for many years. All of the seams are cemented in place, then stitched and finally sealed with a rubber tape to ensure durability.
There are no claims that they will last a lifetime, like some high-end wellingtons, but we don't necessarily see this as a bad thing. Most of us are ready for a change after a few years and with all the height and colour variations in the Arctic Sport II range, it would be a shame not to have a change because your first pair outlast you!
Final Thoughts: Arctic Sport II Boots Review
If you're after boots to keep your feet warm in the extreme cold, then the Arctic Sport II boots will do just that. The combination of neoprene and fleece lining provide fantastic insulation. Other than keeping your feet warm, the boots are comfortable, practical, well made, and available in a variety of different colours and styles. 
What more could you want from a pair of boots
BEST SELLING ARCTIC SPORT II BOOTS

Last update on 2023-11-04 / Affiliate links / Images from Amazon Product Advertising API
Questions and Answers: Muck Arctic Sport Boots
Are Muck Boots Arctic Sport II Made of Natural Rubber?
Yes, the rubber used for all muck boots is natural which provides increased flexibility and longevity in the harsh conditions faced.
Are Muck Boots Waterproof ?
Yes, the neoprene inner boot is waterproof to the top as is the rubber outer boot.
Are Arctic Sport II boots good value for money?
They might not last a lifetime but in terms of comfort warmth and versatility, but they represent good value for money.
Are Muck Arctics good for Winter?
With a deep and grippy sole, Neoprene lining and cosy fleece lining, they are some of the warmest boots out there! Your feet will certainly be warm and dry in the coldest winter
Are Arctic Sport II boots too hot in warmer weather?
Potentially, yes – though most people tend to use wellies a lot less in the summer – you could certainly pop these on for a walk or to carry out some outdoor work if required but if it's hot and you will be exerting yourself, you will likely find them very hot!
Can you wear Muck Arctic Boots in the summer?
You can, but your feet will be very warm. The Arctic boots are really designed for using in winter
Wellieboots.com  NEWSLETTER
Sign up to get the latest reviews, news, tips and where to get the best wellie deals!
You will only get emails from wellieboots.com (no 3rd parties)
We generally send one email per month