Grubs Frostline Boots Review
Good alternative to Muck boots
The Grubs Frostline 5.0 are an all-purpose wellington boot. Come wind, rain, or shine these comfy wellies will do you a good turn in footwear usage – they not only generally fit well but look pretty good too. Although multi-seasonal footwear, they are sold on the Grubs website as 'extra warm wellie boots' and are, therefore particularly great for winter, as the 'frost' title of these boots indicates.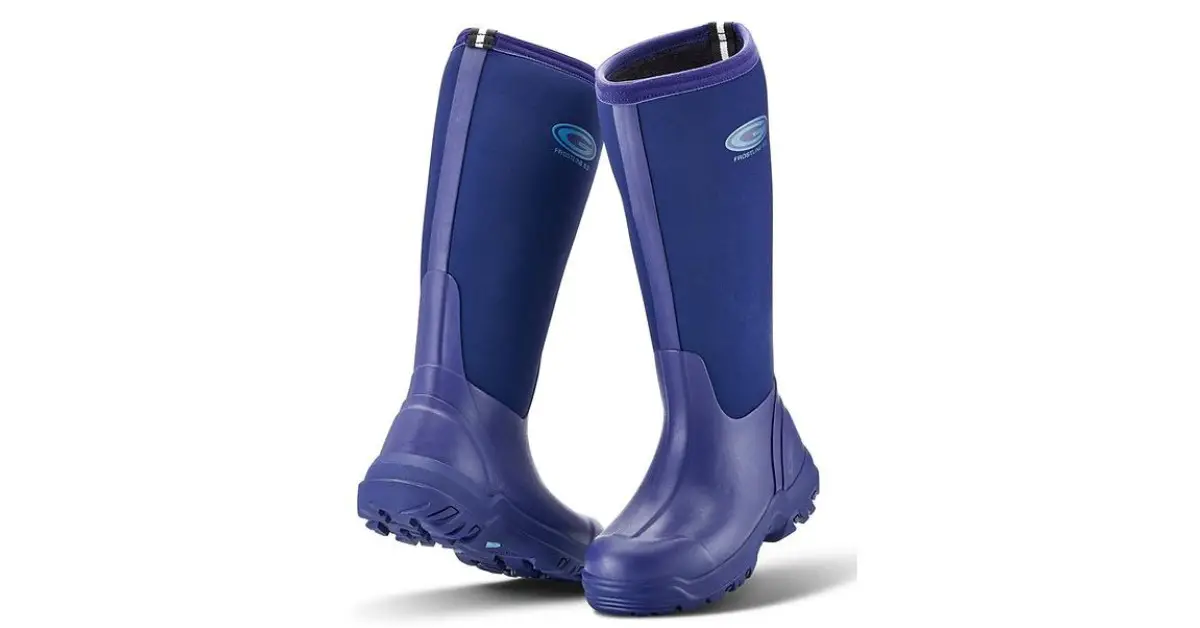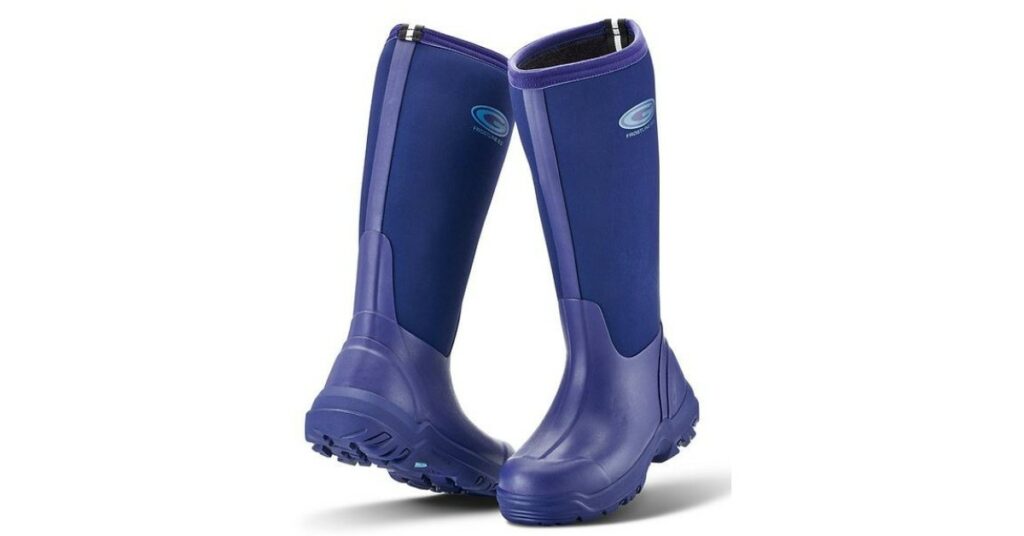 Grubs Frostline  Boots Review
Date of review February 2023 by Richard Cutts
Our Verdict
| | |
| --- | --- |
| WHAT WE LIKE  | WHAT WE DON'T LIKE  |
| + Good selection of colours | – Can be tricky to put on \ take off |
| + Well made |   |
| + Comfortable (wear all day) |   |
| + Good value |   |
Features: Grubs Frostline
Adjustments: None
Inside material: INSU-FOAM (like neoprene)
Outside material:  Rubber & INSU-FOAM
Fit wide calves: NO
Waterproof: 100% 
Colours:

 6

 Sizes

(Women)

:

 3 

UK to  8 UK –  US to  US

Boot Height (on leg): size 6 is 38cm \ 14.9 inches
The Grub manufacturer is UK based, and as history should have it, the establishment dates to the 1770s. A family of cordwainers (basically, shoemakers) began in Nottinghamshire (Robin Hood territory!) producing what we wellie fans know as 'Grubs wellies' today. Without getting too nostalgic, the Grub company have been making boots for donkey's years and so really should know what they're doing, and it's fair to say they do.
BEST SELLING GRUBS FROSTLINE
Last update on 2023-09-13 / Affiliate links / Images from Amazon Product Advertising API
Do Grub's Frostline 5.0 fit well
Yes, these boots they fit very well as they come with Superdri lining, providing comfort but also preventing fungus and bacteria from affecting the feet. Unlike cotton-lined boots, your feet should not sweat and produce the same amount of odour. This kind of lining is also remarkably hardwearing, so the inside of the boot should last as long as the hardy outside part. The insides of these wellies have:
Fabric designed with good wicking properties, meaning that moisture is drawn out, keeping your feet clean and dry
Plenty of warmth for most cold and freezing conditions
A footbed using 6mm Nitrocell, which provides soft cushioning under your feet, is made up of tiny microscopic nitrogen bubbles that also protect against coldness entering from the bottom of the boot
Pick your colour and choose your own Grubs Frostline look!
Whilst most wellie boots come in a very limited colour range (most are usually black), these Grubs Frostline 5.0 come in a wider range of striking colours, including green, violet, tawny red, and Bellweather blue. They even have a berry version – yes, that's basically a charming strawberry red colour!
This isn't a boring colour range and congratulations to Grubs for keeping their wellies vibrant and colourful. The Grubs Frostline 5.0 violet are a particularly niche colour in adult wellingtons, so this range stands out amongst others.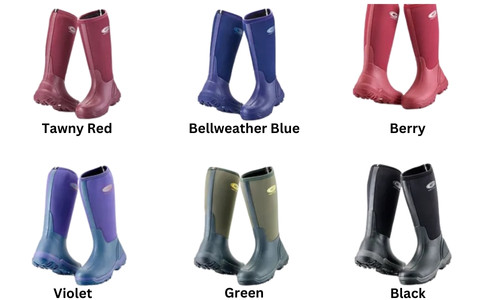 Are the Grub's Frostline 5.0 comfortable footwear
These are comfortable boots, made with 5mm Insu-foam Ultra, providing excellent support and comfort to your feet. The main idea of the foam, particularly advantageous in winter, is to provide insulation that acts as a way of keeping the cold out and maintaining warmth inside the boot.
Unlike other types of lining, such as neoprene used commonly in top of the range boots, the 5mm Insu-foam Ultra has a compression set of less than 7% (most other neoprene boots are 20-25% in contrast). This means that the lining will remain softer for longer, providing longer-lasting comfort and durability.
With a -10 Celsius insulation recommendation, the boots can withstand some of the coldest conditions, but if you are in a country with colder weather than this, then note that there are other wellies with -20 Celsius rating, especially if you happen to live or travel to the Scottish Highlands, or Nunavut, Canada, where temperatures can reach a freezing -19.7 quite easily! For most of us, the -10 Celsius insulation on these Grubs wellies will suffice.
How good is the grip \ traction
The Frostline 5.0 version have an outer-sole with the reputable trademark of Trax – designed and known to give superior grip on multi-surfaces and terrain. The grip suitable for all environments, so this a great feature of the wellie.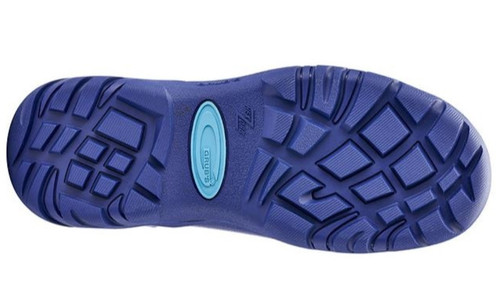 Are the Grub's Frostline 5.0 good value for money
These are top-quality wellington boots priced middle of the market – so you are getting good value for money. They'll last a few years, given the quality and durability, but remember that they're part fabric as well as rubber which can heighten the worn and torn capability.
You're getting a load of features all rolled into one boot – solid heel and toe protection (though they do not have steel caps on them); excellent grip; warm foamed lining, and cushioned suspension.
Are Frostline lighter than other boots
Grubs Frostline 5.0 are manufactured using what the company refer to as Superlite rubber. Grubs claim they are 30% lighter than conventional rubber boots – and true to their claims they are certainly less-heavier than most wellies on the market (though it depends on what you define as 'conventional' and how you scientifically weigh the average wellie!). 
They have a Hexzorb (another trademark product) shock absorbing heel, which in layman's terms, is giving you a bit of bounce when needed. Created with an underfoot chassis, they have a strong footed platform, bringing stability and strength to the boot.
Final Thoughts: Grubs Frostline Boots Review
Anyone buying wellington boots will probably be aware that there are many new and emerging 'technologies' that manufacturers have developed to sell their boots with. Grubs have gone all out with their Frostline 5.0 range, by incorporating as many of these technologies into the boots, such as the Trax outsole, the Superdri lining, and the nitrogen bubble underfoot, called Nitocell. 
None of these new features are ever as perfect as they are sold to us. If they were, then we'd have wellies capable of walking on the moon! But they are damn well pretty good at what they do, and to the credit of Grubs, they have managed to bring together all the science of wellie making into one boot. The effort has paid off – these are great wellies!
BEST SELLING GRUBS FROSTLINE BOOTS

Last update on 2023-09-13 / Affiliate links / Images from Amazon Product Advertising API
Questions and Answers: Grubs Frostline Boots
Are the Frostline boots 100% waterproof
?
The boots are 100% waterproof, including the shaft of the boot that is made from the INSU-FOAM.
Are the boots suitable for high arches?
Compared to most other boots the Frostline boots do provide good arch support. However, if you have a high arch, then it is recommended to use your own insole to give additional support if required.
Can the Forstline boots be worn all day?
The boots are designed as 'working' boots and can comfortably be worn all-day
Are the boots suitable for wide calves?
Thanks to the elasticity of the material of the shaft section of the boots they are better suited than other boots for wide calves. However, we would not recommend these boots as being suitable for wide calves, there are better options.
A Frostline UK size 6 boot has a circumference of 41cm \ 16 inches
Can you wear Frostline boots in the snow?
Yes, they make excellent snow boots. The boots are 100% waterproof and the INSU-FOAM provides great insulation from the cold. The soles of the boots have deep treads which provide goo traction in the snow.
Are the Frostline boots unisex?
No, the boots are only available for women.
Are the Grubs boots a good alternative to Muck boots?
Yes, they are an excellent alternative to muck boots. Grubs boots have very similar features and designs as muck boots but are generally available at a lower price.
Wellieboots.com  NEWSLETTER
Sign up to get the latest reviews, news, tips and where to get the best wellie deals!
You will only get emails from wellieboots.com (no 3rd parties)
We generally send one email per month