Dunlop Blizzard Boots Review
Fur Lined Unisex Everyday Boots
If you're after some cheap everyday boots that will keep your feet warm in sub-zero temperatures, then the Dunlop Blizzard boots are definitely worth considering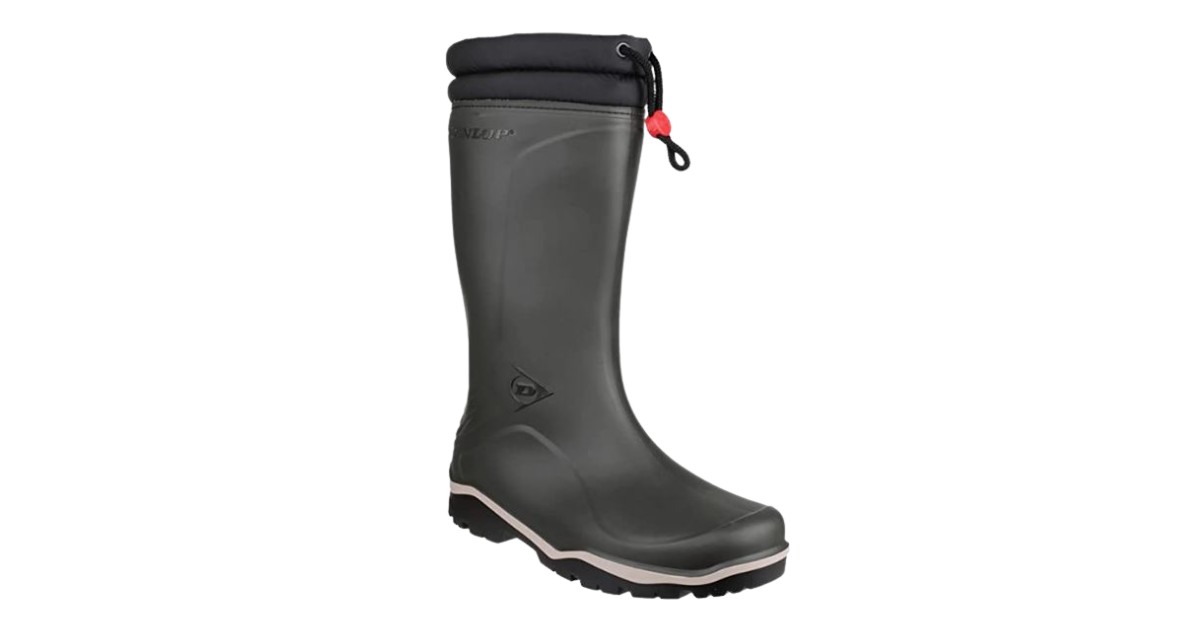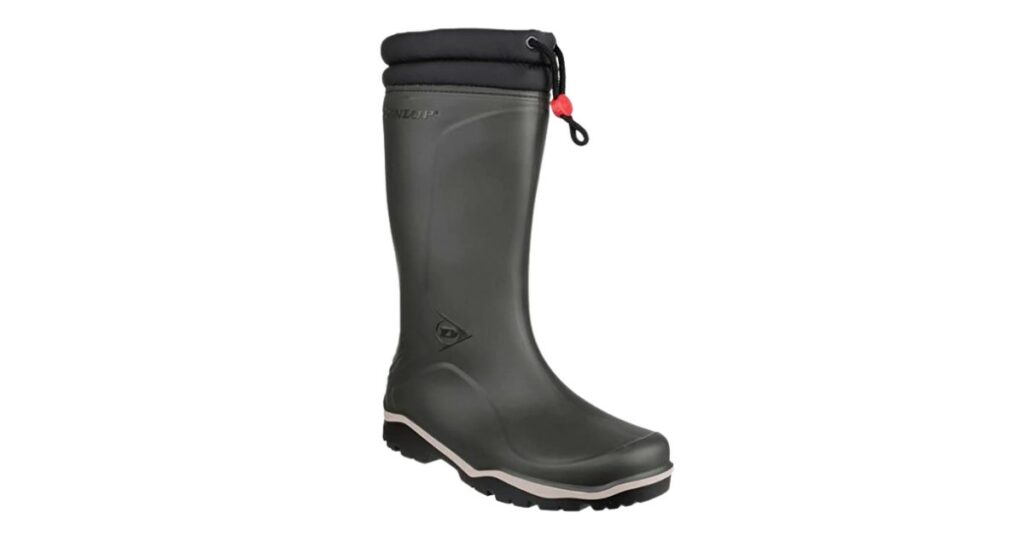 Muck Blizzard Boots Review
Date of review February 2023 by Richard Cutts
Our Verdict
| | |
| --- | --- |
| WHAT WE LIKE  | WHAT WE DON'T LIKE  |
| + Cheap | – Non removable lining |
| + Well constructed | – Limited colours |
| + Fur lining |   |
| + Excellent grippy sole |   |
Features: Dunlop Blizzard
Adjustments: Collar has drawstring with toggle
Inside material: Faux fur
Outside material:  PVC plastic
Fit wide calves: No
Heel: 2cm block heel
Waterproof: 100%
Colours:

Blue, black and green

 Sizes

(Unisex)

:

 4 

UK to 13 UK – 5 US to 14 US

Boot Height: 40.5cm \ 15.9 inches (average height)
The Dunlop Blizzard Wellington are a real winter boot designed for outdoor activities. Put your foot into one of these boots and they feel all wrapped up and ready for the chilly season.
These are not an all-year round boot, but they are not designed to be, these specialist boots are made for the coldest seasons.
BEST SELLING DUNLOP BLIZZARD BOOTS
Last update on 2023-09-12 / Affiliate links / Images from Amazon Product Advertising API
Are the Dunlop Blizzards comfortable
If there's snow or ice in your nearby vicinity the Dunlop Blizzards are total feet protectors from the cold weather. The title of the boot kind of gives you a clue to their use – these boots are blizzard proof!
A little like Ugg boots, but in the form of a wellie, the interior offers a robust faux fur lining that are comfy as soon as your foot slips into them.
Maybe not a fashion icon but neat looking boots
Dunlop (a Great British sports business) has been manufacturing rubber since the 1880s (famously producing tennis balls for some 100 years), so they know a thing or two about producing good boots.
Although Dunlop isn't famous for producing classy or chic footwear, these are a neat pair of wellingtons, one of the best-looking products from their range.
Dunlop could have offered a wider colour range of these unisex boots, although both the blue and Dunlop blizzard wellie's black versions look very nice, provided you are keen on your dark colours. The Dunlop blizzard wellies blue is the best variant, not bright or sky blue but a dark turquoise shade.
In the winter, most adults wear and prefer darker colours, so there is not a big issue with the dark colour range on these. But let's be clear: they are not an all-round year boot, as they will be too warm for the summer, particularly on sunny or hot days, these are for winter only.
Note: The company do offer a kid's version of a Dunlop blizzard wellies pink, obviously marketed for girls. 

Fitting of the wellies: a lace-top with closed drawstring
The Dunlop Blizzards have several features which are quite niche and distinct, including a lace top with a closed drawstring, allowing you to pull the boots tight around the upper leg.
The easily adjustable drawstring locks in heat, helps with insulation and should you find yourself in wet conditions, you can avoid getting your feet or socks wet. This drawstring feature also makes these boots more easily adjustable, adding to their comfort.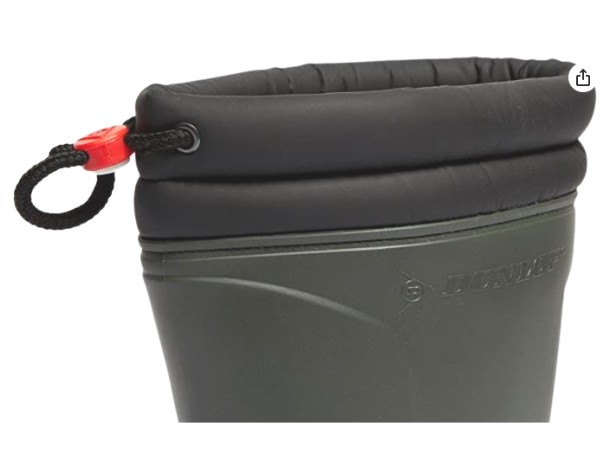 Dunlop Blizzards: well-built boots
Built with a shock absorbing midsole, the boots help you withstand bumpy and unstable surfaces, providing stability and comfort. Whether you are on a trek or walking your dog, these boots provide support and grip on various rugged surfaces.
Dunlop Blizzards are 100% waterproof with a PVC outer layer, so they aren't all rubber, but they do the same job of keeping your feet dry and water-free.
Getting best use from your Blizzard boots
According to Dunlop's own website, these boots are not heat resistant, fuel resistant or cut resistant, and they don't have toe or ankle protection.
They are however chemical resistant (remember to double check what chemicals if you're working in any extreme chemical-producing environments) and provide excellent protection from the cold.
They come with a -15 Celsius insulation recommendation though other wellington boots on the market have a -20 Celsius, if you care to quantify the coldness boots are meant to withstand.
Do the boots have good grip
The rubber sole has extra traction and with a 2-inch heel you shouldn't slip around too much in wet, muddy, or icy conditions. They are wide and good sized, not nimble boots, so not exactly your dancing kind of wellies.
Think moving through treacherous ice, and feeling your toes protected by the thick outer layers, these boots are like armour for 'artic style' conditions.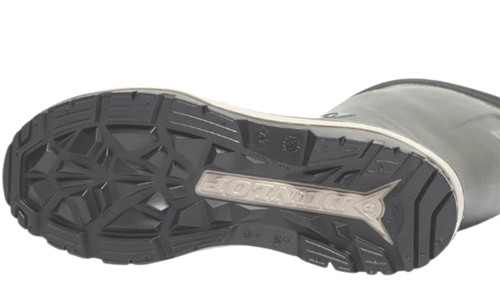 Innovation in boot design
Dunlop have a 'slips, trips, and falls innovation centre'. The aim is to produce footwear that reduces the likelihood of accidents in the workplace or elsewhere, by creating boots that are fit for the outdoor environment in which they are worn.
Built for icy conditions, the Dunlop Blizzards are snow-kings of wellington boots, designed to keep you on your feet in sleet, hail and snow.  
How long will the Dunlop Blizzard last
Unfortunately, the plush fleece will start deteriorating the more often you wear the boots, so beware. The overall lining is less durable than other boots and you may find other aspects of the boot will suffer from wear and tear.
Assuming you're not living all year round in the French Alps, these boots will do you a good turn every winter for a few years at least. They are solid, not heavy, but also not tremendously durable.
If you want a long-lasting boot, then buy wellies without the fleece lining and replace with thermal socks – fleece is lovely, but it does not have the same durability as other materials.  
Are the good value for money
You can easily pay double the price for wellington boots of this kind elsewhere on the market, so from a pricing perspective, these boots are very good value for money. Although the waterproof and grip features are standard for Wellington boots, many wellies don't have the shock-absorbing feature these boots possess, so this a good element providing added value for money.
These boots are not too heavy, and you can still use these boots to walk comfortably for long periods of time.
Final Thoughts: Dunlop Blizzard Boots Review
Probably not suitable as an all-year round boot, but certainly ideal during winter, or if you're taking a holiday in freezing cold conditions these wellies are good for you. The good prices at which Dunlop sets their products means you can get your Blizzards for the cold season and still have a budget for a summer style of wellie.  
Dunlop manage to keep the prices of their boots low because they use PVC rather than natural rubber. PVC boots tend not to be as flexible and supportive as rubber boots. This is fine if you don't plan on walking for miles or wearing the boots for hours on end.
Overall Blizzard boots make excellent everyday wellington boots.
BEST SELLING DUNLOP BLIZZARD BOOTS

Last update on 2023-09-12 / Affiliate links / Images from Amazon Product Advertising API
Questions and Answers: Dunlop Blizzard Boots
Can i put my own insoles in to Dunlop boots?
Yes, there is enough room to insert your own insole
Are the Blizzard boots tall?
Not especially. The height of the boots depends of the size, but 
Are the boots true to size?
Dunlop blizzard boots are true to size. As is quite coming with boots, they may feel slightly roomier than shoes do of the same size
Is the fur lining throughout the entire boot?
Yes, the Blizzard boots are fully lined throughout the inside of the boots
Do dunlop Blizzard boots have steel toe caps?
No
Should I order a size up due to the fur lining?
no, buy the boots in your normal shoe size. The manufacturer has accounted for the additional space that the fur lining takes up. Also, the fur lining gets compressed after the boots have been worn a few times. 
Are Dunlop Blizzard boots heavy?
Not particularly. The weight of the boots will not have any significant impact when walking short to medium distances. Ideal for walking the dog, but not so good for long hikes.
Are the boots ok for wide feet?
The Dunlop Blizzard are quite spacious in the foot area, so should be able to accommodate wide feet
Can the inner fur lining be removed for cleaning?
No. If you want to clean the fur lining it is best to gently scrub the lining with warm soapy water
Do you wear socks with the fur lining?
It's entirely up to you. We generally recommend that you always wear socks with wellington boots as they help control moisture and prevent the boots from smelling
How tall are Dunlop Blizzard boots?
The height of the boots varies, according to foot size. A size 45 has a height of 37cm \ 14.5 inches from the bottom of the sole to the top of the shaft
Wellieboots.com  NEWSLETTER
Sign up to get the latest reviews, news, tips and where to get the best wellie deals!
You will only get emails from wellieboots.com (no 3rd parties)
We generally send one email per month