Crocs Handle It Rain Boot Review
Easy pull-on rain boots for toddler's & kid's
Super fun boots that come in a range of bright colours. Very lightweight and flexible and at a good price point. They are ideal rain boots for toddlers and small children.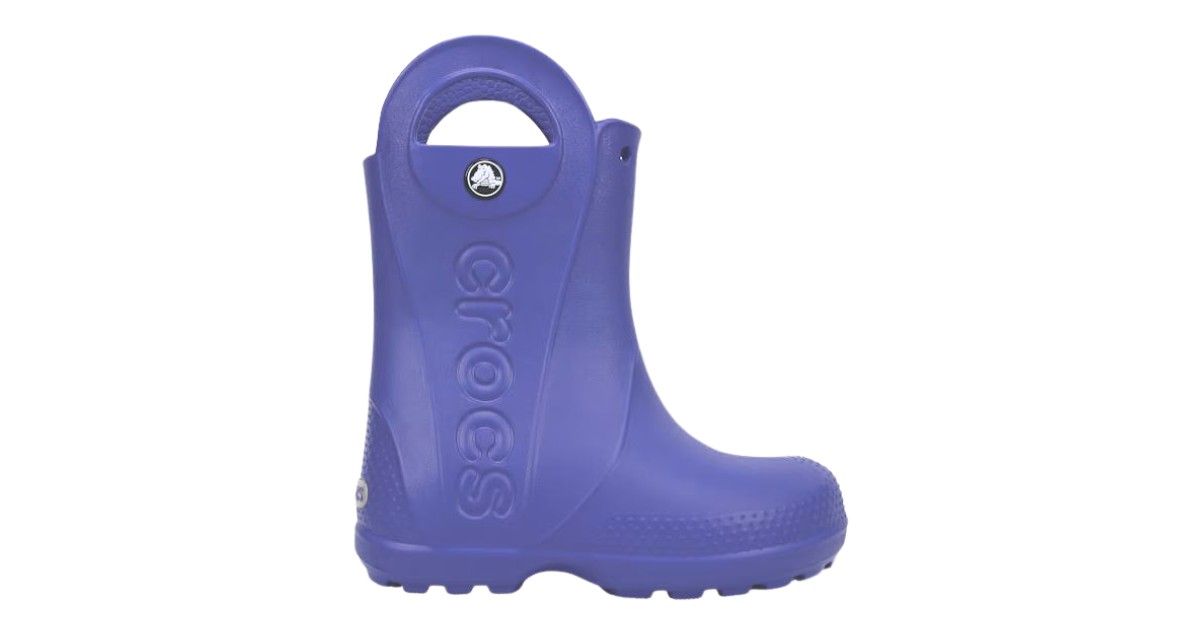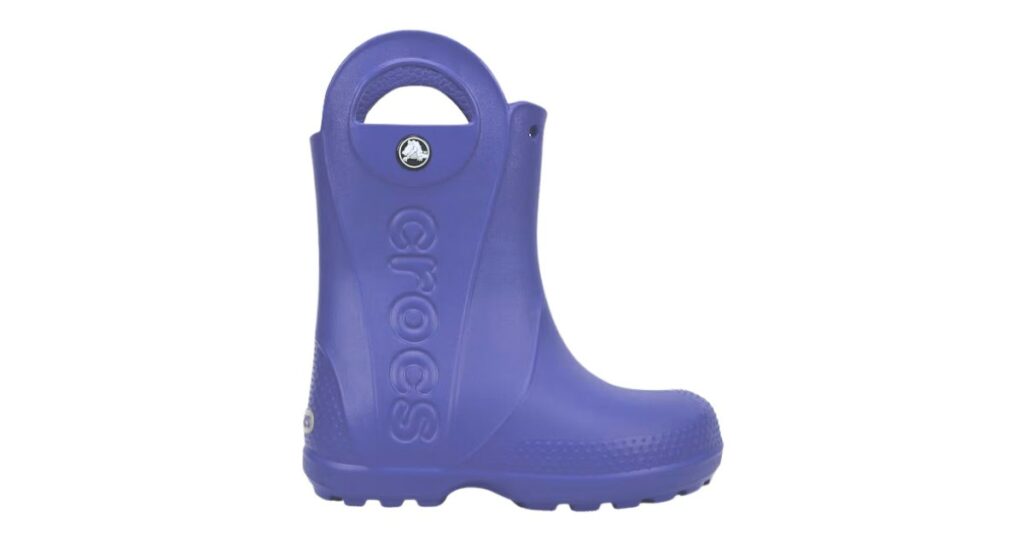 Crocs Handle It Rain Boots Review
Date of review January 2023 by Richard 
Our Verdict
| | |
| --- | --- |
| WHAT WE LIKE  | WHAT WE DON'T LIKE  |
| + Good quality | – Poor sizing |
| + Lightweight |   |
| + Fun bright colours |   |
| + Foam cushioned insole |   |
| + Durable |   |
Features: Crocs Handle It Boots
Adjustments: None
Inside material: Synthetic\  Man-made (plastic)
Outside material: Synthetic\  Man-made (plastic)
Insole: Croslite foam cushioning
Waterproof: 100% 
Colours:

 7 colours

 Sizes

infant (1 to 5 years)

: 6

 

UK to 10 UK –  C6 US to C10 US

 Sizes 

junior

:

 

(5+ years):

 11

 

UK to 3 UK –  C11 US to J3 US
Anyone with kids knows that the biggest practical problem with small feet and footwear is getting the boot on the child's foot! If you are someone who spends ages wrestling with the boot (and sometimes wrestling with your child) to get the foot inside the rain boot then you will appreciate the Crocs Kids Handle It Rain Boots – the handle is not just good for your little one but great for parents too!
Crocs Kids' Handle It Rain Boots might look super funky and offer practical solutions for parents but are they good rain boots? Read on for our full review
Bright, Fun and Funky Colours
Colour-wise, these Crocs kids' boots come in a range of different colours, including yellow, candy pink, navy, grass green and cerulean blue. They are bright and fun-looking and go down well with kids' fashion.
If you like to dress your child in bright colours, and for them to look trendy, then these boots are perfect for you. If, however, you are a bit more conservative in how you dress your little ones, then the navy and sea blue are less outlandish than the other colours, which are all totally vibrant and bright.
BEST SELLING CROCS HANLE IT RAIN BOOTS
Last update on 2023-12-02 / Affiliate links / Images from Amazon Product Advertising API
Are Crocs Kids' Handle It Rain Boots A Quality Design?
The handle is a good feature and used by several other brands such as Bogs Kid's boots, so there is competition out there.
These Crocs toddler rain boots have a unique 'feel' – the material is solidly waterproof on the outside whilst also being light and airy on the inside. This is great for kids who like to be on the move, and are engaged in active outdoor play, but enjoy wearing jazzy colours.
The boots are super lightweight in comparison to others on the market and this makes them a very dynamic boot for the little ones, since clunky and weighty boots tend to put kids off wearing their rain boots.
The roomy nature of these boots means they can be a good option for kids with slightly wider feet. In all, the lightweight feel of the material, slickness and simplicity of the boot means that your kids can be as agile and nimble as they can be.
Fun And Comfortable But Not A Serious Rain Boot!
The Crocs rain boots are very lightweight and comfortable, though there is plenty of space inside for a pair of warm socks to keep your little ones' feet snug and cosy. It should be noted that the Handle It boots don't have much in the way of insulation, so feet are likely to feel the cold, when it gets cold.
These boots are colourful, bright, and fun for puddle splashing, for short periods of time. But if you are an outdoor farm person, hiker, camper or someone who wants a serious wellington boot for your child then these are probably not for you.
These Crocs are fun, cheap, and waterproof, but they are no substitute for a more serious wellington boot. If you are taking your little ones on a wet and wild adventure trip, or out in the snow, or anything more than a walk in the park and splash in the puddles, then consider rain boots more like the Bogs kid's boots.  The Bogs boots have a neoprene type material lining called Neo-Tec on the inside of the boots which makes a huge difference to the warmth and comfort of the boots.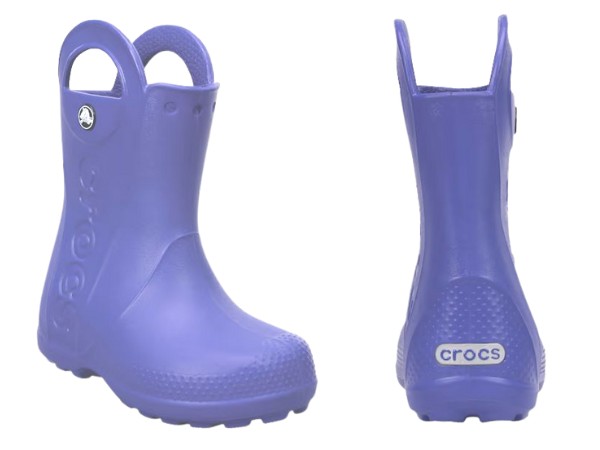 Are The Crocs Kids' Handle It Rain Boots Good Value For Money?
Certainly, price-wise, these are a bargain buy. Some children's footwear is now nearly as expensive as adult ranges. But these are kids' wellies at kids' prices – a quarter of the cost you would expect to pay for adult wellies – and this is how it should be. So, fair play to the Crocs company, who are keeping the price cheap and looking at the mass market.
You will likely see other parents with kids wearing Crocs. But who cares? With seven different boots colours on the market, you're not that likely to bump into a child wearing precisely the same boot, so there is something special and a little personal about your child's boot. 
One important feature of rain boots is good grip, and the Crocs boots do a pretty good job. The treads are reasonably deep for kid's boots, providing decent traction in wet and muddy conditions. The only surface to be wary of is ice, which as with just about all footwear, is going to be slippery.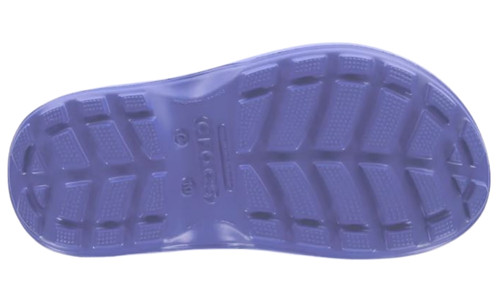 Know What You're Buying: A Cheap Rain Boot
Remember that the Kids' Handle It Rain Boots by Croc are good wind blockers, waterproof, and good for rainy days and splashing about. They are a cheap, happy go lucky boot, that are easy to stick on and get off.
Final Thoughts: Crocs Handle It Rain Boots Review
The overall design of these Croc wellies means that they are a really good alternative to other waterproof shoes since they are comfy and lightweight. The inside material is also very soft and this facilitates the sliding of kids' feet in and out, an essential feature when purchasing rain boots for children. 
These boots offer affordability, fashion, versatility, and comfort for your child. Whether you are buying these to go on trips to the park, or to take to the nursery for rainy days, the Crocs Kids' handle it boots can support your child in wet and muddy places, or whilst running around the playground.
BEST SELLING CROCS HANDLE IT RAIN BOOTS

Last update on 2023-12-02 / Affiliate links / Images from Amazon Product Advertising API
Questions and Answers: Crocs Handle It Rain Boots
Are Crocs wellies lightweight?
Yes, the Crocs Handle It boots are lightweight when compared to other similar toddler \ kid's rain boots. Just because they are lightweight doesn't mean that they are made cheaply. The boots are good quality and well constructed.
Should i go up a size in Crocs rain boots?
You should go up a size when buying kid's Crocs rain boots. Many Crocs customers have reported that the boots come up small. In fact, it might even be worth going up a couple of sizes to allow room for thick socks and fast growing feet. If the rain boots are too large then one possible solution would be to insert an insole.
Can toddlers wear Crocs rain boots?
Crocs Handle It rain boots are perfect for toddlers. The sizing starts at 13cm (heel to toe), which is the same size as 6 UK (infant) or C6 US.
Are Crocs kid's rain boots good for walking in the snow?
They are not ideal for snow conditions as they do not have any form of insulation. With thick socks, the boots can be worn for a short period of time in the snow. 
My child has wide calves are Crocs Handle It ran boots going to fit?
The boots have a fairly narrow opening at the top, so children with wide feet and wide calves may struggle to get the boots on. It would probably be worth going up 2 sizes if buying boots for a child with wide feet and \ or calves.
Can you wash the inside of the boots?
Because the boots have no lining, it is very easy to clean the inside of Crocs Handle It boots. Simply use some warm water and a mild detergent for cleaning. The outside f the boots can be cleaned the same way
What size Crocs Handle It rain boot should I get for my child?
The best thing to do, is measure your child's feet to get the length in centimetres. Then use the chart below to find the correct size. With the Crocs Handle It boots it is a good idea to size up.

Are they flexible?
Yes, they are very flexible, more so than most other kids' rain boots. 
Are they designed to go over the shoe?
No, you do not put the boots over the shoe. The boots are best worn with socks.
Do they run small or large?
The Crocs Handle It boots run small. It is worth going up at least one size, possibly two.
Do they come in a bag or box?
They come in a bag
Are they waterproof?
100% waterproof
How tall are Handle It rain boots?
They go up to roughly mid-calf, but it does depend on the size of the boot. Larger sized are higher than small sized boots.
Wellieboots.com  NEWSLETTER
Sign up to get the latest reviews, news, tips and where to get the best wellie deals!
You will only get emails from wellieboots.com (no 3rd parties)
We generally send one email per month