How To Recycle Old Rain Boots \ Wellie Boots
Eventually, all wellington boots \ rain roots reach that age where they are no longer waterproof, have worn-out soles and ripped linings, they've reached their end of life. So, what do you do with your old rubber boots? The easy option is to simply chuck them in the bin. For many people, especially those who care about the environment, chucking old rain boots in the bin is not an option. So, we've got some alternative suggestions on what you can you do with old rubber boots.
Give your old boots to a local charity shop
If the wellies are in reasonable condition and haven't got any holes or splits, then why not give them to a local charity shop. If the boots are a well known brand like Hunter or Joules, the charity shop will be able to sell them easily. Not only will you be helping reduce waste by giving the boots a second life, you'll also be helping out the charity.
How to Sell your old rain boots \ wellie boots
If you no longer want your boots because you've got bored of them and fancy a change, then why not sell them online. There are loads of easy to use phone apps and websites that make selling old items of clothing and footwear really simple. Here are a few you could try:
Vinted  – Mobile phone app – free to sell, simply take a photo add a brief description and set a price
Facebook – If you already have a Facebook account, then it's super easy to sell boots on Facebook Market Place for free
Gumtree – Very quick and easy to sell stuff without costing a penny
Can rain boots \ wellie boots be repaired?
Quite often boots can easily be repaired at very little cost by using a special adhesive like Stormsure. The great thing about Stormsure is it is clear, flexible, strong and capable of repairing splits, rips and flappy boot bits. There's no need to buy additional bits of rubber to use for patching, the adhesive will dry creating a clear patch.
Last update on 2023-11-21 / Affiliate links / Images from Amazon Product Advertising API
Return the boots to the manufacturer or recycling
Unfortunately, this option is very limited. We've checked all the major rain boot and wellington boot manufacturer websites and none of them appear to offer any type of return scheme. We have previously heard that both Hunter and Joules offered recycling schemes, but unfortunately, this no longer appears to be the case. 
Let us know if you do find a manufacturing recycling scheme and we will add details to the welliboots.com website.
Repurpose your rain boots
If you have a quick search on the internet, you'll find loads of creative ideas for old boots. Things like using old rubber boots as storage containers, as flower pots, and even as bird feeders. Some people have cut down their rain boots into slip-on clogs. Which actually don't look too bad and would be perfect for quickly slipping on to potter around the garden on a wet day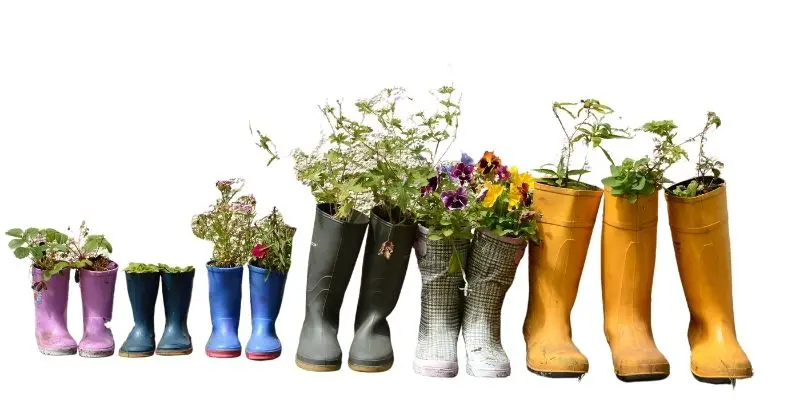 Some local areas have recycling companies that will accept rubber rain boots for recycling. The boots usually get chopped into small rubber particles and are then used to make rubber products like matting for kid's play areas.
One of the big problems with today's rain boots \ wellies boots is that they are generally not manufactured to last. Rather, they are made to be as cheap as possible.
Rain boots that were manufactured 20 or 30 years ago would easily last for 5 to 10 years. Today the same line of boots will on average only last 2 or 3 years!
If you want to reduce waste, then you could look at buying more expensive boots from companies like Aigle and Le Chameau. The more expensive boots are made to a much higher standard and will generally last for at least 5 years and often much longer.
Another other option is to take very good care of your boots. This really only means cleaning your rain boots on a regular basis with water and a mild detergent. Also, using a rubber care product like Hunter's rubber care
It is good to see that many of the rain boot \ wellie boot manufacturers have started using a lot more recycled materials in their boots and many no longer use PVC. But it would be much better to see these large rubber boot manufacturers taking more responsibility. 
Most manufacturers say their boots can be recycled where there are suitable facilities but then give no further information or help. Considering the serious environmental problems that we are experiencing in the world today, it would make a lot of sense for these companies to be doing a lot more than they are.

Hopefully, things will start to change in the near future, but for the time being, disposing of old boots in an environmentally friendly way is not easy.