Short rubber boots for men & women
A great choice for people looking for a stylish and versatile pair of rubber clogs. They're available in a wide range of colours, so you're sure to find the perfect pair to suit your style. The only negative is that they are slightly on the heavy side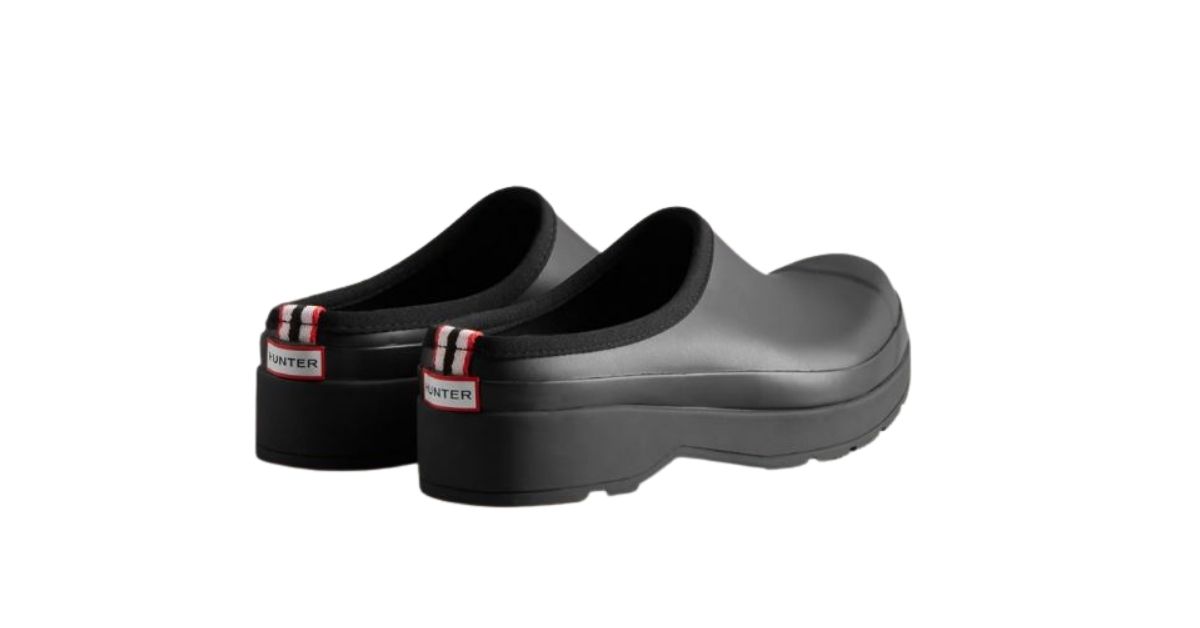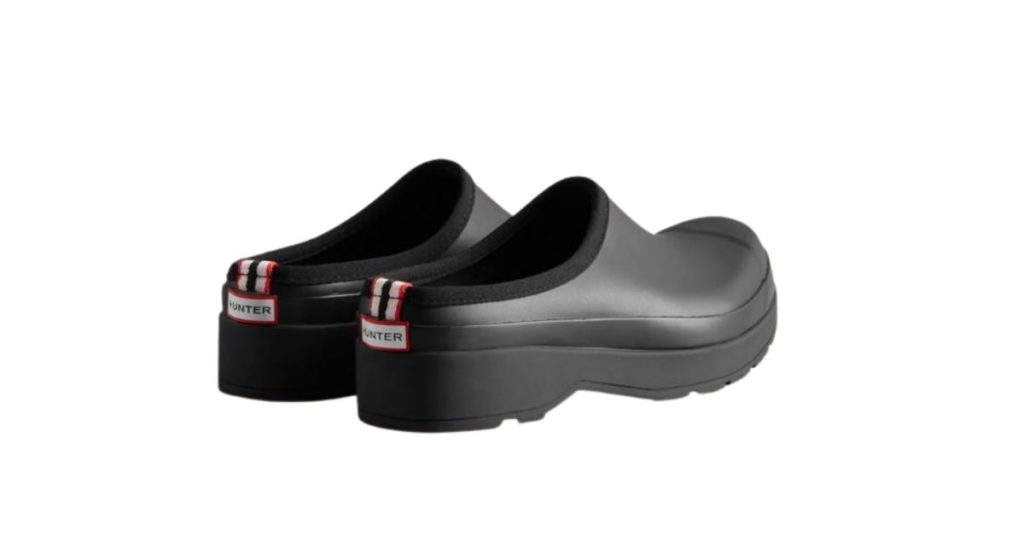 Hunter Play Clogs Review
Date of review May 2022 by Richard 
Our Verdict
| | |
| --- | --- |
| WHAT WE LIKE  | WHAT WE DON'T LIKE  |
| + Good construction | – Slightly on the heavy side |
| + Very comfortable | – Heel can slip out |
| + Easy to put on \ take off |   |
| + Good range of colours  |   |
Looking for a new pair of rubber clogs? Check out the Hunter Play Clogs! These short rubber shoes are available both men and women, they come in a variety of different colours and are made from high quality materials. But, just how good are they? read our full review below to find out.
Adjustments: None
Special features: Removable insole, certified vegan
Inside material: Textile lining
Outside material: Natural rubber
Fit wide calves: Yes
Heel Type: Wedge \ Flat
Waterproof: 100% waterproof
Colours: 8 colours
Sizes: 3 UK to 12 UK – 5 US to 14 US
Best Selling – Hunter Play Clogs
Sale
Bestseller No. 1
Bestseller No. 2
Bestseller No. 3
Last update on 2023-09-01 / Affiliate links / Images from Amazon Product Advertising API
How comfortable are Hunter Play Clogs
One of the most common reasons people give for wearing clogs is that they are extremely comfortable. The comfort that people obtain from clogs is largely due to the fact that their feet have adequate range to spread. Also, air can readily flow around feet, helping preventing sweat from building up and causing discomfort. On top of these benefits, the Hunter Play clogs also have an insole that provides additional cushioning \ shock absorption which makes them ideal for walking or standing for long periods of time.
On the negative side they don't have much arch support, so if you have flat feet or high arches, you may want to consider replacing the insole.
Do Hunter Play Clogs Look Good
Clogs certainly divide opinion when it comes to how they look. Some people absolutely love them, while others think they are ugly and cumbersome. If you like the way clogs look then, we think that you will like the Hunter Play clogs. They are a very simple design which makes them sleek and stylish. The wedge sole gives them a fairly unique look, which you won't find on many other rubber clogs.
The clogs are available in 8 different colours (at the time writing). Hunter are known for releasing special editions, so expect more colours and possibly patterns and prints in the future.
Do you wear socks with Hunter Play clogs
Its entirely up to you as to whether you wear socks or not. The inner textile lining of the clogs is soft, which means that they can be worn quite comfortably without socks. Some people prefer socks, as they find it more comfortable.
The Hunter Play clogs have a thin textile lining that doesn't provide much insulation from the cold. So, you might find that you end up wearing socks in colder conditions and going bear foot when wearing the clogs inside or outside in warmer weather.
Do feet get hot and sweaty wearing Hunter Play Clogs
The outer material of the clogs is made from natural rubber. This is great for keeping feet dry in wet weather, but not so good at allowing feet to breathe. This is not too much of a problem, as clogs do not fully enclose feet. This allows air to easily circulate around your feet, preventing sweat from forming and keeping your feet cool.
Also, the inner textile lining is a moisture wicking fabric that dries rapidly so that your sweat doesn't saturate the fabric
Do the Hunter Play clogs slip off feet easily
A common concern that people have when buying clogs, is that they will slip off their feet when walking. This is a very valid concern, as some clogs can be difficult to walk in because they simply won't stay on your feet. The Hunter Play clogs do have a very low back, which means that they do not keep your heel firmly in place. This can cause your foot to slide out of the shoe. For this reason it is very important to buy the clogs in the correct size. For most people this will mean buying a pair of the Hunter clogs in their normal shoe size. However, The clogs do run slightly large, so it might be that you will need the next size down.
Unfortunately, the clogs are not available in half sizes. If you are usually a half size, then the recommendation is to size down.
How heavy are Hunter Play clogs
Probably the biggest downside to the Hunter clogs is that they are comparatively heavy compared to other rubber clogs. That not to say they are heavy, but if you're after lightweight clogs it would probably be worth look elsewhere.
The Hunter Play clogs way approximately 1 lb 2 oz or just over 500 grams. Obviously this will vary slightly depending on the size of the clogs. This is less than an average pair of sneakers \ trainers, but in the world of rubber clogs it is on the heavy side.
Hunter have recently redesigned the Play clogs to make then more lightweight, but having a wedge sole is always going to add some extra weight.
Are the clogs suitable for wearing inside and outside
The clogs are designed to be worn both inside and outside. This makes them very diverse, as they can be worn outside for doing gardening on a wet day or they can be worn by a nurse walking between patients in a hospital.
Final thoughts: Hunter Play clogs
The Hunter Play clogs are a great choice for people looking for a stylish and versatile pair of rubber clogs. They are available in a wide range of colours, so you're sure to find the perfect pair to suit your style. Although they are slightly on the heavy side, they are still very comfortable to wear. Just make sure you buy them in the correct size!
If you're looking for an alternative to the traditional Croc design, then the Hunter Play clogs could be the perfect choice for you. With their unique wedge sole and sleek design, these clogs will help you stand out from the crowd. So why not give them a try?
Last update on 2023-09-01 / Affiliate links / Images from Amazon Product Advertising API
Questions & Answers - Hunter Play Boots
Is the insole removable for custom orthotics \ insoles?
Yes, the insole can easily be removed and replaced with orthotics or an insole. Having a removable insole also has the added benefit of making it much easier to clean or dry the inside of the clogs.
Is wearing clogs bad for your feet?
This is a difficult question to answer, as it really depends on the individual. Some people find that they can wear clogs all day with no problems, while others find that their feet start to ache after a few hours. If you are considering wearing clogs for long periods of time, then it might be worth getting advice from a podiatrist first.
Wellieboots.com  NEWSLETTER
Sign up to get the latest reviews, news, tips and where to get the best wellie deals!
You will only get emails from wellieboots.com (no 3rd parties)
We generally send one email per month